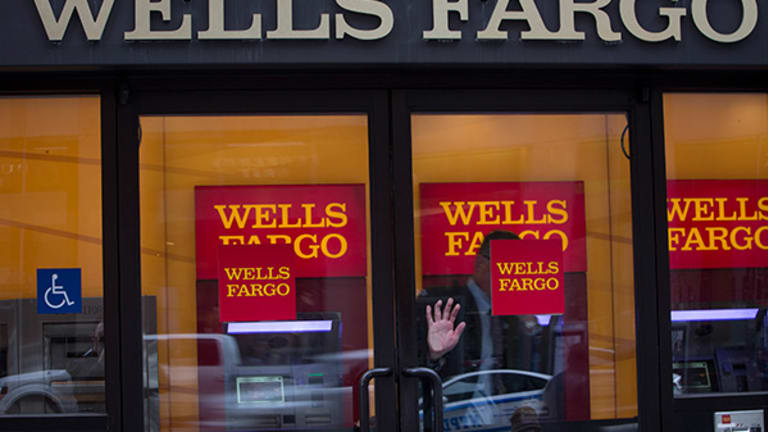 Wells Fargo Likely to Rebound Quickly From Poor Quarter, Scandal Fallout
Wells Fargo's retail operations took a hit following a September scandal, but the company's new CEO has vowed to create 'a better bank.'
Shares of mega-bank Wells Fargo (WFC)  rose 1.52% last Friday despite a disappointing earnings announcement and ongoing fallout from a sales scandal that tainted the bank's reputation.
Investors may have been encouraged by the bank's efforts to learn from the scandal and mend its ways. They may also be buoyed by the financial services sector's surge following the election of Donald Trump. The incoming administration has been vocal about its intent to roll back regulations on financial services firms, not to mention the businesses they serve.
Although the bank is trading near five-year highs, it may be a good opportunity to invest in Wells Fargo. The bank seems as if its making the right decisions to restore its reputation, and there is a recent history of big banks recovering from scandals. 
In September, Wells Fargo admitted that bank employees had opened more than two million phony bank accounts or credit cards from May 2011 to July 2015. The actions stemmed from Wells Fargo management's desire to pump up sales. It led to a $185 million fine and increased scrutiny by federal regulators. Prior to the episode, Wells Fargo was considered among the most reputable banks in the U.S.
Wells Fargo responded to the scandal by promising to change its  business model, in which employees were paid based on how many new accounts they were able to sell.
Wells Fargo said that during the fourth quarter, new credit card applications fell by 43% year over year. The number of new checking accounts opened fell by 40%.
Net income dropped more than 5% to $5.3 billion. Earnings per share dropped nearly 7% and was below analysts' expectation. 
For the year, the company's profits fell 4.3%, to $21.9 billion.
Despite these hits, during the quarter consumer spending on the bank's debit and credit cards rose, as did the number of deposits made with the bank. Revenue for the quarter was roughly flat but rose 3% for the year to $88 billion.
Moreover, new CEO, Timothy Sloan, has vowed to create what he calls a "better" bank. Big changes expected at the bank include eliminating individual sales goals in favor of branch-wide standards and raising customers' fee reimbursement level to $3.2 million from $2.6 million.
"We are leaving no stone unturned so that we can emerge from this a better, stronger company," Sloan said Friday on a conference call.
Other banks, including Wall Street favorite JPMorgan Chase, have seen major scandals before, and their businesses have recovered.
The banking sector currently looks promising for investors. Financial stocks saw a 19% lift during November.
This week, a majority of the big banks, including JPMorgan and Bank of America, posted better-than-expected quarterly results. Wells Fargo may have more room to grow even as its stock price remains high.
When Wells Fargo fully recovers from last year's scandal, investors will have wished they had taken positions. Grab shares on dips and hold for long-term profits.
---
However, if you're not willing to wait a while, I know a trader who is guaranteeing you at least $67,548 per year in profitable trades if you follow this simple step-by-step process starting today.Click here to see how easy it is to collect thousands of dollars in "Free Money" every month.
The author is an independent contributor who at the time of publication owned none of the stocks mentioned.