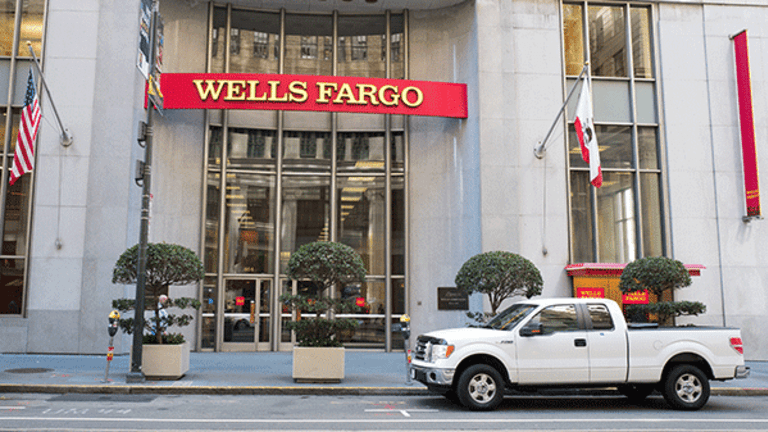 How Wells Fargo Scandal Haunts the Embattled Bank's Operations
'We are committed to addressing the OCC's concerns because restoring trust in Wells Fargo is our top priority,' CEO Tim Sloan said in a statement.
Six months after a settlement with regulators over bogus accounts, Wells Fargo  (WFC) - Get Wells Fargo & Company Reportcontinues to grapple with fallout from the scandal.
So far this week, it has reached an agreement to resolve customer lawsuits over the accounts and reported earning next to the lowest rating on a federal review of community lending, partly because of practices described in the cases.
The San Francisco-based bank's overall score on the Community Reinvestment Act assessment "was lowered from 'outstanding' to 'needs to improve' as a result of the extent and egregious nature of the evidence of discriminatory and illegal credit practices," the Office of the Comptroller of the Currency said in a report.
Later the same day, the bank said it had agreed to set aside $110 million for customers in a class action lawsuit filed in May 2015 over the bogus accounts. The Consumer Financial Protection Bureau said last fall that more than 5,000 employees working to meet aggressive sales targets had opened 2 million-plus credit and deposit accounts over a period of five years for customers who never requested them.
The agreement to resolve the suit would cover all customers who claim the bank opened an unauthorized account in their names from September 2009 through the settlement date, Wells Fargo said, and the bank expects the deal to resolve 11 more class-action cases.
It's "another step in our journey to make things right with customers and rebuild trust," CEO Tim Sloan said in a statement. "We want to ensure that each customer impacted by our sales practices issue has every opportunity for remediation, and this agreement presents an additional option."
The bank had already accounted for the settlement in its most current financial statements and is waiting for approval in court.
The deal resolves "another overhang related to the cross-sell scandal," Brian Kleinhanzl, an analyst with brokerage Keefe, Bruyette & Woods, wrote in a note to clients. "We would expect court approval for the settlement given the size of the settlement versus the actual monetary damages incurred by customers."
Kleinhanzl has a market perform on Wells Fargo's stock with a price target of $53. The shares dropped 0.5% to $55.67 on Wednesday, paring this year's gains to 1%.
As Sloan did with the settlement, he emphasized Well Fargo's goal of rebuilding client trust in responding to the Community Reinvestment Act review.
While the bank earned ratings of "outstanding" on the lending and investment sections of that evaluation, which noted "excellent responsiveness" to credit needs in most areas and a generally good distribution of loans over a range of borrower incomes, those scores were overshadowed by the legal and regulatory issues.
"Outstanding" is the highest score given under the review, which Congress began requiring in 1977 to ensure banks were meeting the needs of low- and moderate-income populations and individuals. The bank was given a "high satisfactory" score on service, and noted that the overall review is the first since ratings were made public in 1994 on which it has received less than a top score.
"We are disappointed with this rating given Well Fargo's strong track record of lending to, investing in and providing service to low- and moderate-income communities," Sloan said in a statement. Still, "restoring trust in Wells Fargo and building a better bank for our customers and our communities is our top priority."
In addition to the sham accounts, the Comptroller's Office based the low score on factors including a 2012 agreement with the federal Department of Justice to pay $125 million to black and Latino borrowers who were steered into higher-cost mortgages from 2004 to 2008.
The low rating limits Wells Fargo's ability to make certain acquisitions, and it's considered by oversight agencies deciding whether to approve applications for new bank branches, the company noted in a regulatory filing. It also forces the bank to obtain pre-approval for some debt issuances.
EXCLUSIVE LOOK INSIDE: Wells Fargo is a holding in Jim Cramer's Action Alerts PLUS charitable trust portfolio. Want to be alerted before Cramer and the AAP team buy or sell the stock? Learn more now.
While the Wells Fargo's stock has largely recovered from the accounts probe, benefiting from a surge in bank shares since the surprise victory of Donald Trump in November's presidential election, customer activity continues to lag. 
During February, the number of consumer checking accounts opened fell 43% from the same period last year, while consumer card applications dropped by 55%, the bank said earlier this month.
This article, originally published at 4:46 p.m. on Tuesday, March 28, 2017, has been updated with executives' and analysts' comments.
With assistance from Tony Owusu in New York.