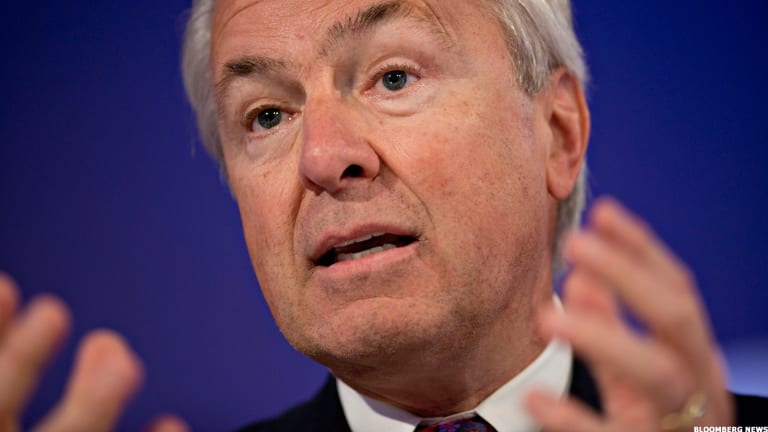 Wells Fargo: A Superb Contrarian Play Now
This mega-bank is getting besieged on all sides, but that means you have a great opportunity for gains over the long term. Here's why you should get in cheaply, now.
This mega-bank is getting besieged on all sides, but that means you have a great opportunity for gains over the long term. Here's why you should get in cheaply, now.
Buy Wells Fargo (WFC) - Get Report . Now.
That might be the complete opposite of what you would expect when it comes to today's investment suggestions. Wells Fargo is currently one of the most reviled names in finance. The company has found itself at the heart of a scandal that has caught the venom of the press and is losing in the court of popular opinion. But is it actually a great investment?
On September 8, word broke that the Consumer Financial Protection Bureau (CFPB), the Los Angeles City Attorney, and the Office of the Comptroller of the Currency (OCC) had fined the bank $185 million over allegations that Wells Fargo employees had opened more than two million bank accounts or credit cards without customers' permission or even knowledge over the course of May 2011 to July 2015. This was allegedly done to improve sales numbers.
The bank acknowledged that it had fired about 5,300 employees in connection to the scandal.
Then, on September 16, 2016, the House of Representative's Financial Services Committee opened an investigation into the alleged misconduct as well as "the role of Washington regulators" in investigating the alleged misconduct.
And then, on September 20, Wells Fargo CEO John Stumpf first appeared before Congress. It didn't go well. And Wells Fargo's stock took a header.
Nor was it helped by other factors in the market, especially uncertainty over the Fed policy on interest rates. Investors panicked. Warren Buffett's Berkshire Hathaway (BRK.A) - Get Report , Wells Fargo's largest shareholder, lost billions of dollars on its investment.
However, this is opening up a good opportunity for value investors to come in and grab shares of this long-term profit maker.
Simply put, that $185 million fine is chicken scratch to Wells Fargo. Most recently, the company hauled in around $86 billion in revenue and $22.9 billion in net profit. During last year, the stock's earnings per share (EPS) increased by 1%, thanks to a steady increase in business and a portfolio of high-quality loans.
Wells Fargo is not the only bank to face scandal. Back in 2012, JPMorgan Chase (JPM) - Get Report was forced to pay $1 billion in fines, which is nearly 10 times more what Wells Fargo has been slapped with. The stock plunged by 30%. But today JPMorgan Chase has recovered and is going strong.
Wells Fargo will also recover. And it will once again go strong, sending its share price higher. In a few years, we may even barely remember this ordeal. However, today we have a discount on this stock. Grab shares of Wells Fargo and hold for some sizeable profits over the long term.
---
85% Accurate Trader gives his Personal Guarantee: "Give Me 9 Minutes a Week and I Guarantee You $67,548 a Year." He turned $50,000 into $5 million trading this way and for a limited time, he's guaranteeing you at least $67,548 per year in profitable trades if you follow this simple step-by-step process.Click here to see how easy it is to collect thousands of dollars in "Free Money" every month.
The author is an independent contributor who at the time of publication owned none of the stocks mentioned.