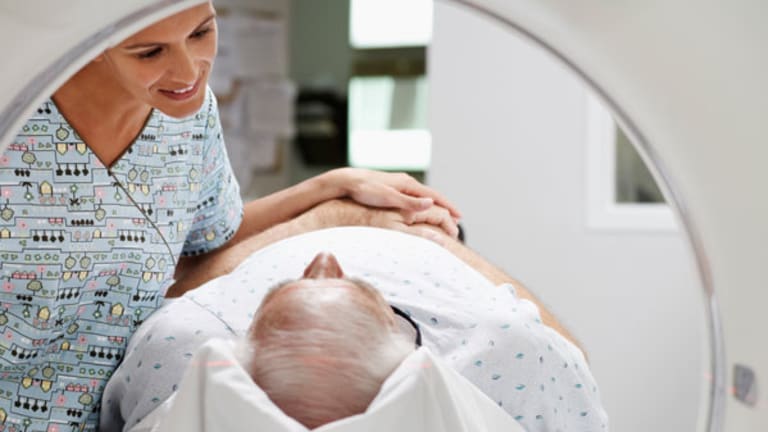 WellPoint on Target
But shares slip 2% as investors fret over guidance.
WellPoint
(WLP)
looks stronger than ever.
The nation's largest health insurer on Wednesday easily muscled past Wall Street expectations for the second quarter and lifted its guidance for the full year. By gobbling up its stock and keeping its medical costs under control, the company continues to thrive in a tough enrollment environment.
During the latest period, WellPoint grew revenue by 27% to $13.9 billion with help from an acquisition. While the company fell short of the $14.1 billion consensus estimate, it managed to beat some other important targets.
Notably, the company posted second-quarter profits of $1.17 a share that topped the consensus estimate by 3 cents. Net income surged 34% to $751 million.
UBS analyst Justin Lake says that three major factors -- share repurchases, operating cost controls and strong specialty results -- pushed profits ahead of his estimates. WellPoint spent $1.7 billion buying back 23.3 million shares of its stock in the latest quarter. Some believe that the company will now increase its share repurchase budget going forward.
In the meantime, Lake has a buy recommendation and a $90 price target on WellPoint's stock. His firm has provided investment banking services to the company in the past.
To be sure, WellPoint itself feels optimistic about the future. Notably, the company now expects to earn $1.22 a share in the third quarter and $4.74 a share over the course of the full year. Before that update, Wall Street had been projecting profits of $1.19 and $4.65 for those periods, respectively.
"We are very pleased with our strong second-quarter results that reinforce the very high expectations we set for ourselves at the beginning of the year," WellPoint CEO Larry Glasscock stated. "From a financial perspective, earnings-per-share growth was very strong, administrative costs as a percentage of revenue continued to improve and our medical-expense ratio declined compared to the first quarter ... During the second half of 2006, we expect continued membership growth but not at the expense of profitability."
WellPoint now expects to end the year with 34.5 million members, Lake notes, down 300,000 from earlier forecasts. In addition, he says, the company has lowered its full-year revenue projection by $200 million to $56.4 billion.
Investors clearly dwelled on those metrics, pushing the company's stock down 2.5% to $76.02 early Wednesday morning.
By the Numbers
Over the course of the past year, WellPoint has increased its total membership by 19% to 34.2 million, with its acquisition of WellChoice providing most of that boost. Organic enrollment growth remains tougher to achieve.
On a comparable basis, WellPoint added 616,000 members, with its national accounts and state-sponsored programs once again doing much of the heavy lifting. The company's individual/small group and senior divisions posted increases as well -- with Medicare Part D enrollment now topping 1.5 million members -- although some had expected better results from the senior division, in particular.
Meanwhile, the company weathered a decline in large group enrollment following the loss of 377,000 customers in Georgia and Kentucky. The company did add 22,000 fully insured members -- in spite of declines in the automotive industry -- but lost three times as many self-funded customers because of the discontinuation of a rental network in Texas.
Other trends proved more favorable.
The medical-loss ratio, reflecting the amount of each premium dollar spent on medical costs, "was basically in line with our 81.1% estimate -- which is positive in our view for investors, given the heightened concern regarding pricing in the marketplace," noted JP Morgan analyst William Georges. Moreover, "the company reaffirmed its outlook for premium yields and medical-cost trends to track 50 basis points below 2005 levels. ... We reiterate our overweight rating and believe the stock currently warrants a premium to the group."
JP Morgan counts WellPoint as a client of the firm.
Early Calls
Other analysts were looking for healthy results as well.
Stifel Nicolaus analyst Thomas Carroll predicted that WellPoint would match the consensus profit estimate for the quarter and, looking ahead, set itself up to inch past management guidance for the entire year. Importantly, he also portrayed WellPoint as a safer investment than its biggest competitor.
"WellPoint, in our opinion, has solidified itself as the large-cap alternative to
UnitedHealth
(UNH) - Get Free Report
in the managed care space," Carroll wrote on Monday. "Our interactions with management subsequent to 1Q06 reveal confidence and stability in the organization without material overhangs such as the options controversy."
Carroll highlighted a number of favorable trends that could drive the company's stock higher. Specifically, he noted moderating medical costs, positive underwriting spreads, declining overhead and potential membership upside from Medicare and -- increasingly -- Medicaid.
Already, Carroll noted, WellPoint ranks as the largest Medicaid insurer in the country, with approximately 2 million members. Moreover, he said, the company "should definitely add 250,000" new Medicaid customers over the course of the next year. He pointed to recent Medicaid gains in Nevada, Ohio and Texas, plus opportunities in Kansas, Indiana and Tennessee, as reasons for his confidence.
"WellPoint enrollment growth may lead the sector due to Medicaid awards this year," Carroll stated. "This will support organic enrollment growth through 2007 and potentially be a source for an increase in enrollment guidance."
Interestingly, Carroll looks for less impact from the new high-profile Medicare Part D program this year. Although WellPoint ranks as the third-largest Part D provider, he says, the company has deliberately taken a conservative stance on this growth vehicle due to the perceived risks -- particularly with reimbursement -- that could be involved.
Meanwhile, Carroll expressed comfort with WellPoint's strategy in the important commercial market. He acknowledged that investors have grown increasingly nervous about losses in risk-based commercial accounts, and even predicted that this trend would continue.
However, he foresaw help coming from new risk-based accounts in the government and individual/small group markets.
In the end, Carroll recommended WellPoint as a solid stock that he values at between $100 and $105 a share. Carroll's firm hopes to secure investment banking business from the company over the next three months.
Second Opinion
Williams Capital Group analyst Beth Senko was looking for similar results from the company.
Last time, she noted, WellPoint missed her targets for large-group enrollment but nearly made up for that shortfall with strong gains in national accounts. This time around, she predicted that the individual/small group segment -- which was flat sequentially in the first quarter -- could help out as well. Moreover, she said that she would view any further decline in medical costs as a "very favorable" development.
Still, Senko stopped short of recommending WellPoint's stock because she considers it fairly valued already. At the same time, however, she suggested that the stock would more likely go up than down.
"While we expect the group to trade within a fairly narrow range over the next six to 12 months, as investors sort out the prospects for enrollment gains, there is a distinct possibility that the group will exhibit short-term swings beyond our -15% to +15% target range," wrote Senko, whose firm has no business relationship with WellPoint but has provided investment banking services to rival UnitedHealth in the past. And "we believe that the risk is more that the shares will outperform based on short-term incremental news and a dearth of good news in other sectors of healthcare."
Senko currently maintains a hold rating on WellPoint's stock but still prefers the company over any other in the managed care space.