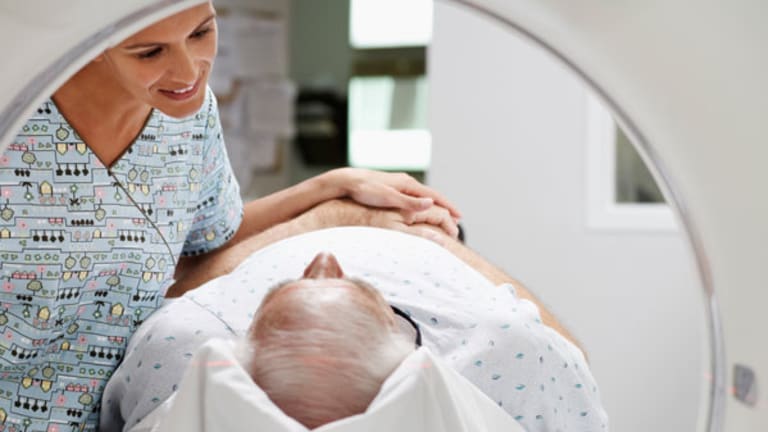 WellCare Shows a Pulse
Shares surge, regaining a chunk of the ground lost to legal worries.
OKLAHOMA CITY -- Right now,
WellCare
(WCG) - Get WellCare Health Plans, Inc. Report
looks like it will survive.
Indeed, the Florida-based health insurer reported spectacular third-quarter results -- posting strong gains in its Medicare and Medicaid businesses alike -- when issuing its first quarterly update since last month's sweeping raid of the company. A recent article by
The Wall Street Journal
, suggested that the government's probe could prove limited in nature, giving investors some real reason for hope on Monday.
WellCare's stock, once a $125 highflier, clearly reflected that newfound optimism. After recovering some lost ground on Friday, the shares rocketed 36% to $37.10 on the recent developments.
To be sure, WellCare's latest results looked strong. Third-quarter revenue surged 42% to $1.43 billion, handily beating the $1.36 billion consensus estimate, due to solid growth in both of the company's core businesses. Medicare Advantage performed especially well, as membership soared 84% over the course of the past year. Net income jumped 67% to $72.4 million, with earnings per share of $1.71 toppling Wall Street's $1.52 estimate.
Those numbers are subject to change, however. WellCare announced on Friday that it will be releasing only preliminary results -- and no guidance at all -- until the company better understands the government's investigation and its potential impact on operations. Thus, the company has delayed filing its formal third-quarter report and could miss the deadline for its annual report as well.
Nevertheless, investors are enjoying some welcome relief in the meantime. Notably,
The Wall Street Journal
suggested on Friday that last month's raid of WellCare "was spurred at least in part" by a whistleblower lawsuit focused on a small portion of the company's business. The newspaper reported that government authorities are reviewing $35 million worth of possible overpayments to WellCare for mental health patients covered by the company's Medicaid policies in Florida.
Experts note that those alleged overpayments -- spanning a period of five years -- represent a tiny fraction of the $5.3 billion in revenue and $213 million in profits that the company is expected to report this year alone.
For its part, WellCare said on Monday that it has not yet seen this particular lawsuit and has no idea whether it prompted the government's investigation. In fact, WellCare said that a recent docket search has uncovered yet another whistleblower lawsuit -- filed the day after the raid -- as well. Given the high turnover rate at WellCare and the massive force used in the raid, some experts now feel that the company could face multiple whistleblower lawsuits and widespread scrutiny of its business practices.
Even so, Jefferies analyst Brian Wright is willing to hope for the best. Following
The Wall Street Journal's
reassuring report, Wright predicted that WellCare will face only financial penalties -- with just a 16% chance of actually losing government contracts -- and started urging investors to buy the company's stock as a result.
But Bear Stearns analyst John Rex feels more nervous. He, for one, questions whether the government investigation will in fact prove as narrow as some investors now hope.
"It just seems a bit hard to accept that the multi-agency raid would have used 200 agents -- and created the headlines that it did -- to examine such a comparably small piece of business as the Florida behavioral health unit," Rex wrote on Monday. "We would be somewhat surprised if the issues were limited to such a small portion of the company's business and would hesitate to assume that it is so isolated, mostly as the 'show of force' that was used in the raid would appear so out of scale."
Regardless, Rex feels that WellCare's crucial Medicare Advantage business is bound to suffer some fallout from the probe in the meantime. Notably, he points out, WellCare will soon begin marketing its Medicare Advantage plans -- with the open enrollment period starting in just 15 days -- and is counting on that business for virtually all of its future growth.
Before Friday's report by
The Wall Street Journal
, Rex estimates, investors were assuming that WellCare would lose a full half of its existing business and see margins on its remaining business come down. Now, however, some feel more optimistic about WellCare's future and clearly dismiss a worst-case scenario that would send the company's stock to zero.
But Rex has not ruled out even that possibility. Moreover, he has slashed his forecast for the company and warned of further downside in the meantime.
Rex has a peer-perform rating on WellCare's stock. His firm seeks to do business with the companies it covers.
"Our recently revised 2008 EPS ... assumes mostly that the company is unable to add to its Medicare Advantage book in 2008 and suffers about 10% attrition as a result of poor publicity surrounding the FBI raid," Rex wrote on Monday. Importantly, however, "we have not incorporated the loss of any significant state or federal contracts in this outlook."