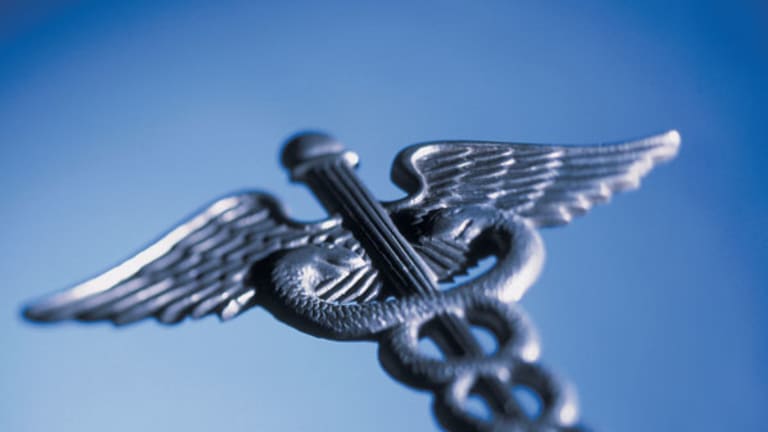 WellCare Looking Vulnerable
The HMO could lose contracts as a fraud probe deepens.
OKLAHOMA CITY -- Even now, with its reputation in tatters and its stock price in the toilet, sullied
WellCare
(WCG) - Get WellCare Health Plans, Inc. Report
still has plenty left to lose.
Soon, WellCare's core businesses could take a painful hit as well. Starting this month, WellCare must compete with other health insurers for Medicare customers and then convince government authorities to renew contracts for its Medicare and Medicaid policies alike. Moreover, it must do this with a heavily publicized raid of its headquarters hanging over its head.
To its credit, late Friday, WellCare announced that it has managed to execute new Medicare contracts in Illinois and a handful of smaller markets for the company. Going forward, other states could very well follow suit. Ultimately, the next seven weeks will tell the story.
On Thursday, WellCare will begin courting senior citizens during the open enrollment season for lucrative Medicare Advantage plans. Until last month's raid of the company's Florida headquarters, some experts viewed WellCare's booming Medicare Advantage business as the company's growth engine. Now, however, they see serious risks instead.
"It is hard to believe that brokers will be actively pushing the sale of WellCare-branded Medicare Advantage policies," Bear Stearns analyst John Rex wrote earlier this month. "More likely now, we could see how the company will be a net loser of Medicare Advantage business instead, being an easy target for competitors to sell against given the ongoing investigation."
Thus "we are lowering our
projections, as we assume 10% attrition in the MA book rather than the prior growth outlook," Rex added. And "this does not incorporate contract losses, which would have a much more significant impact and cannot be ruled out."
Even if WellCare manages to win over seniors and expand -- or at least maintain -- its MA market share, the company must then officially renew some key contracts with the government. WellCare's federal contracts for many of its Medicare programs, including its popular private fee-for-service plans, expire at the end of December. Moreover, the company's highly profitable Medicaid contracts in the state of New York -- where an investigation is reportedly brewing -- will expire over the course of the next year as well.
WellCare faces serious risks in some other crucial markets, too. Florida, in particular, stands out. Although WellCare's current Medicaid contracts in Florida extend through the summer of 2009, the company's plans to expand its business there have been temporarily halted.
Notably, days after last month's raid, Florida's Medicaid agency delayed WellCare's request to branch out into new service areas across the state. Now, some experts worry about WellCare's ability to hold on to the Florida Medicaid business that it already has.
"The Florida Medicaid market is WellCare's single largest business line,
accounting for 39% of WellCare's total membership in 2Q07," Deutsche Bank analyst Scott Fidel stressed late last month. Based on recent figures, "WCG held a No. 1 46% market share in Florida Medicaid, followed by
Amerigroup
( AGP) at 18%,
UnitedHealth
(UNH) - Get UnitedHealth Group Incorporated (DE) Report
at 12% and
Humana
(HUM) - Get Humana Inc. Report
at 5%.
"Given the rapidly deteriorating regulatory situation at WCG, we expect the other public managed care organizations currently operating in Florida may have significant opportunities to gain market share in Florida Medicaid from WCG" going forward.
WellCare failed to answer questions for this story. Meanwhile, the company's stock continues to suffer. The shares have lost three-quarters of their value since scandal first engulfed the company less than one month ago.
For now, at least, both Rex and Fidel are urging investors to remain on the sidelines until WellCare's future prospects become clearer. Fidel's firm owns at least 1% of WellCare's stock itself.
Target Practice
Some experts saw looming risks to WellCare's government business, especially its lucrative MA program, even before last month's raid.
They worried about the company's Medicare private fee-for-service, or PFFS, plans in particular. With Congress intensifying its scrutiny of Medicare PFFS offerings -- and even blasting them in a formal hearing this spring -- they fretted over WellCare's rising dependence on that program for growth.
Jefferies analyst Brian Wright in fact downgraded WellCare months ago for this very reason. By early this year, Wright calculated, WellCare was relying on PFFS plans for nearly 70% of its MA growth overall. Less than two weeks after that downgrade, WellCare found itself rushing to defend its Medicare PFFS program from Congressional leaders who view it as a clear rip-off to senior citizens and government payers alike.
Credit Suisse analyst Gregory Nersessian downgraded WellCare around this same timeframe.
"A large, red flag has effectively been painted on the back of Medicare Advantage plans," Nersessian warned this March. And "we believe the potential for Medicare reimbursement cuts coming out of the current legislative cycle and Medicaid rate pressures are not fully reflected in the company's current stock price."
With WellCare's stock fetching almost $86 at the time -- and poised to rocket even higher -- Nersessian established a more conservative price target of $80 a share. Since then, with risks to both of WellCare's core businesses mounting, Nersenssian has further slashed his target by another $30. His firm makes a market in the company's securities.
Outsized Profits
Back in its glory days, as its stock headed toward $130 a share, WellCare may have been even more profitable than it seemed.
For more than a year, Goldman Sachs analyst Matthew Borsch has been suggesting that WellCare shifts huge sums of money into an offshore subsidiary so that the company looks less profitable when it seeks rate increases from Medicaid officials. Late last month, Borsch followed up by saying that this arrangement has in fact cut WellCare's reported profits by nearly half. Even before then, Borsch reported that regulators in both Florida and Connecticut were scrutinizing the transactions.
"WellCare has taken issue with our having reached what it deems 'inappropriate conclusions,'" Borsch acknowledged back in late May. "However, we highlight that we first approached management on this issue in June 2006 and have yet to receive an explanation that answers our questions."
Borsch was urging investors to sell WellCare's stock at the time. However, after the shares spiraled well below his $73 price target, he removed WellCare from his firm's "Americas Sell List" and established a neutral rating instead. His firm has investment banking ties to the company.
Meanwhile, in his past research, Borsch indicated that WellCare has been seriously underreporting Medicaid profits in its valuable New York market as well. Since then,
Reuters
has announced that New York regulators are investigating the company, too.
Notably, analysts have portrayed New York as an important WellCare market that delivers extraordinary profit margins for the company.
"WellCare's profitability level in New York has been very strong," Nersessian noted in early spring. Moreover, "WellCare's organic Medicaid growth opportunities are limited to one state -- New York."
'Distressed Equity'
Lately, WellCare has counted on Georgia to fuel its Medicaid growth instead. Thanks to a new contract, in fact, WellCare saw its Medicaid membership in Georgia explode from 300 to 477,000 customers last year alone.
Back in late April, however, Wright downgraded WellCare yet again -- cutting the stock all the way to underperform -- over concerns about escalating costs in this very market.
"We believe WCG is at risk for higher-than-expected medical costs in Georgia, as the issues appear to be systemic," Wright warned at the time. "We estimate that the plans would need about a 7% rate increase in order to meet profitability targets.
But we view this magnitude of an increase as highly unlikely given the program has not even reached the first full year of operation and current budgetary issues in the state."
Now that prospect looks even dimmer, with Wright noting last month that Georgia officials have started auditing WellCare's payments to healthcare providers amid public outcry over the state's newly privatized Medicaid program. Due to the plunge in WellCare's share price, however, Wright has since lifted his rating on the stock back to hold.
To be fair, WellCare's Medicaid business in other states looks relatively safe with no contract expirations looming. Yet all of these states, besides Illinois and Ohio, rank as relatively minor markets for the company.
Still, given the huge risks and uncertainties involved, analysts have found it virtually impossible to determine just how much WellCare is actually worth.
"There is very little in the way of so-called 'free cash' that would be left over (probably $100 million to $200 million), and fines could easily consume all of that," Rex observed this month. Meanwhile, "the fundamental 'distressed equity' valuation problem in managed care is that these companies have almost nothing in the way of hard assets, with the customer contracts being the key asset" in the end.
Thus, he added, "if/when these start unwinding, there are 'go-to-zero' scenarios for these stocks."