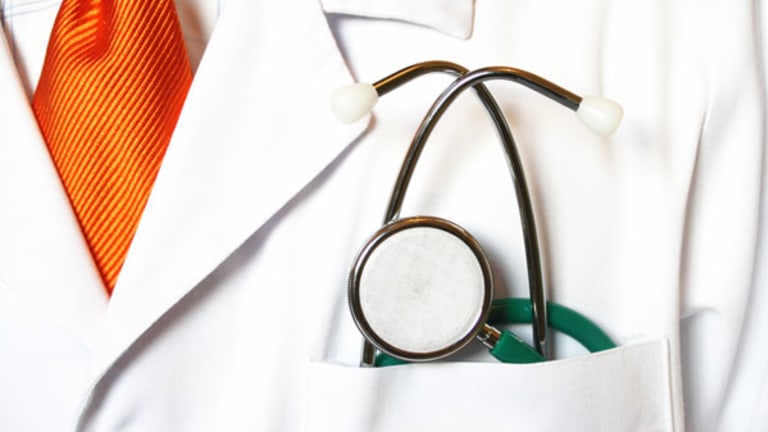 WellCare CEO Has Seen This Movie Before
Todd Farha has been at two other HMOs that suddenly blew up.
OKLAHOMA CITY --
WellCare
(WCG) - Get WellCare Health Plans, Inc. Report
investors, already nervous about tight-lipped company leaders, better hope that history doesn't repeat itself.
Weeks after government officials swarmed its Florida headquarters, WellCare still has offered no clues about the focus or potential impact of a sweeping investigation of the company. Despite that uncertainty, investors have taken comfort in the fact that WellCare boasts a strong track record and seems to employ a topnotch management team. Up to now, in fact, WellCare has ranked as a perennial Wall Street favorite known for its ability to make a fortune providing government-subsidized health insurance for the elderly and the poor.
But past disasters at companies tied to WellCare leaders, including CEO Todd Farha, suggest that current investor confidence could prove misplaced. Notably, before taking over at WellCare -- and transforming the company into a Wall Street darling -- Farha worked for two booming health insurers that suffered spectacular collapses.
TheStreet.com
sought input from WellCare for this story. But as a matter of policy, the company sticks with public disclosures about its executives' employment histories and declines to elaborate any further on personnel matters.
Still, the public record says plenty.
First, back in the early 1990s, Farha worked alongside his cousin Alif Hourani (now deemed an "independent" member of WellCare's audit committee) at Physician Corporation of America. Although PCA seemed to be in good shape when Farha departed, the company was fighting for survival just a few years later.
By then, Farha had long since moved on to Oxford Health. There, Farha served as a key division leader during a stunning meltdown exactly one decade ago.
Credit Suisse analyst Gregory Nersessian expressed a sense of déjà vu when penning a particularly observant research note, entitled "Lightning Strikes Twice," following WellCare's own setbacks last month.
"That day, Oxford announced a $50 million charge to earnings, lowered its enrollment and earnings outlook, acknowledged revenue and claims recognition improprieties and initiated a series of events that would lead to senior management changes, lawsuits, regulatory investigations -- and what would ultimately become, in the opinion of many observers, the most notorious blow-up in managed care history," Nersessian recalled in late October.
"Fast forward 10 years to the date, and once again, Farha ... found himself in the midst of an unpleasant regulatory predicament and facing a precipitous decline in the stock price of his company," Nersessian added. "Eerily, Oxford and WCG shares both fell by the same percentage -- 63% -- on their first day of trading" following their respective bombshells.
To be sure, the coincidences could end there. But if they do not, research by
TheStreet.com
suggests, investors could face even more pain ahead.
History Lesson
A close look at the past could fuel investor concerns.
Start first with a review of PCA, a Medicaid HMO provider that once counted several WellCare leaders among its own. With cousin Hourani already in the executive suite, Farha started working at PCA -- alongside former WellCare director Glen Johnson -- back in 1990. Farha filled "various positions" at PCA, according to WellCare's original registration statement, before moving on in 1993.
That year, the
Miami Daily Business Review
reported, PCA went on a 14-city road show and -- with its business booming -- managed to tap the capital markets twice for millions of dollars in fresh funding.
"A lot of new investors heard our story for the first time," PCA CFO Clifford Donnelly told the newspaper back then. And "we thought it more prudent to get additional equity when the market was still there."
Two years later, with PCA reporting high medical costs and meager profits, that investor enthusiasm had disappeared. From there, the situation only grew worse. In late 1996, PCA weathered massive charges that left the company bleeding badly and scrambling for a well-capitalized suitor.
Sierra
( SIE) first came to the rescue -- sending its own shares plunging in the process -- but soon backed away from the deal. Afterwards, under pressure from lenders and regulators, PCA embraced a smaller offer from
Humana
(HUM) - Get Humana Inc. Report
.
At first, Humana followers viewed the 1997 buyout as an attractive bargain. Less than a year later, in an article published by
Modern Healthcare
, Humana itself was still celebrating the deal -- and boasting that the company always "buys wisely" -- at the start of an apparent turnaround.
By early 2000, however, Humana was taking a huge charge to write down the value of that misguided acquisition. Humana would continue to pay for that buyout -- forking over settlements to regulators, hospitals and shareholders alike -- for years to come.
Weak Pulse
Meanwhile, several PCA executives with future ties to WellCare faced their own challenges.
By 1997, Farha's days at Oxford were already numbered. That same year, both Hourani and Johnson saw their PCA careers end with Humana's takeover of the company.
But Hourani, at least, had found a new focus already. Together with his brother, the
Wichita Business Journal
reported in early 2000, Hourani had launched a medical software company known as Pulse Systems during the Internet boom. The two men "underwent eight months of training from Microsoft" to bolster their chances of success, the newspaper added, with Hourani's brother even promising that "an initial public offering could be on the horizon."
Today, Pulse Systems remains a closely held company with the Hourani brothers still in charge.
Pattern of Failure
Meanwhile, Farha's tumultuous career at Oxford had long since come to an end. After starting work in the CEO's office in 1995, Farha had become a CEO himself -- presiding over Oxford's specialty management division -- a couple of years later. Notably, at the time, that new division ranked as Oxford's key focus during a major restructuring of the company's operations.
For a while, at least, that strategy seemed to pay off, with consumers rushing to sign up for Oxford health plans that promised immediate access to doctors -- including high-priced specialists -- of their choice. Less than a year later, however, the company became a victim of its own success. Mountains of claims overwhelmed Oxford 's customized computer system,
Fortune
later reported, as the company's patient-friendly approach backfired in spectacular fashion.
In response, Oxford hired
Aetna
(AET)
veteran Kevin Hickey -- a current WellCare director -- to become its new vice president of operations and counted on him to restore the company's former success. By the following year, however, both Hickey and Farha had left the company.
Hickey went on to found IntelliClaim, a privately held company that would later provide claims processing services to WellCare even as Hickey served on WellCare's board. Hickey remains a WellCare director to this day.
Meanwhile, Farha pursued his own entrepreneurial activities before accepting a job as CEO of privately held Best Doctors Inc. Farha was still running that small company, providing referral services to patients with critical illnesses, when WellCare ran into financial hardships that ultimately led to its takeover by Farha and other investors. Indeed, WellCare had previously been declared insolvent -- requiring multiple cash infusions -- before Farha took control of the company.
Under Farha's leadership, however, WellCare quickly thrived. By 2004, just two years after the buyout, Farha was ready to take the rapidly growing company public. Since then, WellCare has constantly beaten Wall Street expectations and seen its stock soar -- until now.
Today, WellCare leaders once again find themselves engulfed by challenges and faced with possible disaster. But this time around, they seem to be writing a whole new chapter for the history books.
"The high-profile raid on the company's headquarters last week by a reportedly couple hundred federal and state representatives was unprecedented in managed care," Bear Stearns analyst John Rex noted last month. "To be sure, there have been a number of fraud investigations on the facilities side of healthcare services over the last few decades, but precedents for such events in managed care are more scarce."
Thus "we remain sidelined, awaiting any indication as to scope of issues so we can actually assess contract loss risk," added Rex, whose firm seeks to do business with the companies it covers. But "chasing fraud stories in healthcare services -- alleged or real -- has been historically a tough game."