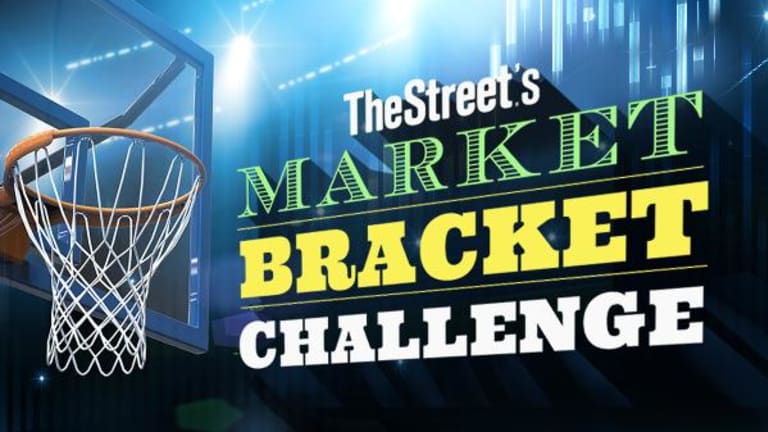 Publish date:
Welcome to TheStreet's Market Bracket Challenge
TheStreet has ranked 64 of the top-performing S&P 500 companies and matched them up in a bracket. Who will come out on top?
TheStreet has ranked 64 of the top-performing S&P 500 companies and matched them up in a bracket. Who will come out on top?
We are trying something a little different this year here at TheStreet, something to get you, the reader, even more engaged in our content. 
To provide a bit of a reprieve from everyday stock trading, and given the time of year, we have devised our own bracket based on the stock market.
Nov. 11 is a good place to start because it was the first Friday after the election of Donald J. Trump as the 45th president of the United States. 
TheStreet picked about 40 of the top performing companies based solely on a percentage increase over the past four months and awarded 24 "editorial at-large" bids based on track record, popularity and a staff-wide vote. So when you ask yourself "Why is Apple (AAPL) - Get Apple Inc. (AAPL) Report or Snap (SNAP) - Get Snap, Inc. Class A Report  or Exxon (XOM) - Get Exxon Mobil Corporation Report  ranked so low?" Remember TheStreet's rankings are based solely on performance from the close of trading Nov. 11 through the close of trading on March 3. The stocks have a primary listing in the United States.
So what's the game, where do you enter and how do you win? 
After the rankings are unveiled you will have until 12:01 am ET Monday to enter your submitted bracket. Patrons will complete a short sign-up with our friends at Votion and then pick a winner from each match-up based on which stock they believe will perform better during the given time period for each round. The first five rounds will be decided on two-day intervals, while the finals will be decided in a single trading day at the close of regular trading. Stock will be judged to the deciding decimal place of percentage change. In the course of a tie, the first hour of after-hours trading will decide the overtime. 
The stock performance is decided on shear appreciation and percentage change during regular trading hours. It does not take into account dividends of any kind. If a company pays a dividend during the tournament the dividend would not be factored into the performance return.
Here's how the rounds will break down:
Round of 64 -- March 20 & 21 (2 days)
Round of 32 -- March 22 & 23 (2 days)
Round of 16 -- March 24 & 27 (2 days)
Round of 8 -- March 28 & 29 (2 days)
Round of 4 --  March 30 & 31 (2 Days)
Championship Match-up --  April 3 (1 Day)
You can also play now by entering below or by clicking here. Just sign up and then scroll through, our friends at Votion will fill in your match-ups based on the picks. The selection process will close at 12:01 a.m. ET on Sunday, March 20.
For more information check out TheStreet's over-all power rankings for the 64 stocks competing in our bracket or email bracketchallenge@thestreet.com
DISCLAIMER: This challenge is for entertainment purposes only. There is not a prize associated with this challenge. All trademarks are the property of their owners. This challenge is not sponsored, endorsed or administered by any such trademark owner.