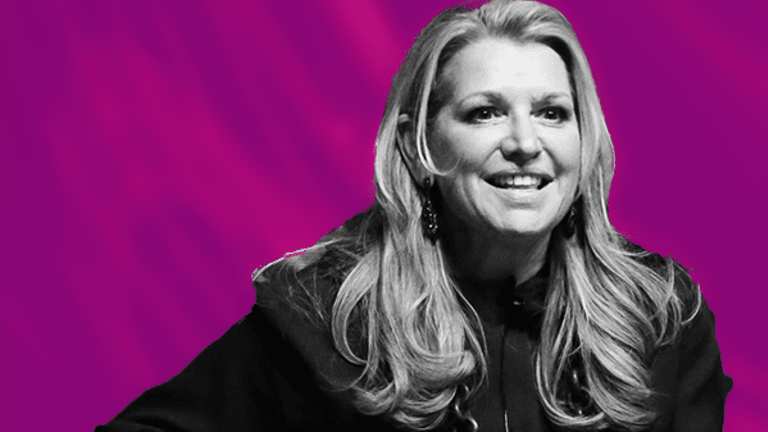 Weight Watchers' New CEO Mindy Grossman Says Diversity Yields Long-Term Business Success
She's bold, she's successful and she's ready to take on Weight Watchers.
It's not easy transitioning to any company outside your current industry, especially when said company is undergoing major reorganizational efforts.
But, if anyone can do it, it seems Mindy Grossman has the right stuff.
A Forbes' 100 Most Powerful Women in the World, Grossman, previously the CEO of HSN Inc. (HSNI) , known to many as the Home Network Channel, stepped in as head of the weight management service provider Weight Watchers Int.'l Inc. (WTW) - Get Weight Watchers International, Inc. Report on July 1.
Grossman has assumed the CEO position at a pivotal time for Weight Watchers. In September, former CEO James Chambers resigned from the company amid plummeting revenue and memberships, sparking a company-wide turnaround effort and nationwide search for a new chief, led in part by shareholder, board member and spokeswoman Oprah Winfrey.
The search landed on Grossman who, before taking control of HSN, held executive positions at retailers such as Nike Inc. (NKE) - Get NIKE, Inc. Class B Report  and Ralph Lauren Corp. (RL) - Get Ralph Lauren Corporation Class A Report .
After Weight Watchers reported a massive second-quarter earnings beat on Thursday, Aug. 3, citing the turnaround efforts that led to better customer engagement and digital innovation, TheStreet talked to Grossman. 
This is a condensed and edited version of that interview.
Question: Are you surprised at how strong the numbers for the quarter were?
Answer: What I'm really impressed with is the quality of the results. That and the work that's been done to have them be sustainable and continue the momentum while we're working to build the future. That's really important for me.
Q: Did your management style change after going from Home Shopping Network to Weight Watchers?
A: My leadership and management style is not specific to a company. It's a philosophy, and it has served me well my entire career.
The reason I've been able to do it is my feeling that my role at a company is to set the vision, the initiative and the clarity around where the company can go, what the possibilities are and then building the strategy. I am focused on engaging a very committed, mission-based dynamic team where every person understands their role. I'm incredibly collaborative, acceptable but yet I hold myself accountable. And I've always been very optimistic in how I've approached things.
What I love about Weight Watchers is, this is not a job for the people that work there, for myself and the team. Not only do we feel that whatever we're doing is going to have a great impact on financial return on equity, but we're actually helping people change their lives, and that's very powerful.
Q: What is change like for you going from Home Network to Weight Watchers?
A: There's a lot of correlation from the business that I came from, despite them being two different industries. They're both around serving the customer and creating a relationship. It's all about the member or customer being engaged and active in the business so they stay with you longer.
Think about building communities. There's a lot in terms of how we use technology to do that. I spent the last 11 years focused on that and can apply it to the business. I've been through a digital transformation. I understand everything from digitization to community to engagement to retention. And I've always been with passion-based, human-centered businesses. Although it's a different industry, this idea of holistically being a part of someone's life is what I live to see.
Q: With part of your background in retail, what is your outlook on that industry?
A: Obviously the retail industry is going through a certain level of obstruction. It is still a massively powerful industry that just might look somewhat different 10 years ahead, but there is still going to be a part of it that is centered on community and a part of it that can be in digitization. The brands that are going to be the most successful will be the ones that take loyalty and focus on the consumer as the center of everything that they do, and focus and build their experiences around that.
Q: Investor Kevin O'Leary of Shark Tank fame told TheStreet recently that he trusts startups run by women more than men, as they always deliver on their goals. What do you think?  
A: The blatant quality of leadership is genderless in your ability to inspire people, hold yourself accountable, focus on humanity. I am very fortunate to have worked for leaders like [Nike co-founder] Phil Knight and others.
However, there are things that women and diversity in general can bring to the table. It's very unfortunate that there aren't more women CEOs. Diversity is a very strong platform for long-term business success. That means diversity in the boardroom, in the executive suite and throughout the company. Women can bring a different sensibility. It's important that people recognize that for there [need] to be more women in the C-suite. It really has to be men understanding the power of diversity.
What I'm thrilled about at Weight Watchers is the diversity of the organization as a whole. For example, we have one of the most-diverse technology teams I have ever seen. There are more than 200 professionals in the technology area in New York, San Francisco and Europe and the core 60% of that team is diverse. I'm proud to be a part of a company that recognizes how important diversity is.
Read More of What's Trending on TheStreet: