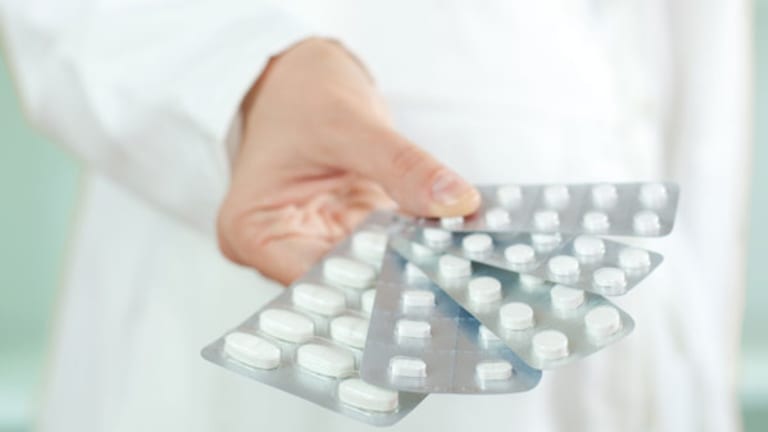 Weighing Possibility of Europe Rejecting Arena Pharma's Obesity Pill
The consensus view of Europe approving Belviq could be overly optimistic.
Updated with current stock price.
SAN DIEGO (
) --
Motley Fool
blogger Reza Ganjavi is a shareholder and big fan of
Arena Pharmaceuticals
(ARNA) - Get Arena Pharmaceuticals, Inc. Report
. In a recent blog post, Ganjavi says Europe's drug regulators will
recommend the company's weight-loss pill Belviq for approval
when it next meets Feb. 18-21.
Ganjavi
:
I believe EMA will view Belviq as very safe -- just as FDA did by not requiring a REMS program. Therefore, European approval of Belviq will happen in the first half of 2013 -- most likely by February 2013 we will have the CHMP recommendation for approval and it will get finalized by member states by April. This opens a huge market where Arena will be the only player. Qsymia by Vivus (VVUS) - Get VIVUS, Inc. Report was recently rejected in the EU and despite Vivus management's desire for appeal, Qsymia will never get approved in Europe.
January's CHMP meeting concluded last Thursday with no action taken on Belviq, disappointing many of Arena's supporters who predicted a very early approval and sending the stock down 6% in Friday trading.
I'm willing to take the other side of the February Belviq approval bet. In fact, I believe it's far too optimistic to automatically assume Arena wins European approval at all for its weight-loss pill.
Arena disclosed Tuesday the 180-day list of questions about Belviq raised by European regulators. It's not pretty:
We have received the Day 180 List of Outstanding Issues from the EMA's Committee for Medicinal Products for Human Use, or CHMP. The issues will need to be addressed before the CHMP can recommend BELVIQ for marketing approval in the EU. The major objections relate to previously identified non-clinical and clinical issues, including tumors in rats, valvulopathy and psychiatric events, and the CHMP requests that we further justify BELVIQ's overall benefit-risk balance taking these issues into consideration.In accordance with the CHMP's process, we have been asked to address the issues in writing. The CHMP also plans to consult with independent experts who will provide recommendations on the outstanding issues. In addition to the written response, we have been invited by the CHMP to provide an oral explanation.
These are many of the same concerns about Belviq's efficacy and safety raised by European regulators in their 120-day list of questions, suggesting Arena's responses were unsatisfactory.
Arena shares closed Tuesday trading down 10% to $8.82.
Arena had already warned investors about the risks posed by Europe's more stringent approval standard for weight-loss pills. From the company's 10-Q:
The approval requirements in the European Union are different than in the United States. For example, the EMA guidelines provide that clinical trials assessing drug candidates intended for weight control should subject patients to a weight reducing diet run-in period, and our Phase 3 clinical trials did not include a run-in period. Such EMA guidelines also provide primary and alternative primary efficacy criteria for weight loss drug candidates. We believe BELVIQ will satisfy the EMA's alternative primary efficacy criterion, which is the proportion of responders achieving more than 10% weight loss at the end of a 12-month period. However, we do not believe BELVIQ meets the more stringent EMA primary efficacy criterion, which requires demonstrating weight loss of at least 10% of baseline weight that is also at least 5% greater than that associated with placebo. The EMA has also raised questions regarding the dropout rate in our clinical trials and how this affects the analysis of efficacy in those trials.
So, not only did Arena fail to run registration trials for Belviq using Europe's preferred design, but Belviq's placebo-adjusted weight loss from the trials the company did run was 3% -- far below Europe's primary efficacy standard.
Arena and its supporters prefer to emphasize the "responder analysis" showing that about 35% of Belviq patients lost an average of 11% of their body weight after one year. This analysis makes Belviq looks more efficacious but it also hides the patients who lost far less weight or who dropped out of the study under the rug -- something European regulators don't seem particularly keen to allow.
Again, more warnings from Arena's 10Q:
With respect to the European Union, the CHMP reviewed our MAA for BELVIQ and provided us feedback in the form of a 120-day assessment report and list of questions. The report provided CHMP's quality, clinical and non-clinical questions and comments, which include a similar range of issues previously raised by the FDA. Three issues were identified as major objections: the tumor findings in rats, the dropout rate in clinical trials and how this affects the analysis of efficacy, and the incidences of valvulopathy. In October 2012, we submitted our response to the 120-day assessment report and list of questions. We cannot assure you that such, or any further, response will be sufficient to the CHMP, the EMA or others, that the CHMP, the EMA or others will consider our BELVIQ program or data, including with regard to BELVIQ's efficacy or safety, as sufficient, that the CHMP will recommend to the EMA that BELVIQ be approved, or that the EMA will ever approve BELVIQ.
European regulators raised the same questions about Belviq's safety and efficacy as did FDA last year. Arena was able to assuage FDA concerns enough to get Belviq approved but no one should assume Europe plays out the same way. On a risk-reward basis, Vivus had stronger overall data for Qsymia yet the drug was rejected by Europe. Arena's case for Belviq is weaker -- efficacy is marginal and the valvulopathy safety concern lingers despite what Arena supporters claim. I'd also add European regulators aren't being hound-dogged by politicians demanding the approval of a weight-loss drug, like what happened in the U.S.
Regarding Belviq's path through the EMA approval process, Arena CEO Jack Lief said the following at the J.P. Morgan Healthcare Conference:
We've responded to the 120-day questions, which were very similar to what the FDA asked us, questions that we responded at FDA. We're waiting for the 180-day assessment, which we expect this quarter. And as I said, we expect a final decision in the first half of this year.
Those aren't the words of a CEO expecting good news from Europe in February. In fact, Arena may find itself appealing a European rejection of Belviq, just like Vivus is doing with Qsymia.
-- Reported by Adam Feuerstein in Boston.
Adam Feuerstein writes regularly for TheStreet. In keeping with company editorial policy, he doesn't own or short individual stocks, although he owns stock in TheStreet. He also doesn't invest in hedge funds or other private investment partnerships. Feuerstein appreciates your feedback;
to send him an email.