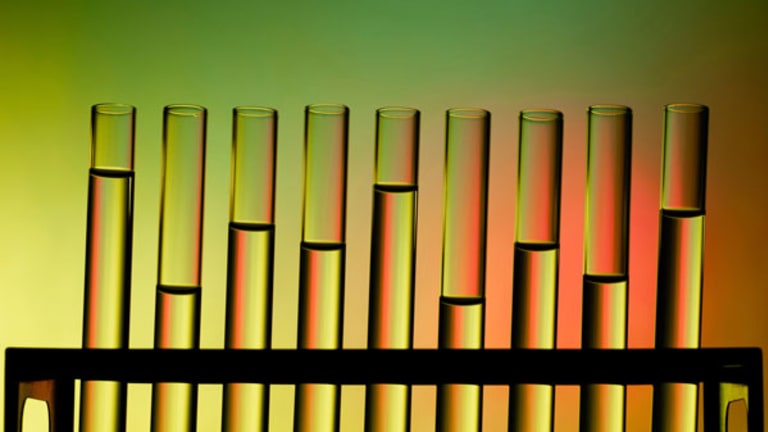 Weighing Arena's Obesity Drug: Biotech Mailbag
Readers weigh in on Arena Pharmaceuticals' obesity drug, Affymax's stock, and Cell Therapeutics' pixantrone.
Readers weigh in on Arena Pharmaceuticals' obesity drug, Affymax's stock, and Cell Therapeutics' pixantrone.
The Biotech Stock Mailbag is back from its one-week beachside hiatus.
First up, an email from Jo S., who writes, "As a shareholder of
Arena Pharmaceuticals
(ARNA) - Get Report
and
Biovest International
(BVTI.PK)
, I am attempting to gather as much information from the best analytical minds. Hence, my humble request that you comment on these two stocks in the current market.
"Arena's Lorcaserin seems to be quite satisfactory in terms of safety as the side effects don't appear to be too burdensome or life threatening. Nevertheless, the issue of efficacy is not so readily apparent with the available data. It is likely that the results of Arena's Blossom study will prove to be similar to that of their prior studies, too close to call in advance. What is your take on the question of whether or not Lorcaserin has the efficacy necessary for it to be approved by the FDA?"
Jo went on to ask about BioVest, but I wrote about the stock
here
and don't have anything new to add.
Jo's question about Arena, however, is timely since I expect phase III data from
Vivus'
(VVUS) - Get Report
obesity drug combination Qnexa to be released very soon. Since Vivus, Arena and
Orexigen Therapeutics
(OREX)
are all seeking to develop their own obesity drugs, Arena's prospects in the very near term might hinge more on the strengths and weaknesses of the Qnexa data.
Ballpark, Street expectations are for placebo-adjusted weight loss in the 6-7% range from Qnexa's two phase III studies. In terms of safety, watch for rates of depression, mood disorder, suicidal thoughts and cognitive declines in Qnexa patients that are significantly higher than that in the placebo patients. Tolerability is always important for obesity drugs, so look for Qnexa patient drop-out rates of less than 50%.
As for lorcaserin, Arena is going to release data from the second phase III study, dubbed Blossom, later this fall. Recall that the first study resulted in an underwhelming 3.6% weight loss, placebo adjusted, with a good safety profile.
My simplistic take on lorcaserin has been that it's safe but not very effective. Meantime, Orexigen's Contrave and Vivus' Qnexa are more effective but perhaps not as safe.
In other words, they all have issues. Trying to figure out which of these three weight-loss drugs, if any, will ultimately be THE ONE is a tough call.
Jason M. writes, "As a longtime biotech investor and follower of yours, can you give an update on what you've learned about biotech and give a refresher to the newbie biotech investors?
"There seems to be a lot of them out there... After
Human Genome Sciences
( HGSI) and a couple of other super zoomers, it looks like everybody is buying biotech without common sense. Just look at
Acadia Pharmaceuticals
(ACAD) - Get Report
. All the usual warning signs were there -- insider selling, company offering stock and questionable management comments -- but still the stock went to the moon. And then when
negative results came out the stock dropped into the garbage pail."
Everyone wants to believe that the $1 biotech stock they own today will be a $10 stock tomorrow. Human Genome is one of the great speculative success stories this year. So is
Vanda Pharmaceuticals
(VNDA) - Get Report
and even, dare I say it,
Cell Therapeutics
(CTIC) - Get Report
.
So I understand the desire for investors to find that next high-flying stock. Unfortunately, the quest for high rewards comes with high risk. Acadia is a good example, as is
Vion Pharmaceuticals
(VION.OB)
. The majority of penny stocks are penny stocks for a good reason.
Be careful out there. Skepticism is a good thing in my book. So is diversification. And don't be a pig.
Gregory M. ask, "What do you think of
Affymax
(AFFY)
?"
I like the stock, although I'm hoping for a pullback because I missed a good move. I wrote a bullish column about Affymax in my old newsletter last April. The stock was at $15, but I chose not to add it to the model portfolio at that time.
That was a bad choice, with the stock now at $22.
For those not familiar with the company, Affymax is developing a novel, long-acting anemia drug called Hematide intended for the chronic kidney disease treatment market. Four phase III studies are under way, with results expected in the first quarter of next year.
Hematide is a synthetic peptide, not a biologic protein, so it steers well clear of the patents that protect
Amgen's
(AMGN) - Get Report
anemia drugs, Epogen and Aranesp, from competition. In 2007, Amgen sued successfully in the U.S. to bar
Roche
from launching Mircera, its own long-acting anemia drug, because Mircera violated Amgen's patents.
Affymax's Hematide is dosed monthly, making it more convenient than Amgen's twice-monthly Aranesp, which had sales of $3.1 billion last year, although not all in kidney disease.
A monthly-dosed anemia drug has significant advantages in the $1 billion pre-dialysis treatment setting. That dosing convenience is probably not as important in dialysis centers but still, Hematide could compete there on price and/or any benefits over Aranesp, depending on the outcomes of the phase III trials.
Affymax expects to receive U.S. approval for Hematide in 2011, the same time when dialysis centers start operating under new Medicare reimbursement rules. Japanese drugmaker
Takeda
is Affymax's global development partner for Hematide.
The next catalyst, however, is the results from the four phase III studies of Hematide, expected in the first quarter -- not too far away.
If I were an Amgen investor, I'd keep an eye on Hematide. If the data are positive (and I think they will be) Amgen's anemia franchise will face new domestic competition. And that could weigh on Amgen's stock price.
A gaggle of readers chimed in, angrily, about my Monday
discussing Cell Therapeutics and the uncertainty around the timing -- six months or 10 months -- of the FDA's review of its cancer drug pixantrone.
John M. accused me of waiting a week to write the article just to push the stock down when it was making some gains. That's nonsense. I waited a week to write about pixantrone because I was on vacation and didn't feel like wasting my beach time.
Ben S. wrote to say that I make "tall claims" about pixantrone and that I should "start reflecting on what kind of gratitude you should be showing for the drug companies that are taking risks and spending millions to safeguard our lives."
Um. Okay. I'll be sure to send Mr. Drug Company a thank-you note.
Mike also thinks I have no credibility on Cell Therapeutics, although he respects who I am and is sure that Jim Cramer is happy with my work. And what is my job, according to Mike? "Your job is to cause the public to lose money for the benefit of your employer at any expense," he says.
Steering back to reality, Rafael M. wants to know how I came up with my forecast for $50 million to $100 million in peak annual pixantrone sales, especially since Cell Therapeutics believes sales of the drug could top $600 million to $1 billion.
Clearly we've got a difference of opinion here. I wrote about my
pixantrone forecast
last May, so check it out.
And as I said in June, even with a generous forecast of $100 million in pixantrone sales, fair value for Cell Therapeutics is still only
20 cents to 30 cents a share
.
Since I'm willing to assume $100 million in pixantrone sales, the question of the drug being granted priority or standard review doesn't make much of a difference to me.
Kevin writes, "Adam, great articles. I've learned a lot over the years from you. You've mentioned in the past the FDA's web site is a never-ending maze. Care to divulge how you found the briefing documents from Friday you mentioned in
your
Genzyme
( GENZ) article? I can't find it."
Thanks, Kevin. The FDA typically posts to its Web site the briefing materials for advisory committees one or two days prior to the start of the meetings. Investors race to download these briefing documents because they usually include the FDA's drug review.
The FDA's advisory committee Web page can be found
.
The FDA's Committee's and Materials page can be found
.
For materials from the advisory committees that review drugs, click
here
.
Happy Labor Day.
-- Reported by Adam Feuerstein in Boston
Adam Feuerstein writes regularly for TheStreet.com. In keeping with TSC's editorial policy, he doesn't own or short individual stocks, although he owns stock in TheStreet.com. He also doesn't invest in hedge funds or other private investment partnerships. Feuerstein appreciates your feedback;
to send him an email.