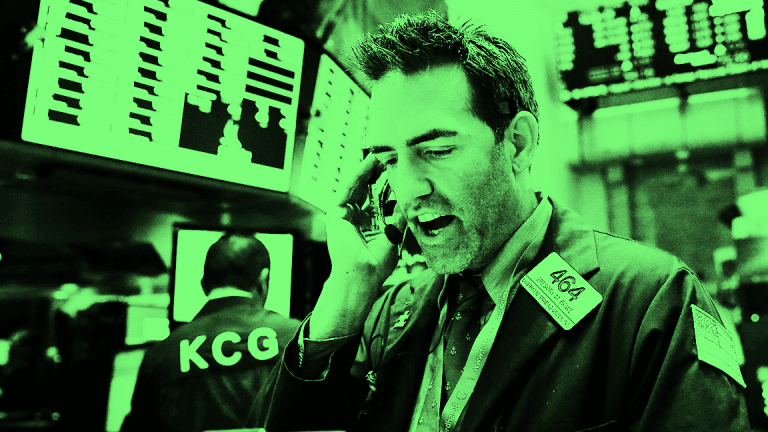 Week in Review: Stocks Finish Week Higher as Fed Comments, Deals Front of Mind
Here's your survival guide to decompress after a shortened trading week brought the heat.
Wall Street closed out a shortened trading week with a bang.
Stocks managed to rally into Friday's close while bonds remained in arguably outsized focus. Earnings season is wrapping up, but has shown even at the bitter end its capacity to move markets. Plus, deals have abounded this week.
Here are the top stories you need to know as Wall Street heads into the weekend.
Markets Higher for Week
The Dow was higher most of the week, aside from a significant dip on Wednesday afternoon following the release of the Federal Reserve minutes. By Friday, stocks rallied into the close. The Dow closed higher Friday by 347 points, or 1.4%. The S&P 500 rallied 1.6% and the Nasdaq snapped a four-day losing streak to gain 1.77% for the day.
For the week the Dow rose 0.36%, the S&P 500 gained 0.55% and the Nasdaq jumped 1.35%. Still, the Dow, S&P 500 and Nasdaq are on pace for their worst month since January 2016.
Bond Yields Still in Focus
Early in the week, investors were carefully watching for the market's reaction to $258 billion in new debt sales from the U.S. Treasury, which kicked off Tuesday with an auction of $151 billion in short-term Treasury bills. Wall Street was anticipating their impact on an already bearish bond market, which watched the 10-year yield jump to a four-year high at 2.937% Wednesday.
By Friday, the benchmark 10-year Treasury note yielded 2.872% at market close, down 0.7% from the start of the week. On Friday, BofA Merrill Lynch released a note hiking their forecast for the 10-year yield to 3.25% by year-end, a level not seen since April 2011.
Fed Comments Subdue Concern Some
In its latest semi-annual report to Congress, the Federal Reserve signaled uncertainty among senior officials over how quickly inflation will rise this year. That could be a sign that the Fed won't hike interest rates any faster than already planned. Fed officials had previously suggested they plan to raise interest rates three times this year, but Wall Street became concerned a fourth could be in the books following inflation a jobs data in early February. But this report suggested inflation is more likely to hover at or below the Fed's 2% target in 2018 - not soar higher.
The report also communicated that equity valuations remain elevated despite the early-February selloff, although risks to the financial system remain moderate on balance. There were no real surprises in the report or in the Fed's somewhat hawkish minutes from its January meeting released this week.
Walmart vs. Home Depot
It was the tale of two retailers this week.
Walmart Inc. (WMT) - Get Free Report stock was down as much as 10% on Tuesday after the company missed Wall Street's estimates for its fourth-quarter earnings. While same store sales and revenue rose year-over-year, online sales growth slowed to 23% in the fourth quarter of 2017, down from 50% growth a year earlier. Walmart shares ended the week down 11.3% over the last five days.
Home Depot Co. (HD) - Get Free Report , on the other hand, painted a far different picture. The company reported a strong fourth quarter that beat analyst expectation on earnings, revenue and same store sales. Clearly, Home Depot is still cashing in on the housing boom. By the market close on Friday, Home Depot stock gained 0.75% for the past five days. TheStreet's Executive Editor talked at length with Home Depot Chief Financial Officer Carol Tome.
Deals Take Center Stage
It was a big week for deal making on Wall Street.
Rite Aid Corp. (RAD) - Get Free Report reached a merger agreement with Albertsons Cos. that could generate $83 billion in revenue. Qualcomm Inc. (QCOM) - Get Free Reportraised its bid for NXP Semiconductors (NXPI) - Get Free Report , but received backlash from aggressive suitor Broadcom Ltd. (AVGO) - Get Free Report .
On Friday morning, General Mills Inc. (GIS) - Get Free Report announced an $8 billion deal to acquire natural pet food maker Blue Buffalo Pet Products Inc. (BUFF) . And late Friday, reports surfaced that Nordstrom Inc. (JWN) - Get Free Report could be very close to reaching a deal to go private.
The founding family is said to be finalizing plans to take shares off the public market after months of back and forth. TheStreet's founder and Action Alerts Plus portfolio manager Jim Cramer added Nordstrom to the charitable trust Feb. 6, taking advantage of a market correction that left Nordstrom's earning power undervalued.
If you watch the markets, you have to watch the Morning Jolt. Check out the best of the Jolt archives here: