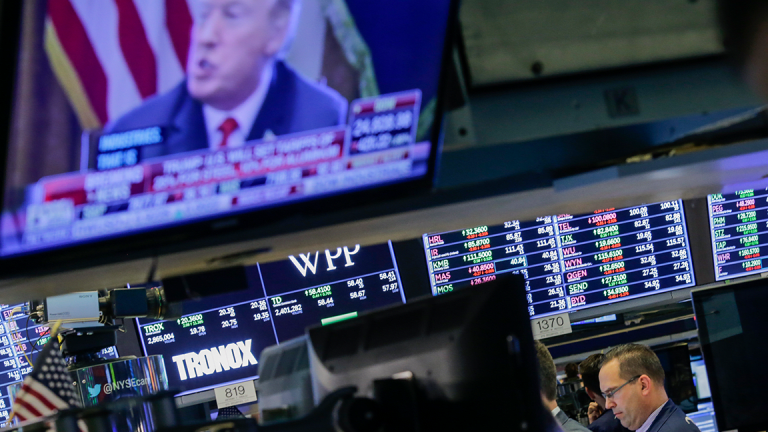 Week in Review: Stock Market on the Mend as Jobs Report Tempers Cohn Concerns
Stocks closed out the week considerably higher. Here are the top headlines pushing markets further into the green.
As the first full week in March comes to a close, these are the top stories investors can't miss heading into the weekend.
Stocks Make Solid Traction
Stocks closed off the week with a bang, rallying to a strong finish at the closing bell. On Friday, the Dow Jones Industrial Average pushed higher 440 points, or 1.77%. the S&P 500 gained 1.74%.The Nasdaq posted its first record close since Jan. 26, up 1.79% Friday. For the week, the Dow gained 3.5% and the S&P rose 3.9%. The Nasdaq was higher 3.1% for the week.
A large deal of this week's gains came as investors began to think the threat of a trade war could have been overdone. President Donald Trump signed the 25% steel and 10% aluminum tariffs Thursday, exempting Canada and Mexico indefinitely. For the large part, markets were unaffected. This week's gains offered a stark divergence from last week, when the Dow posted its first losing February since 2009 and both the Dow and S&P tallied their first monthly losses since March 2017.
Jobs Report Stuns
The U.S. economy added 313,000 jobs in February, trouncing Wall Street's expectations of 200,000 new jobs for the month. February's hiring pace was the fastest since July 2016. Unemployment held steady at 4.1% for the fifth consecutive month and remains the lowest level since December 2000. Hourly earnings were up slightly by 0.1% in February from a month earlier but came in below economists' forecast of a 0.2% uptick in wages. Wages were up 2.6% year-over-year in February, which were slower than January's record-setting 2.9% growth from a year earlier. January job additions were revised higher to 239,000 from the original estimate of 200,000. Given upward revisions, monthly job additions have been 242,000 over the last three months. Just after the jobs report at 8:30 a.m. ET Friday, stock futures were broadly higher.
Cohn's Departure Sends Shockwaves
Gary Cohn announced late Tuesday that he plans to resign as President Trump's top economic adviser, sending stock futures into a tailspin. When Cohn's announcement came in the early evening, Dow futures plunged as much as 344 points. The White House said there was no single determining factor behind Cohn's exit, but the move came days after the president announced plans to impose tariffs on aluminum and steel imports into the U.S. Cohn has long been considered a free-trade supporter who has pumped the brakes on some of the president's more protectionist ideas. While stocks recovered some of the initial losses by the market close on Wednesday, the Cohn news weighed heavily. Gold and oil were down, while the dollar rose. On Wednesday, the Dow finished lower 0.33% and the S&P lost 0.05%. Wednesday was the only day stocks were lower this week.
Deal Ignites Healthcare
Another blockbuster deal in the health insurance space got Wall Street thinking: what's next? Cigna Corp. (CI) - Get Cigna Corporation Report announced late Wednesday that is plans to purchase Express Scripts Holding Co. (ESRX) for $67 billion in a deal expected to close this year. The news was tough on Cigna stock, which closed lower more than 11% Thursday. But the rest of the health insurance and drug retailer sectors were booming on the prospects of continued consolidation in the space. By Friday, the Healthcare Select Sector SPDR ETF (XLV) - Get Health Care Select Sector SPDR Fund Report had gained 1.41% in the session. Investors have observed a string of deals in the industry. Last December, CVS Health Corp. (CVS) - Get CVS Health Corporation Report announced a deal to acquire Aetna Inc. (AET) for $69 billion. About two years ago, Walgreens Boots Alliance Inc. (WBA) - Get Walgreens Boots Alliance Inc Report said it planned to buy out Rite Aid Corp. (RAD) - Get Rite Aid Corporation Report . The sector has been under pressure recently in anticipation of the entry from non-industry players JPMorgan Chase & Co. (JPM) - Get JPMorgan Chase & Co. (JPM) Report , Amazon.com Inc. (AMZN) - Get Amazon.com, Inc. Report and Berkshire Hathaway (BRK.A) - Get BRK.A Report , which have established a joint venture aimed at reducing health insurance costs.
Keep up with the latest commentary in TheStreet's Morning Jolt right here: