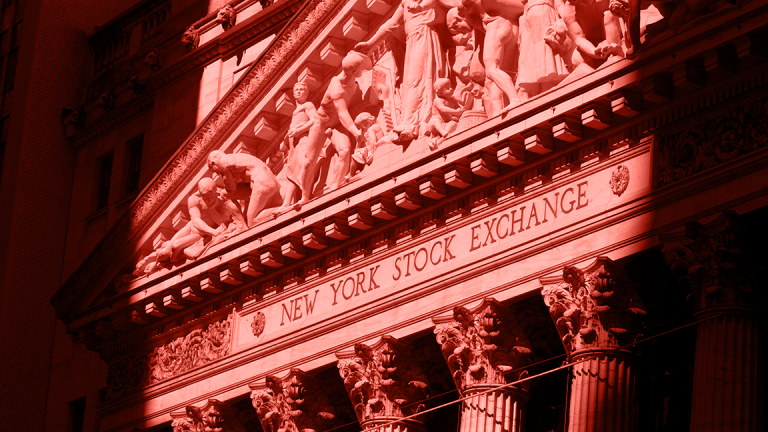 Week in Review: Stock Market Gets Throttled on Interest Rate, Trade War Fears
Ready to catch your breath? Here's your roundup of the biggest market-moving stories on Wall Street this week.
Are you ready for the weekend or what? Wall Street faced mounting trouble this week as the threat of a trade war, the impending doom of an interest rate hike and the end of earnings season sent the market into a tailspin.
These are the must-know stories that moved markets this week.
Stocks Get Whipped
This was a rough week on Wall Street. The Dow Jones Industrial Average made a solid recovery attempt Friday, but just couldn't keep up with the other benchmark indexes. The Dow met the closing bell Friday lower by 0.29%, or 70 points after earlier in the session falling as many as 391 points. The S&P 500 gained 0.51%, and the Nasdaq Composite increased 1.08%. While the S&P and Nasdaq did close higher, both snapped two-week winning streaks.
This week, the Dow posted its first losing February since 2009. Both the Dow and the S&P posted their first monthly losses since March 2017. While most of this week was characterized by heavy movement into the red, Monday saw stocks close in the green for a third consecutive trading session. Tuesday, Wednesday and Thursday brought solid losses, though.
Fed Spooks Street
Freshly sworn-in Federal Reserve Chairman Jerome Powell was in the hot seat this week as he testified in front of Congress for the first time. On Tuesday in front of the House of Representatives, Powell struck a somewhat hawkish tone that sent the stock market running wild -- in a bad way. His comments before the House strengthened convictions that the Fed will continue on its pace of gradual rate increases, with many traders speculating that four hikes may be in the offing this year, instead of the three projected in the central bank's latest forecast. Powell mostly commented on how strong the economy was -- and Wall Street knows a strong economy means impending rate hikes.
Powell said Thursday the Federal Open Market Committee, which has raised interest rates five times since late 2015, will "strike a balance between avoiding an overheated economy" and allowing inflation to rise. His comments in day two were considered more dovish, and their effect on the stock market were less pronounced.
Powell told the Senate Banking Committee that while there's "no evidence that the economy is overheating," he expects unemployment at a 17-year low to lead to accelerating wage increases that in turn, might drive up inflation.
On Tuesday following Powell's comments, stocks tumbled. The Dow shed 1.16%, the S&P lost 1.27% and the Nasdaq handed over 1.23%. Those losses paled in comparison to Thursday's losses, though, which came about for a different reason.
TheStreet's Executive Editor Brian Sozzi thinks next week's jobs report could be hot, which wouldn't be good for markets. Watch below. 
Trade War Threats
On Thursday, President Trump announced that his administration planned to impose a 25% tariff on imported steel and a 10% tariff on imported aluminum. His argument was rooted in the notion that other countries' trade practices have undermined U.S. production and could potentially compromise national security at home.
While protectionists and free trade advocates erupted into a fierce debate, the stock market tumbled. The Dow Jones Industrial Average shed 420 points, or 1.68%, on Thursday, the S&P 500 lost 1.33% and the Nasdaq declined 1.27%.
U.S. steel and aluminum companies are the clear winners should the tariffs be enacted. The companies and their managements have lobbied for quite some time for similar legislation, but this is the first time in recent history that they've actually made real traction.
Even in a market that tanked Thursday, steel and aluminum stocks boomed. U.S. Steel Corp. (X) - Get United States Steel Corporation Report rallied 5.75% to close at $46.01 on Thursday; AK Steel Holding Corp. (AKS) - Get AK Steel Holding Corporation Report climbed 9.5% to $5.65; and Cleveland-Cliffs Inc. (CLF) - Get Cleveland-Cliffs Inc Report surged 10.24% to $7.65 by the closing bell.
There were big losers, too. Toyota Motor Corp. (TM) - Get Toyota Motor Corp. Report fell 3.1% to $130.39 on Thursday. Boeing Co.  (BA) - Get Boeing Company Report gave back 3.46% to trade at $349.69, and Caterpillar Inc. (CAT) - Get Caterpillar Inc. Report fell 2.85% to $150.23. The biggest losers are the corporations that require large amounts of steel in production -- cars, planes, construction, heavy equipment. All of the steel they use could soon get a lot more expensive.
Earnings Season Subsides
Earnings season is nearing its end. According to research from FactSet, 97% of companies on the S&P 500 have reported actual results for the quarter as of Friday, March 2. Of those, 74% have reported positive earnings surprises and 77% have reported positive sales surprises. For the fourth quarter, the blended earnings growth rate is 14.8% for the S&P 500. If that growth rate sticks for the remaining 3% of companies yet to report, it will mark the highest earnings growth rate since the third quarter of 2011, FactSet found.
The big story in earnings this week was retail. Macy's Inc. (M) - Get Macy's Inc Report posted its first sales gain in three years in an earnings beat that stunned Wall Street. TJX Cos. (TJX) - Get TJX Companies Inc Report missed on expectations, but the company's stock was bolstered by impressive same-store sales growth in the fourth quarter. Gap Inc.'s  (GPS) - Get Gap, Inc. Report stock also popped Thursday as the company reported strong earnings that grew from a year earlier.