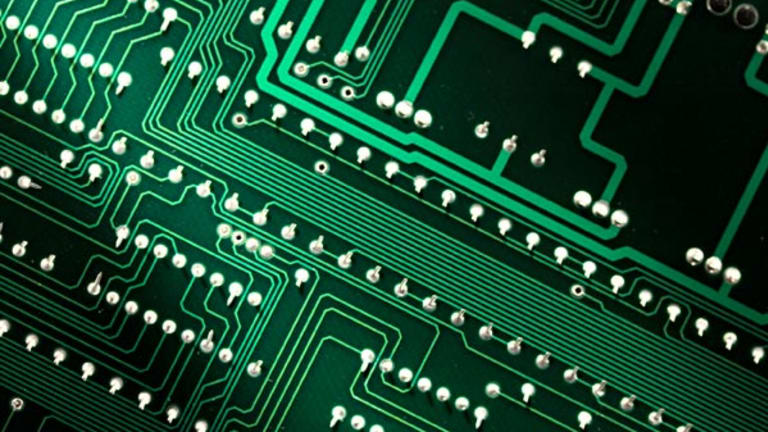 Wednesday's Tech Winners & Losers
Research In Motion was among the tech winners following the Fed's surprise half-point cut.
Updated from 12:08 p.m. EDT
Tech stocks on Wednesday resumed their steady climb following the
surprise half-point cut to the federal-funds target rate the day before.
Research In Motion
( RIMM) edged 1.6% higher, after jointly announcing with
AT&T
(T) - Get Free Report
that it would introduce a new AT&T BlackBerry handset with Wi-Fi capability later this month. Research In Motion shares gained $1.45 to close at $91.80.
NetSol Technologies
(NTWK) - Get Free Report
, a software and IT services provider to the financial services industry, spiked 40.2%, after swinging to a fourth-quarter profit. The company reported revenue of $8.6 million for the quarter ended June 30, vs. $4.7 million in the year-ago period. The company reported GAAP income of $1.3 million, or 7 cents a share, compared with a net loss of $1.7 million, or 11 cents a share, in the same period last year. Shares gained 68 cents to close at $2.37.
Mercadolibre
(MELI) - Get Free Report
, the Argentina-based online marketplace, jumped 18.9% after two firms initiated coverage of the stock. JPMorgan assigned Mercadolibre an overweight rating, while Am Tech/JSA Research assigned it a buy. Shares added $5.28 to close at $33.28.
Omniture
( OMTR) shares rose 9.1%, the continuation of an ascent that began Tuesday afternoon. That's when the software maker and Mercent, which provides online marketing technology, teamed to offer Omniture Genesis Network, which is designed to better measure online marketing campaigns. Omniture shares closed up $2.49 to $29.84, well above their 52-week high of $27.97.
On the losing side, optical-component maker
LightPath Technologies
(LPTH) - Get Free Report
plummeted 22.1% after offering a gloomy fourth-quarter outlook and announcing its CEO had left the company. The company forecast fourth-quarter sales of $2.2 million, down from $3.4 million in the fourth quarter of last year. The company attributed the declining sales to a slowdown in sales to telecommunications customers.
In the same press release, the company said CEO Kenneth Brizel left the company effective Tuesday. LightPath appointed Senior Vice President of Global Operations Jim Gaynor interim CEO and immediately embarked on a search to fill the position. Shares closed down $1.05 to $3.70.
Sirius Satellite Radio
(SIRI) - Get Free Report
and
XM Satellite Radio
( XMSR) sank 4.3% and 5.5%, respectively, after a pair of bad-news hits as they seek regulatory approval for a proposed merger.
On late Tuesday, Wisconsin Attorney General J.B. Van Hollen urged the federal government to nix the merger on the grounds that it would hurt consumers by limiting competition. And on Wednesday morning, UBS downgraded the stocks to neutral from buy. Sirius shares lost 15 cents to close at $3.35 and XM shed 82 cents to close at $14.
Sirius and XM were in the minority on the Nasdaq 100, whose components, which also include Research In Motion, mostly rose Wednesday. The index added about 6 points to 2041.36.