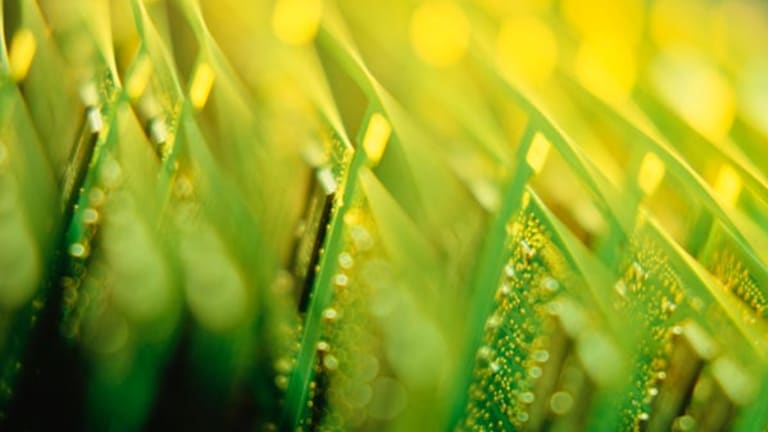 Wednesday's Tech Winners & Losers
Tech stocks edge higher, though there are few huge movers.
Updated from 12:30 p.m. EDT
Tech stocks traded up just slightly on Wednesday, but several companies were making more pronounced moves.
IHS
(IHS)
shares rose 3% after the tech company posted better-than-expected second-quarter results. The company earned $18.6 million, or 32 cents a share, on revenue of $154.9 million. Excluding items, the company earned 37 cents a share. Analysts polled by Thomson Financial expected earnings of 33 cents a share on revenue of $150 million.
Looking ahead, IHS now sees full-year revenue growth of 20% to 22%, up from an earlier view of 11% to 13%. Analysts project revenue of $639.8 million, or revenue growth of about 16%. Shares closed up $1.32 to $45.90.
Elsewhere,
FSI International
(FSII)
slumped 13.7% after the chip-equipment maker posted a third-quarter loss that was bigger than expected and warned that fourth-quarter results would be disappointing. The company reported a loss of $5.6 million, or 19 cents a share, on revenue of $25.2 million. Analysts expected a smaller loss of 12 cents a share on revenue of $25.2 million.
Looking ahead, FSI sees a fourth-quarter loss of $3.5 million to $4.5 million on revenue of $20 million to $24 million. Analysts project a loss of less than $1 million, or 3 cents a share, on revenue of $28.4 million. Shares closed down 55 cents to $3.43.
Meanwhile,
3D Systems
(TDSC)
slid 4.6% after the provider of 3-D imaging products said it sold nearly 1.3 million shares of stock in a private placement. The price of $17.50 a share represents a significant discount to Tuesday's closing price of $24.99. The company plans to use proceeds to support growth initiatives and for general corporate purposes. Shares were down $1.16 to $23.83.
Digital River
(DRIV) - Get Report
rose 3.9% after Jefferies & Co. upgraded shares of the Web development services company to buy from hold. Even though the firm lifted its rating on the stock, it cut its price target to $55 from $57 and lowered its 2008 earnings estimate to $2.51 a share from $2.57 a share. Shares closed up $1.90 to $50.53.
Finally,
CA
(CA) - Get Report
rose 1.5% on heavy volume after the software company said that it repurchased about 16.9 million shares, or 3% of the company's outstanding shares, as part of an accelerated repurchase agreement. In all, the company bought some $435 million in stock. The buyback was funded with existing cash. The accelerated buyback is part of the company's previously announced $2 billion share buyback plan. Shares closed up 39 cents to $26.07 on volume of more than 17 million shares, or about six times its daily average volume.
As for the broader technology sector, the
Nasdaq
100 was down about 19.6 points to about 1922.