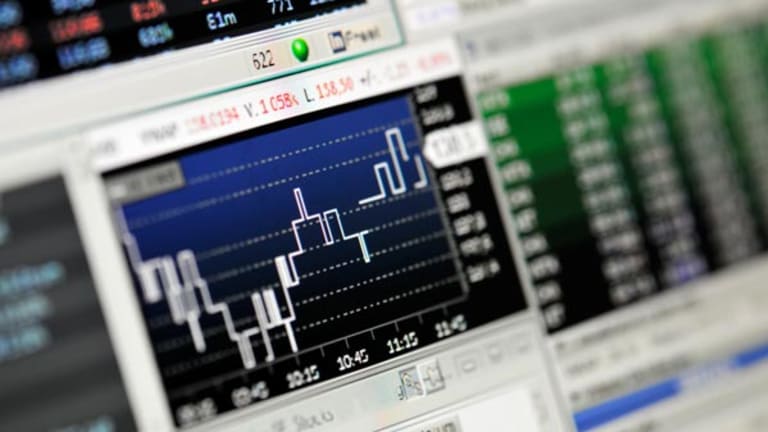 Wednesday's Tech Winners & Losers
Maxim Integrated moves higher after announcing the retirement of its CEO.
Shares of
Redback Networks
( RBAK) were among technology's winners Wednesday, jumping 19% after the networking-equipment maker agreed to be acquired by
Ericsson
(ERIC)
for $2.1 billion, or $25 a share.
"The acquisition of Redback will play a key role in Ericsson's strategy to help telecommunications carriers lower costs and upgrade their networks for broadband, telephone, video and mobility services," Redback said in a press release. "Redback will retain its management team and operate as a wholly-owned subsidiary of Ericsson." The deal is expected to close in early 2007. Shares of Redback were trading up $3.92 to $24.95, while shares of Ericsson fell 3 cents to $40.59.
Systemax
(SYX)
jumped 19% after the computer distributor posted big year-over-year gains in earnings and sales. For the third quarter, the company earned $12.5 million, or 33 cents a share, on revenue of $575 million. A year earlier, earnings were $3.9 million, or 11 cents a share, on revenue of $488.5 million.
"I am extremely pleased with our third quarter results, highlighted by our 18% sales increase," said CEO Richard Leeds. "Our internet sales continued their growth pattern accounting for 34% of total sales. Internet sales are the most efficient way to serve our customers and have contributed to our increased operating profit without significant additional costs." Shares were trading up $2.67 to $17.02.
Shares of
Maxim Integrated
(MXIM)
rose 5% after the company announced changes in its management suite. Maxim said that chairman and CEO John Gifford is retiring for health reasons, though he plans to remain with the company on a part-time basis as a strategic advisor. Tunc Doluca, most recently president of Maxim's portable computing and instrumentation group, will replace Gifford as CEO. B. Kipling Hagopian, an independent director, will serve as interim chairman.
Meanwhile, Vijay Ullal, currently a senior vice president, will be elevated to group president, and Charles Rigg, currently a vice president, will be promoted to senior vice president. Shares of Maxim were trading up $1.46 to $31.66.
FSI International
( FSII) fell 7% after the semiconductor equipment maker posted mixed first-quarter results and gave a weaker-than-expected second-quarter outlook. For the quarter ended Nov. 25, the company earned $1.9 million, or 6 cents a share, on revenue of $37.7 million. Analysts polled by Thomson First Call expected a profit of 3 cents a share on revenue of $38.2 million. During the year-earlier period, FSI recorded a loss of $4.3 million, or 14 cents a share, on revenue of $18.6 million.
"Orders for the first quarter of fiscal 2007 were $34.1 million, slightly below the guidance we provided, as semiconductor manufacturers reacted to a less optimistic near-term outlook for device demand," the company said.
FSI projected second-quarter results ranging from break-even to a loss of $1.5 million. The company forecast revenue of $32 million to $35 million. Analysts had forecast second-quarter earnings of 5 cents a share and revenue of $38.8 million. Shares were trading down 38 cents to $5.37.
Shares of
Park Electrochemical
(PKE)
tumbled 12% even though the company posted third-quarter earnings that matched expectations. For the period ended Nov. 26, the company earned $9.5 million, or 47 cents a share, on revenue of $68.2 million. Analysts expected earnings of 47 cents a share. During the year-earlier period, Park earned $9.7 million, or 48 cents a share, on revenue of $57.2 million. Shares were trading down $3.90 to $27.75.
Other technology movers included
Sirius Satellite Radio
(SIRI)
, up 6 cents to $3.79;
Oracle
(ORCL)
, up 7 cents to $17.17;
Intel
(INTC)
, up 20 cents to $20.86;
Sun Microsystems
(SUNW)
, up 5 cents to $5.60;
Juniper Networks
(JNPR)
, down 48 cents to $18.77;
Cisco Systems
(CSCO)
, down 4 cents to $27.59;
Microsoft
(MSFT)
, up 13 cents to $30.12; and
Mamma.com
( MAMA), up 87 cents to $6.35.