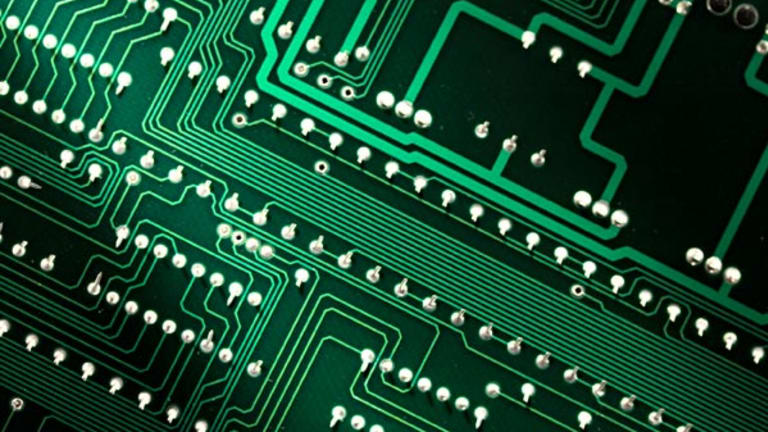 Wednesday's Tech & Losers
Flextronics beats analysts' expectations for the third quarter.
Updated from 2:34 p.m. EST with new stock prices
Tech stocks rallied Wednesday on news that the Federal Reserve cut interest rates by 50 basis points.
Shares of
Flextronics
(FLEX) - Get Report
gained $1.29, or 12.5%, to $11.60 after the company beat analysts expectations for the third quarter.
The company reported a profit of $250 million, or 30 cents a share, excluding one-time items, that was 7 cents higher than a year ago and better than analysts' EPS expectations of 26 cents a share. Revenue rose 67% to $9.1 billion compared with $5.41 billion a year ago.
Semiconductors company
Qimonda
( QI) rose 67 cents, or 11.6%, to $6.45 after the stock received an upgrade from a Wall Street firm.
An analyst at UBS upgraded the stock to a buy from neutral on the belief that DRAM, or dynamic random access memory, industry is "rationalizing" with a better match between supply and demand.
Video-games publisher
Electronic Arts
( ERTS) rose $1.66, or 3.6%, to $47.23, a day ahead of the company's third-quarter earnings report.
For the quarter, analysts expect EA to report EPS of 90 cents on revenue of $1.73 billion compared with 63 cents a share on revenue of $1.28 billion a year ago. For the fourth quarter, analysts are expecting earnings of 16 cents a share on revenue of $837.3 million.
IT security company
Websense
(WBSN)
gained $1.99, or 11.6%, to $19.09, a day after the company
beat expectations for the fourth quarter and guided higher for fiscal 2008.
Revenue for the quarter rose to $86.2 million from $47.33 million a year ago. Analysts were expecting sales of $78.14 million. Excluding charges, net income was $12.8 million, or 28 cents a share, higher than analysts' expectations of 23 cents a share, and 3 cents better than its EPS from the year before.
For fiscal 2008, Websense expects revenue to range between $325 million and $335 million and earnings, excluding charges, of $1.15 to $1.25 a share. Analysts are expecting revenue of $309.50 and earnings of $1.15 a share.
Technology services company
Unisys
(UIS) - Get Report
added 24 cents, or 6.1%, to $4.20 following its fourth-quarter results and an analyst upgrade for the stock.
Unisys said net income for the quarter fell to $13.8 million, or 4 cents a share, compared with $21.3 million, or 6 cents a share, the year before. Revenue declined 1.1% to $1.54 billion. Analysts were expecting 12 cents on revenue of $1.5 billion.
An analyst from Jeffries upgraded the stock to hold from underperform on basis on improvements in the company's margins.
Shares of
Yahoo!
(YHOO)
fell $1.76, or 8.5%, to $19.05 after the company offered
a soft revenue outlook for 2008.
Net income for the fourth quarter fell to $206 million, or 15 cents a share, from $269 million, or 19 cents a share, a year earlier. Revenue rose 8% to $1.8 billion. Excluding traffic acquisition costs, revenue increased 14% to $1.4 billion.
Analysts were expecting EPS of 11 cents on revenue, excluding traffic acquisition costs, of $1.41 billion. For the first quarter, Yahoo! said it expects revenue between $1.28 billion and $1.38 billion, lower than analysts' expectations of 11 cents a share earnings on revenue of $1.36 billion.
Yahoo also said it will cut about 1,000 jobs, or 9% of its employees, in the coming quarter.