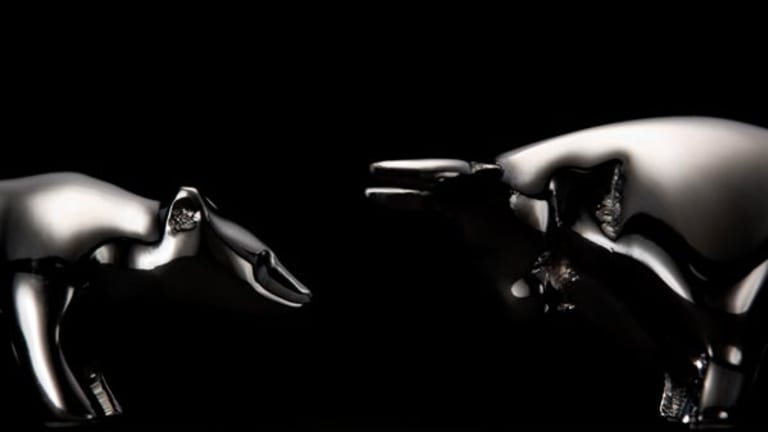 Web of Lies? Brands Hire to Secure Reputation
Corporations are employing professional reputation defenders to keep their brands strong.
NEW YORK (TheStreet) -- Several years ago, B.L. Ochman ran a business called "Rent a Kvetch," in which clients hired her to complain for them and get results. Most of the complaints had to do with lousy customer service from large, impersonal companies. "In the '80s, there was no way for average people to get heard," she says.
Enter the Internet, which has afforded a sounding board for anyone who wants to complain -- anonymously or otherwise -- and gives erstwhile powerless individuals the chance to thump a company's reputation.
"It could be one kid in Bulgaria making a video about your product, but that's going to cause a problem if it starts spreading around," says Ochman, now a director at Proof Digital Media, the online media arm of the public relations agency
Burson-Marsteller
-- the company that helped handle reputation damage control for
Exxon Mobil
(XOM) - Get Exxon Mobil Corporation Report
in the wake of the Valdez oil spill in 1989 and
Johnson & Johnson
(JNJ) - Get Johnson & Johnson Report
after seven people in greater Chicago died from taking cyanide-laced Tylenol caplets in 1982.
In spite of the virtual nature of the Web, anything anyone posts there tends to stick around forever -- old news stories and abandoned blogs alike. To that end, companies such as Burson Marsteller are employing multiple monitoring tools to keep track of who's saying what about their clients online.
"Before you can begin to manage a reputation, you have to figure out what's being said," she says. "You can't just rely on
Google
(GOOG) - Get Alphabet Inc. Report
Alerts anymore. Before you really begin to get involved online you have to launch a listening campaign."
The stubborn permanence of online condemnation is a common problem among clients of
, a venture-funded Redwood City, Calif., company that specializes in monitoring and managing online reputations for businesses and their executives. "It might be a lawsuit that they were involved with 10 years ago," says Michael Fertik, CEO of Reputation Defender. "A few of them have had very high-profile divorces. And some of the really large companies are dealing with dedicated attack sites -- Web sites specifically aimed at criticizing them."
Several Fortune 100 companies are among the customers who pay for Reputation Defender's My Edge Pro service, with which the company helps ensure that the initial results of a Web search garner links to positive information -- such as a company or employee's official bio -- rather than years-old negative news about a company or its executives.
For smaller businesses, Reputation Defender will help create positive content to post on the Web. For larger companies, "We're just moving their best content to the top of the search," Fertik says. The methodology of moving positive content to the top is a trade secret, he says.
"The basic premise of the product is that you need to control your search results," Fertik says. "The idea is that you want to control as much of a page one and page two for searches for your business name or people associated with your brand."
Reputation Defender also is testing a free reputation alerts system Fertik describes as "Google Alerts on steroids" -- a tool that continually searches for information about you online, even in content that doesn't show up on search engines.
For people and corporations who find out they are under attack via
Twitter
or in blogs, the best course of defense may be to acknowledge the attackers with blog posts of their own -- or, better yet, offer to help.
Comcast
(CMCSA) - Get Comcast Corporation Class A Common Stock Report
, saddled for years with a reputation for bad customer service, finally faced the problem head-on with its Comcast Cares campaign, in which the company employed full-time ambassadors to troll the Web for complaints about the company and reach out to the complainers with offers to help.
Best Buy
(BBY) - Get Best Buy Co. Inc. Report
employs thousands of customer service reps to tweet electronics advice and engage customers in a program called Twelpforce.
IBM
(IBM) - Get International Business Machines Corporation Report
and
Dell
(DELL) - Get Dell Technologies Inc. Class C Report
also have thousands of employees tweeting on the company dime, Ochman notes.
"I'm astonished that people are still asking whether, if they see a bad blog entry about their companies, they should respond," says Anthony Johndrow, a managing director at
Reputation Institute
, a consultancy that advises major corporations about their reputations. "Of course they should respond!"
In April, Reputation Institute came out with a list of the most reputable large companies in the United States, based on consumer perceptions not only of the companies' products and services but of corporate governance and workplace policies, leadership and performance, citizenship and innovation. "We've talked to investors, and they care about these other dimensions too," Johndrow says.
Rounding out the top five reputable companies were
Johnson & Johnson
,
Kraft Foods
(KFT)
,
Kellogg
(K) - Get Kellogg Company Report
,
Walt Disney
(DIS) - Get The Walt Disney Company Report
, and
PepsiCo
(PEP) - Get PepsiCo Inc. Report
.
The companies with the best reputations are those that bother to communicate with the public, Johndrow says, and these days that means communicating online with blogs, tweets and
Facebook
updates. He notes that Johnson & Johnson was the only company in the health care space in the top 50, let alone the top five. J&J's handling of the 1982 Tylenol cyanide crisis, which included a massive product recall, is often cited in business school textbooks as a shining example of crisis management. Last spring, the company's McNeil Consumer HealthCare division issued a 40-product recall, in part because of bacterial contamination in its production facilities. This time the crisis included a negative report from the Federal Drug Administration, and yet investors didn't seem concerned.
According to a May poll by TheStreet
, 70.4% of voters said the public will continue to trust J&J products, while only 29.6% of voters said the recalls have hurt J&J's reputation and will result in lower sales. This may be due in part to the fact that
J&J made a point of issuing an apology
from the CEO on its corporate blog.
Banks fare terribly in consumer perception, not only because of the recent financial crisis but also because "no financial services company has talked about themselves publicly about what they do as a company," Johndrow says.
As for Pepsi rival
Coca-Cola
(KO) - Get Coca-Cola Company (The) Report
, Coke came in at No. 24 on the reputable companies list, 19 steps below its chief rival. "Coke has done very little compared with Pepsi to engage with the general public as a company," Johndrow says.
"Right now if you're not talking about what you're doing as a company, people assume you're doing something wrong," he says. "If you're quiet, the assumption is generally guilt."
-- Wrtitten by Carmen Nobel in Boston.
>To submit a news tip, send an email to:
.
>>BP's Crisis Management "Terrible," Expert Says
>>Has Johnson & Johnson's Reputation Been Damaged?
>>Police Blotter: Ponzi Schemes, Theft, Death
Follow TheStreet.com on
and become a fan on