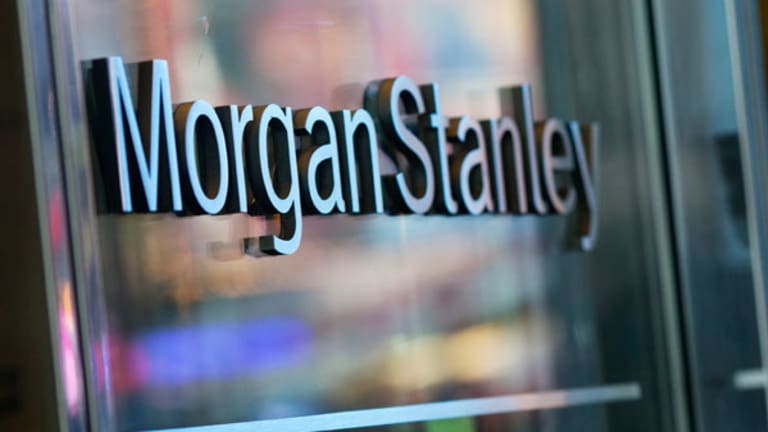 Wealth Management Gives Morgan Stanley Rare Wall Street Growth
Morgan Stanley beats earnings as wealth management results offset slow activity in the firm's securities business.
Updated from 7:54 a.m ET to reflect analyst comments, Morgan Stanley CEO comments and closing share prices
NEW YORK (TheStreet) -- Morgan Stanley's (MS) focus on wealth management is paying off, as the division drives industry-leading top-line growth for the investment bank.
On Friday, Morgan Stanley reported $7.9 billion in third-quarter revenue and 50 cents in adjusted earnings per share, beating top and bottom line consensus expectations. 
The results indicate that Morgan Stanley is suffering from a sharp third-quarter drop-off in some key trading businesses and flat investment banking fees. However, unlike competitors such as Goldman Sachs (GS) , JPMorgan (JPM) , Citigroup (C) and Bank of America (BAC) , Morgan Stanley has been able to show growth as a result of the firm's full consolidation of brokerage and wealth management businesses it acquired from Citigroup.
Morgan Stanley was expected to earn $7.7 billion in third-quarter revenue, a significant jump from year-ago levels before the firm has fully consolidated its stake in Morgan Stanley Smith Barney, according to consensus estimates compiled by Bloomberg. Revenue was forecast to fall about 8% from the second quarter. Earnings per share were forecast to come in at 40 cents.
The bank's wealth management results indicated only a small drop in revenue from the second quarter and rising profitability. Those earnings helped to offset more significant declines from Morgan Stanley's Institutional Securities group, which houses its trading and investment banking operations and often accounts for over 50% of the firm's revenue.
Morgan Stanley's wealth management unit posted $3.48 billion in third quarter revenue and $668 million in net income, an over 1% drop on the top line and 2% growth on the bottom line from second-quarter results. Institutional Securities, the trading unit, posted a 15% drop off in sequential revenue to $3.68 billion and a sharp fall in net income to $371 million. Excluding adjustments from changes to the firm's credit spreads, the slide in revenue and net income was less pronounced.
The wealth management unit posted pre-tax margins of 19%, a rise from the second quarter. The results indicate Morgan Stanley is trending toward targeted pre-tax margins in excess of 20% that CEO James Gorman has set as a benchmark for 2015.
The firm's investment management grew revenue 23% to $828 million and nearly doubled profits to $300 million, a rare sign of growth for the investment bank.
"Our results point to the increased consistency, strength and balance we are deriving from our business model," James Gorman said in a statement. He noted the benefits of the firm's acquisition of Morgan Stanley Smith Barney as driving stable earnings.
"Given the inherent volatility in capital markets companies earnings that is as close to "in line" as one can hope to get," Christ Kotowski, an Oppenheimer analyst said in a Friday client note.

Institutional Securities net revenues excluding DVA were $3.9 billion and reflected a recovery in performance in Morgan Stanley's equity trading division and a continued weakness in the bank's fixed income currency and commodity trading unit. FICC revenue came in nearly 50% below year-ago levels and reflected "lower client activity and market volumes across all products."
In earnings released on Thursday, Goldman Sachs posted similar weakness across its fixed income and currency businesses. Morgan Stanley's advisory and equity and debt underwriting fees were relatively stable versus year-ago results.
During the quarter, Morgan Stanley repurchased approximately $123 million of its common stock or approximately 4.5 million shares.
"[We] began buying back stock in the quarter. This is the first time since 2008, and we look forward to increasing capital returns to shareholders over time," Morgan Stanley CEO Gorman said on the firm's Friday earnings call.
Morgan Stanley' Basel 1 capital ratio's rose to 15.3% and its Tier 1 common ratio was 12.6%. Still, the bank may have further work to do as the nation's most complex lenders brace for more burdensome leverage ratios proposed by the Federal Reserve. 
"With a further improvement in capital ratios most banks under our coverage now meet or exceed their Basel III and supplementary leverage ratio requirements. The only exceptions are JPMorgan and Morgan Stanley which have leverage ratios of 4.7% and 4.2% respectively," Richard Staite, a banking analyst at Atlantic Securities said in a Friday client note.
"We continue to expect to exceed the required 5% level in 2015, including an assumption for a greater return of capital to shareholders," Ruth Porat, Morgan Stanley's CFO said on a call with investors.
Morgan Stanley shares gained nearly 3% to $29.68 in Friday trading. Shares have risen over 50% year-to-date on stronger execution across the firm's brokerage businesses.
-- Written by Antoine Gara in New York.