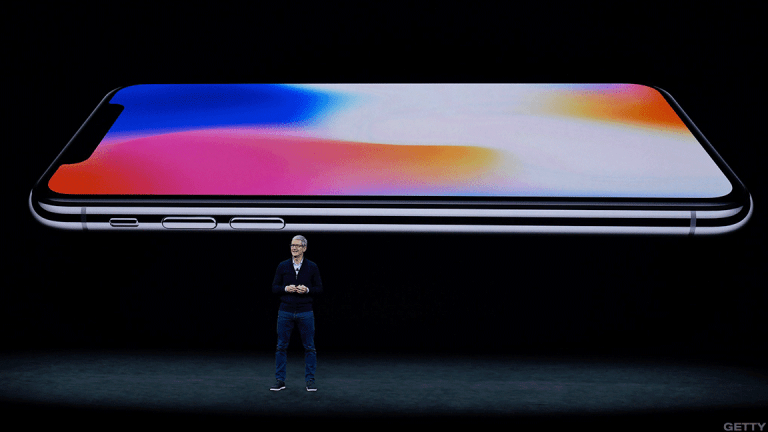 Why Reports of Weak iPhone 8 Sales Are Unsurprising and Nothing to Worry About
It's been clear for weeks that iPhone X anticipation has been greatly depressing iPhone 8 demand. What really matters, however, is how many consumers eventually buy one of Apple's new iPhones.
It's been clear for weeks that iPhone X anticipation has been greatly depressing iPhone 8 demand. What really matters, however, is how many consumers eventually buy one of Apple's new iPhones.
There probably isn't another tech company that gets more financial media and analyst coverage than Apple Inc. (AAPL) - Get Report . Yet -- as much as believers in the efficient market hypothesis might beg to differ -- markets can be quite slow to grasp some fairly obvious developments.
Apple's sell-off yesterday in response to worries about weak iPhone 8/8-Plus demand is a good case in point. It was arguably clear within 24 hours of the start of 8/8-Plus pre-orders on Sep. 15 that a very large percentage of consumers looking to buy an iPhone between September and year's end wanted to buy an iPhone X.
Unlike with the iPhone 7 and especially the 7-Plus a year ago, delivery times for the 8 and 8-Plus generally remained pretty short following the start of pre-orders. And they've remained that way since: As of Oct. 20, just about every U.S. 8 or 8-Plus model listed on Apple's site shows an estimated delivery time of 6-to-10 days. In addition, surveys polling consumers about iPhone purchase intent typically showed a healthy skew towards the iPhone X.
Jim Cramer and the AAP team hold a position in Apple for their Action Alerts PLUS Charitable Trust Portfolio. Want to be alerted before Cramer buys or sells AAPL? Learn more now.
Nonetheless, markets were spooked on the 19th by a string of reports and data points suggesting that iPhone 8 demand is soft. Specifically:
Taiwan's Economic Daily Newsreported Apple had cut its iPhone 8 orders by over 50%. No details were given about order figures or the time frame that the orders in question covered.
Joe Natale, the CEO of top Canadian carrier Rogers Communications Inc. (RCI) - Get Report , said there's currently "a more anemic appetite for the iPhone 8" due to iPhone X anticipation.
Verizon Communications Inc. (VZ) - Get Report , which delivered its Q3 report on the morning of the 19th, said that it saw less Q3 smartphone upgrade activity this year than in prior years.
AT&T Inc. (T) - Get Report , whose Q3 report arrives on Oct. 24, disclosed its Q3 postpaid phone upgrades fell by 900,000 annually.
All of this news came shortly after KeyBanc Capital shared a carrier store survey that indicated the iPhone 7 and 7-Plus, which now carry $549 and $669 starting prices, are actually outselling the 8 and 8-Plus, which carry $699 and $799 starting prices (KeyBanc, it should be noted, also upgraded Apple's shares to Overweight on expectations the iPhone X will sell well and provide larger-than-expected boosts to Apple's gross margin and iPhone average selling price (ASP)).
If there's any new negative news that should worry Apple investors a little bit, it's that fresh reports have arrived in recent days pointing to continued iPhone X production challenges. Namely:
Plugged-in KGI Securities analyst Ming-Chi Kuo, who in September reported  that only "tens of thousands" of iPhone X units were being made daily, now predicts that there will only be two to three million X units available when the phone launches on Nov. 3. In addition to widely-reported challenges in producing the dot projector module used by the X's TrueDepth front camera system, Kuo reports of production issues for the X's antenna circuit board and wide-angle rear camera.
After checking with supply chain sources, Instinet analyst Jeff Kvaal estimates iPhone X production remains "5-10 million units below plan." He adds that while dot projector module output is "improving slowly," it remains below plan.
Japan's Nikkeireports Apple COO Jeff Williams is set to meet with Terry Gou, chairman of iPhone (and dot projector) contract manufacturer Foxconn. Echoing Instinet, the Nikkei also reports that while yield rates for dot projector production have improved, they haven't yet reached "a satisfactory level."
On the bright side, Kuo reports that "previous design issues of the dot projector sometimes being unable to recognize human faces has been resolved." And while he has cut his calendar Q4 iPhone X shipment estimate by five million to 25-30 million units, he also thinks shipments could rise 50% sequentially in Q1.
Likewise, Kvaal has cut his calendar Q4 estimate for total iPhone shipments by five million to 82 million, but has also upped his calendar Q1 estimate by five million to 70 million. "We do not believe Apple faces appreciable defection risk, nor that it has cancelled orders for the X," he writes while explaining why his Q1 estimate is being hiked.
Also: Taiwan Semiconductor Manufacturing Co. (TSM) - Get Report , which manufactures Apple's A-series app processors as well as iPhone chips from Broadcom Ltd. (AVGO) - Get Report , Cirrus Logic Inc.  (CRUS) - Get Report and other suppliers, forecast its Q4 sales would be up about 10% annually thanks to strong mobile chip demand. It's possible, of course, that many of the chips produced by TSMC that are meant for iPhone X units will end up being stockpiled while production issues for other parts are dealt with. But TSMC's outlook does suggest that Apple still expects to do brisk iPhone sales over the next six months -- even if a larger-than-normal portion of these sales end up happening in Q1 rather than Q4.
Here, it's worth remembering that, should Apple be unable to meet a large percentage of pre-Christmas iPhone X demand, its ecosystem stickiness and very high customer loyalty rates make it pretty unlikely that a huge number of frustrated iPhone X buyers will respond by buying an Android phone instead. Odds are that most will either buy an iPhone 8 or 8-Plus -- that would exert some pressure on Apple's ASPs and maybe its gross margin, but is hardly a doomsday scenario -- or simply wait for the X to become available. And judging by recent data, the number who choose to wait for the X could be a lot higher.
There is admittedly some risk that a combination of soft iPhone 8 demand and iPhone X supply issues will lead Apple to both miss September quarter estimates and issue lighter-than-expected December quarter sales guidance. For now, Apple's September quarter consensus revenue estimate has only dropped by $150 million to $50.85 billion (implies 9% annual growth) since its Sep. 12 iPhone event, and its December quarter consensus has only dropped by $700 million to $86.3 billion (implies 10% growth).
But over the same time, the consensus estimate for March quarter revenue has risen by $2.4 billion to $66.2 billion (implies 25% growth). And judging by how Apple's shares have moved since the Sept. iPhone event, as well as by the fact that shares trade for just 14 times the company's fiscal 2018 GAAP EPS consensus estimate before accounting for cash, it definitely feels as if any concerns about weak pre-Christmas iPhone shipments have been priced in.
That's true even if the amount of time needed by markets to grasp the issue is a little startling.
More of What's Trending on TheStreet: