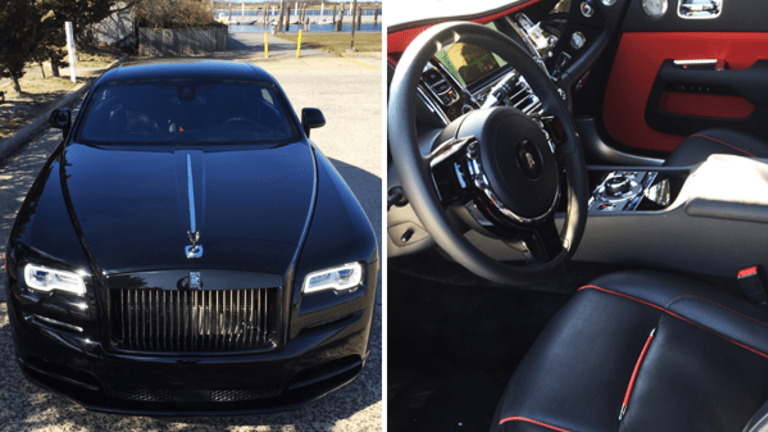 We Drove This New $400,000 Rolls-Royce and Quickly Realized Why It Costs More Than Your House
One word: insane.
Criticizing the Rolls-Royce Wraith Black Badge edition would be like tearing down a baseball player's MVP winning season: pretty dumb. 
At least that was our takeaway from spending two days with the $416,000 Black Badge. Want to complain about the price tag and one-percenter level of luxury Toyota (TM) - Get Free Report Camry owners? Fine, go right ahead as the Rolls costs more than most homes. One could certainly knock the prices for the Black Badge's special features (listed below). Is a headliner that lights up like the sky at night worth $15,000? Debatable. And yes, 12 miles a gallon in city, thanks to a monster V12 engine, isn't exactly as planet-friendly as driving a Tesla (TSLA) - Get Free Report around town.
But in the end, who cares? The Rolls-Royce Black Badge is an exquisite auto that people with $416,000 to blow on a trophy car to park at the private golf club would easily buy. It seems, that is already happening, too.  
"Demand has been very strong. I always look at the S&P 500, and it's doing well, so I'm not surprised," Rolls-Royce North America President Pedro Mota told TheStreet when asked about the state of the U.S. luxury car market and demand so far for the new Rolls-Royce Wraith Black Badge Edition. Mota says sales have gotten off to a good start this year, too.
The over $400,000 luxury auto is Rolls-Royce's attempt to attract a younger, new money demographic. It's the 25-to-45-year-old group—mostly men—who in recent years have bought Rolls-Royce's only to trick them out with lowered suspensions, tinted windows and black paint at local custom shops. The Black Badge, though not as edgy as getting a full-on $100,000 custom job, is an all-around stunner.
The supercar has its trademark Parthenon grille and Spirit of Ecstasy mascot all blacked out. So are the lower air intakes and exhaust finishers. The black paint reportedly has 16 base coats and seven coats of clear, and each layer is hand-polished before the next one is applied. It indeed looked ridiculously shinier than the new Dodge Challenger GT we recently tested.
Editors' pick: Originally published March 18.
And naturally, the engine is a beast because what 35-year-old new money male living in L.A. doesn't want to haul ass. The Wraith has a twin-turbo 6-litre V12 engine that puts out a robust 624 horsepower, making it one of the most powerful Rolls-Royce models produced so far. When we say this car has stealth, rocket-ship-type speed, it may be an understatement. In seemingly a blink of an eye, we were doing 110 mph on the highway. It easily felt as if we were standing still. 
About those added features:
Black Badge package: $45,000
Main exterior color paint: $10,500
Rolls-Royce monogram on the headrests: $1,200
Starlight headliner: $15,000
Driver assistance: $7,430
Lambswool floormats: $1,400
Rolls-Royce bespoke audio system: $9,175
Destination and handling: $2,750
Gas Guzzler tax: $2,100
What follows is a detailed walk through of this specimen on four wheels.