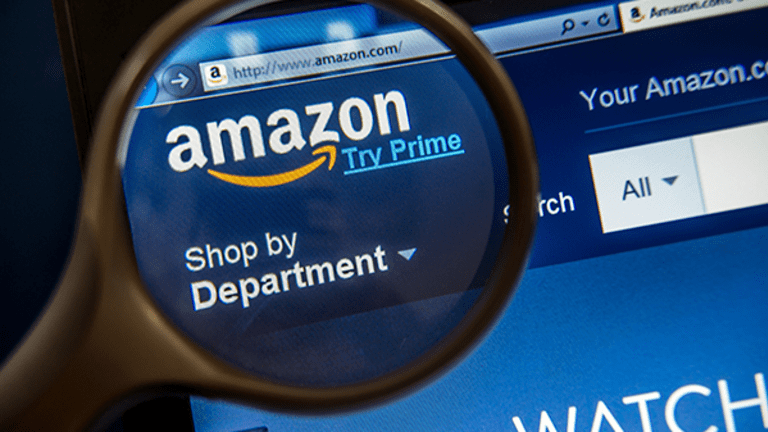 Amazon With Inflated Discount Rates? We Found 9 Products You'll Want to Check Out
Beware, discounted dog pools pet bowls, security cameras and cooling towels may not be what it seems.
As the Federal Trade Commission reportedly looks into claims that Amazon.com Inc. (AMZN) - Get Amazon.com, Inc. Report  misleads customers about the merchandise discounts they're getting, TheStreet found that it's not too hard to find instances where that appears to be the case. 
Reuters reported on July 20 that the Federal Trade Commission is probing Amazon's pricing as part of its review of its planned purchase of Whole Foods Market Inc.  (WFM) , following a complaint submitted by advocacy group Consumer Watchdog. The complaint looked at about 1,000 products on Amazon's website in June and found that of the 46% of those products for which the tech giant listed reference prices, more than 61% showed reference prices higher than what the items had sold for over the previous 90 days, suggesting the price-discounting model may be misleading.
Amazon strongly defended itself against the claims. 
"The study issued by Consumer Watchdog is deeply flawed, based on incomplete data and improper assumptions," an Amazon representative said in an email. "The conclusions the Consumer Watchdog group reached are flat out wrong. We validate the reference prices provided by manufacturers, vendors and sellers against actual prices recently found across Amazon and other retailers."
But in its own research, TheStreet uncovered similar results. On Friday, July 21, TheStreet reviewed 30 "Today's Deals" products on Amazon and compared their reference prices to the highest price at which Amazon sold the product in the last 30 days, using the price-change tracking feature from Honey, a browser extension that automatically finds and applies online coupon codes.
Amazon Can't Be Dethroned by Any Company Alive: Ex-Amazon Exec
TheStreet found nine discounted products with reference prices that were greater than the highest price at which Amazon offered the product for the previous 30 days. The average difference was $18.52. Two of the items supposedly on sale actually had sale prices that were higher than their previous price.
An Amazon representative told TheStreet that Amazon strives to provide the lowest prices and be transparent in its pricing. The representative pointed out that the nine products come from Amazon's marketplace sellers, which are generally small, independent companies that can set their own prices and change them as they see fit. The representative added that Amazon offers millions of products and works to correct anomalies. A team is looking into how the prices of the nine products TheStreet identified were set, the representative said.
Kerry Rice, a Needham & Co. LLC senior analyst with a $1,150 price target buy for Amazon, told TheStreet that although the number of products Consumer Watchdog flagged is statistically relevant, he thinks it will be difficult for the FTC to scrutinize the e-commerce giant.
"I think financially, ultimately, it is immaterial," Rice said. "It's hard for the FTC to investigate, since pricing on Amazon is pretty dynamic. It's different from today to tomorrow."
Rice added that in comparisons with competitors such as Best Buy Co. Inc. (BBY) - Get Best Buy Co., Inc. Report , Target Corp. (TGT) - Get Target Corporation Report and Walmart Stores Inc. (WMT) - Get Walmart Inc. Report among others, Amazon's prices are on the lower end. He noted that most consumers have a favorable impression of Amazon.
"I don't think it will have an impact on demand or traffic to Amazon," Rice said. "[A negative FTC review] might leave a bitter taste in people's mouths," but Rice said he thought, "largely, Amazon consumer sentiment is positive. It's not an Uber-like environment, where it's one kind of issue after another."
Here are the nine products TheStreet found with reference prices higher than the top price at which Amazon sold them over the past month.
1. Namsan Foldable Large Dog Pool
Amazon had this this puppy pool as a deal-of-the-day discount for $34.49, a 38% decrease from a reference price of $55.99. For the past month, however, the price was set at $45.99, making the actual discount just 25%.
The e-commerce retailer set a deal price on Friday at $22.50 for this dog dish. That's a 30% discount on the referenced $32 price but a 25% decrease from $30, the price it had been 30 days before.
3. Kamtron Wireless Security Camera
This Kamtron camera was listed as being 51% off a $109.99 reference price and going for $53.54. Its highest price in the past month on the website, however, was $69.99 on July 11, which would make the discount 24%. Amazon, however, does note that the gadget was on sale for $65.99 before the extra discount.
4. InstaSkincare Dissection Kit
This dissection kit was listed as being 44% off $25.99, or $14.54. Amazon noted that the kit was on sale for $17.99, the highest price it has been for the past month. That makes the deal 19% off its previous price, however.
5. Chill Pal Ultimate Mesh Cooling Towel
This cooling towel was listed as a deal of 61% off a $14.99 price at $5.92. But that was just 46% off its highest price in the past 30 days, which was $10.97, though Amazon notes the towels were on sale for $9.97 before the deal.
6. LilyAna Naturals Eye Cream Moisturizer
This anti-aging skin care product was noted as selling for 67% off a $40.99 reference price, or $13.59. The highest price of the moisturizer in the past 30 days, however, was $25.99, making the deal just a 48% change. Amazon did note the cream was on sale for $16.99 before the deal.
7. Shuttle Art 40 Colors Glitter Gel Pens
According to Amazon, the pens had a $39 regular price but were on sale for $11.99, a 69% discount. That sale price, however, was the most expensive the pens had been since June 29. Before the $11.99 sale price, they were actually priced 17% lower at $9.99.
8. First Botany Cosmeceuticals Bulgarian Lavender Essential Oil
Amazon said it discounted the essential oil 59% from $31.50 to $12.95. That $12.95 price tag, however, was the highest the product has been all month. Before that, the cost was $11.95 for the oil, 8% cheaper than the supposed sale tag.
9. Wonder Sky Salt and Pepper Shakers
Amazon's lightning deal for these salt and pepper grinders was $17.57, a 75% discount from $70. The highest price they were all month was $27.87, making the deal a 37% discount. Amazon did note the shakers were on sale for $25.87 before the temporary deal.
More of What's Trending on TheStreet:
These 11 Cars Embarrassingly Lose Half Their Value in Three Years
Tesla, Apple, Facebook and Other Tech Titans on Top 10 SELL List: Market Recon
Honda Finally Makes a Cool-Looking Accord Sedan Because Everyone in America Is Buying SUVs
Legal Experts Say That Fired Google Engineer Has Strong Case for Damages
Watch More with TheStreet:
5 Ways Companies Are Using AI to Secretly Change Your Life
Around the World in 5 Insane Pizza Hut Pizzas
Tesla's Elon Musk Is All Jokes as the Model 3 Accelerates into "Production Hell"
Editors' pick: Originally published July 25.