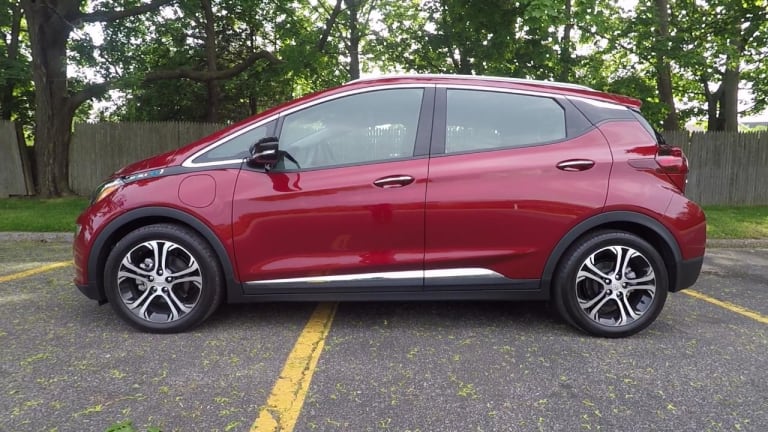 Chevy Bolt Just Embarrassed Tesla on This One Key Test Done By Consumer Reports
GM's new all-electric Bolt was OK.
So yeah, the new Chevy Bolt didn't electrify our soul.
If you munch hourly on Whole Foods (WFM) brand granola, are religious when it comes to recycling and believe climate change is a growing deadly force then General Motors' (GM) - Get General Motors Company (GM) Report new Chevy Bolt is the car for you. The small, all-electric four door car zips through traffic with ease and has a decent amount of interior space. It's as quiet as we imagine death to be thanks to a lack of one of those gas engine things (perhaps too quiet).
This was our first time driving an electric car and its sheer silence quickly reminded us why Harley-Davidson (HOG) - Get Harley-Davidson, Inc. (HOG) Report is still working tirelessly to develop a worthy electric bike (Harley's are known for their sound, CEO Matt Levatich has often reminded us).
While the Bolt is a perfectly fine means of transportation, there is no overlooking the large donkey in the room. That is range anxiety, or the constant fear you will drain the car's battery and be left stranded on the side of the road. After driving 50 or so miles with the A/C and seat warmer on (hey, we have to test these things), the Bolt's charge seemed to go lower with each passing glance at the dashboard. Talk about freak out moments on the highway, they were piling up quickly. 
Yes, there is an app to download to check where there are charging stations. But after getting that sense of range anxiety on the way home, we parked the Bolt in our driveway for the weekend and drove around in our own car (which is a mild gas guzzling Dodge Challenger).  
Some apparently don't share our sense of anxiety. 
Sales of the Bolt hit a new high of 1,642 units in the U.S. last month, according to Electrek. The total number of Bolts delivered since its launch last December now tallies 8,000.
Consumer Reports seems to dig the Bolt, too. The publication just published the results of its range test of the Bolt and said it gets 250 miles on a full charge, more than the 238 rated. On the other hand, Tesla's (TSLA) - Get Tesla Inc Report Model S 75D went 235 miles on a charge, compared to the EPA estimate of 259.
Cheers to fossil fuel.
Specs:
Top speed of 93 mph.
Can travel about 240 miles on a single charge. 
The Bolt has Wi-Fi connectitivity for up to seven devices.
GM hopes to sell 25,000 Bolts this year.
Base price: $37,500
Watch all of Brian Sozzi's auto reviews right here:
3 Out of Body Experiences that Happen When Driving Bentley's $405,000 Luxury Super Car