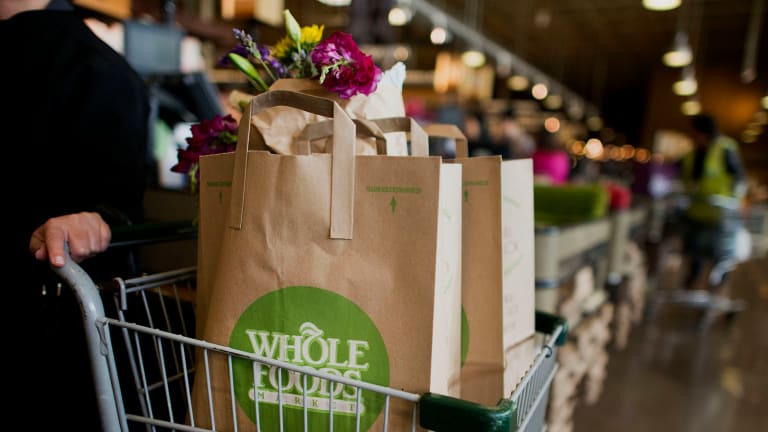 Publish date:
Whole Foods Is Rising on Takeover Speculation, But Here's What Is Really Happening
Don't lose sight on how much Whole Foods is struggling.
Don't lose sight on how much Whole Foods is struggling.
Whole Foods (WFM) popped as much as 4% in Monday trading on speculation supermarket operator Albertsons Cos had held preliminary talks to merge with natural and organic grocer Sprouts Farmers Market (SFM) - Get Report .
While investors ponder the consolidation of the grocery store space, they may want to remember how bad a shape organic food pioneer Whole Foods is in right now before envisioning the company being taken over. After all, Whole Foods shares haven't lost a stunning 42% over the last three years for nothing.  
Plagued by pressured sales and profits in the competitive natural foods space, Whole Foodsis now aimed at getting its mojo back and retaking the lead through several key strategies, says an Oppenheimer analyst.
"Whole Foods is quickly adjusting to the more competitive environment. They [management] is more in touch with reality," Oppenheimer's Rupesh Parikh told TheStreet recently. Executives, including CEO John Mackey, just laid out their plans at the Natural Products Expo West Conference in Anaheim, Calif.
Whole Foods has been facing competition from every direction, both online and in-store from major grocers such as its biggest rival, the grocery story chains, led by Kroger (KR) - Get Report, as well as Trader Joe's, Costco (COST) - Get Report, Sprouts Farmers Markets and Natural Grocers (NGVC) - Get Report . The company has closed nine stores due to poor sales. In addition, the retail space remains challenged, and may be more so going forward as the Federal Reserve raises interest rates, which historically has led to slowing sales at retailers.
Oppenheimer analysts are impressed now with what Whole Foods is doing to turn itself around in real estate mostly, but also in purchasing which will become more centralized, and marketing.
What Whole Foods is up to:
Slowing store growth.
You will see fewer store openings, while the grocer concentrates on those stores that perform well, such as their large flagship locations, said Parikh.
Closing stores and consolidating.  
"They have less patience with under-performing stores," said Parikh. He added that even if a store isn't under-performing, the company is consolidating if there's a nearby store that can take on the first store's customers.
Offering customers fresh ways to spend.
Whole Foods has introduced digital coupons and meal kits, added Parikh, both of which are popular with consumers who are cash- and time-strapped and offered by other grocers. 
You will actually hear from Whole Foods.
Parikh said consumers should expect Whole Foods to toot its own horn more. "They haven't advertised," said Parihk, who expects that will change as the company strives to get its message out. "I don't think consumers appreciate the quality of foods they sell."
He said the company's latest strategy won't effect changes immediately, but its efforts are longer term oriented and should start showing up by the end of 2017 or into next year.
Whole Foods could surely use a kick in the pants. In its latest quarterly report, the company reported that total sales increased a meager 1.9% to a $4.9 billion. Comparable store sales decreased 2.4%, while profits were also under pressure due to increased discounting. 
Updated from March 19 with new details