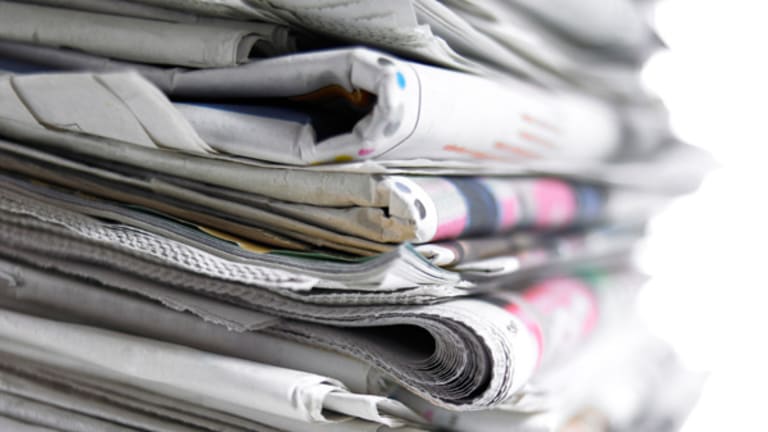 Watch Buying Momentum in the Coming Week
Market watchers are looking at how the current rally can last as earnings season winds to a close in the coming week.
NEW YORK (
) -- The stock market seems to want to defy analysts expecting a pullback.
"I'm holding lots of cash and I don't see many charts that I like. I would like to see things reset a bit," wrote
RealMoney
contributor James "Rev Shark" De Porre on Friday. "The easiest thing in the world for me to do is to write about why this rally is doomed and how a major turn is going to occur at any moment. That is what I'd like to see happen, but I see no evidence that it will happen right now." In short, he concludes that "support continues to hold."
The
Dow Jones Industrial Average
, while losing momentum, still managed to drift higher by 33 points, or 0.3%, this past week, hitting 13,000 several times during intraday trading.
Tech and energy stocks were the rally's biggest drivers, with names like
Apple
(AAPL) - Get Apple Inc. Report
,
Exxon Mobil
(XOM) - Get Exxon Mobil Corporation Report
,
Microsoft
(MSFT) - Get Microsoft Corporation Report
and
General Electric
(GE) - Get General Electric Company Report
leading the way.
Some investors are still trying to find value in individual stock picks, while others are holding back and waiting to see whether selling or buying momentum picks up.
According to EPFR Global Fund Data, investors pulled out nearly $6 billion from U.S. equity funds in the past week. Yet, at the same time, data suggest investors are also ramping up risk in some asset classes, including funds involved in mortgage-backed and high-yield bonds.
> > Bull or Bear? Vote in Our Poll
One reason for the slowdown may have been the overall tone of fourth-quarter earnings. Research firm FactSet reports that with almost all of the
S&P 500
companies having reported, only 66% reported earnings per share that beat Wall Street estimates, while 33% had EPS that missed consensus. In contrast, 73% of companies have beaten estimates over the past fourth quarters.
Looking ahead, analysts are bracing for a year-over-year decline of 0.4% in earnings for the first quarter of the current year, followed by single-digit growth in the second and third quarters. That said, the long-term horizon is still bright -- double-digit growth rates are expected again by the fourth quarter.
10 Companies in the 'Ultimate Stock Pickers' Portfolio
The earning calendar grows even thinner the coming week. Key companies scheduled to report next week include
Southwestern Energy
(SWN) - Get Southwestern Energy Company Report
,
Priceline.com
(PCLN)
,
El Paso
(EP)
,
Office Depot
(ODP) - Get ODP Corporation Report
,
Tenet Healthcare
(THC) - Get Tenet Healthcare Corporation Report
,
Staples
(SPLS)
and
Big Lots
(BIG) - Get Big Lots, Inc. Report
.
As earnings season winds to a close, market participants will increasingly shift focus to economic news, as well as hints elsewhere for whether the rally has more legs.
A couple of discomforting signs threaten to curtail the meandering rise in stocks. The past week's data showed a contracting economy in the eurozone, underscoring what many economists would argue is the region's greatest challenge: how to avoid years of slow growth once the European debt crisis boils over. Crude oil has been surging above $100 a barrel, fueling anxiety about the economic outlook, in particular how U.S. consumers might react.
The good news for bullish investors is that some economists believe this year's crude rally is "relatively isolated," said a report from T. Rowe Price. "Last year, market risk premiums rose with the price of oil; this year risk appetites have continued to improve... It may well be that, absent additional external shocks, a moderate oil price spike is not sufficient to undermine the forward momentum of cyclical recovery."
The fear of those "external shocks" has, in part, eased in light of Greece taking further steps toward avoiding a default. Economists are saying that the U.S. is gradually decoupling itself from Europe. Headline risk from across the Atlantic wasn't much of a factor for the market this past week. In fact, investors barely reacted when Greece announced a breakthrough on its bailout deal, suggesting that money managers feel either fatigued by the incremental updates or trust that the region will avoid a financial catastrophe.
"At 4:30 a.m. on weekdays, right after I grab my BlackBerry to turn off the wake-up alarm, I click on the link to
Bloomberg
Mobile to see the latest price of a barrel of Brent crude oil," wrote Ed Yardeni of Yardeni Research, in a note. "Until recently, my mornings started with a check on the Italian bond yield. Now that's the second quote of the morning for me, followed by the price of copper."
Still, economists warn of the potential roadblocks to Greece's latest plan. Investors are waiting to see whether the country's private creditors will "voluntarily" eat up the bond swap in March, and parliaments in Germany and the Netherlands have yet to give formal votes of approval on the bailout.
"This weekend's G20 meeting may see the European Union signaling a stronger firewall to support troubled euro-area governments, on the understanding that the IMF will be prepared to offer more aid to Europe," writes Standard Chartered.
On the home front,
Federal Reserve
Chairman Ben Bernanke is slated to speak on Thursday, which is also the release date of the central bank's monthly Beige Book report. His appearance before Congress comes amid criticism that the central bank's economic predictions may not be on track in light of the Fed's recent pledge to keep interest rates near zero until 2014.
"Since history flatly contradicts the notion that the Fed can safely pledge interest rates three years out, there is a significant likelihood that the credibility of the Fed's new inflation target will crumble, as it keeps interest rates down despite rising prices, or that its effort to persuade the market that rates will stay near zero will end in shambles." wrote Benn Steil, director of International Economists in a
Wall Street Journal
op-ed piece the past week.
According to Steil's reading of the Fed's previous forecasts, "during the two decades to 2006,
the Fed's own experts were worse than outside ones in predicting one-year economic data. Since the start of the crisis in 2007, its three-year predictions have been worthless."
10 Stocks of Top-Performing Funds in 2012
For the most part, Fed watchers aren't expecting Bernanke to diverge from this previous stance. "A stubbornly high unemployment rate and fragile financial markets in Europe will likely be offered as offsets to the firmer domestic data," write the investment strategists at CRT Capital Group. "In addition, the continued soft residential real estate market and bloated housing stock surely warrant the extortionately easy policy."
The coming week will be a fairly busy one for domestic economic data. Several regional Federal Reserve branches will report their latest manufacturing numbers. The Institute for Supply Management comes out with its reading on nationwide manufacturing activity on Thursday. Its purchasing managers index is expected to be 54.5 for February, following a 54.1 reading in January.
On Monday, pending home sales from the National Association of Realtors will kick off the economic calendar. They are expected to have risen 1% in January, according to
Thomson Reuters
, following a 3.5% drop in December.
On Tuesday, Case-Shiller's latest reading on home prices in 20 cities in December is expected to have fallen 0.9%, tallying up to a 3.7% drop for the year. Some economists are beginning to talk about a housing bottom, and last week's rise in existing-home sales was fairly encouraging, with some analysts saying that the figures likely signal improvement even excluding the favorable impact from warmer weather. Capital Economics even dubs recent trends as a recovery phase in its infancy.
Other economic reports include durable goods orders from the Census Bureau on Tuesday. Durable goods orders are expected to have slipped by 0.7% in January after a 3% rise in the previous month. Construction spending -- due out Thursday from the Department of Commerce -- likely grew 1% in January, adding to a 1.5% reading in the prior month.
On Tuesday, the Conference Board releases its consumer confidence index for February. A reading of 63 is expected, up from 61.1 in January.
Get Fat Yields With Foreign Dividend Funds
On Wednesday, the government is likely to say that the economy grew at 2.8% on an annualized basis in the fourth quarter. This reading remains unchanged from the government's first estimate.
Lastly. weekly jobless claims, which showed further stabilization in the past week, are due out Thursday as usual.
-- Written by Chao Deng in New York.
>To contact the writer of this article, click here:
Chao Deng
. To follow the writer on Twitter, go to:
@chao_deng