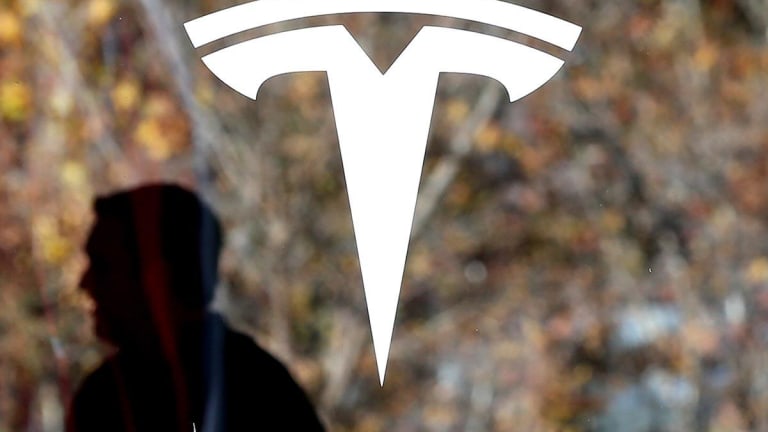 Watch Tesla's Battered Bonds as Musk Goes Begging Suppliers for Cash
Tesla looks like it's in a world of hurt amid a WSJ report that it's asking suppliers for cash.
All eyes on Tesla's (TSLA) - Get Tesla Inc Report bonds. 
Shares of the electric car maker fell 3% Monday on a WSJ report saying Tesla is asking some suppliers for money back in attempt to turn profitable. 
At 90 cents on the dollar, Tesla's 5.3% notes due 2025 are hovering around the all-time lows hit in late May. The bonds rallied a bit in June to more than 91 cents on the dollar coming off Musk's upbeat annual shareholder meeting. But the notes have since been under pressure amid lingering questions on Model 3 production targets and ongoing bizarre behavior by Musk on Twitter.
Tesla issued the $1.8 billion tranche of junk debt in Aug. 2017 at par to help fund its operations. The bonds have lost about 10% of their value since then, according to S&P Global Market Intelligence.
The downtrend in the bonds should be carefully watched by holders of Tesla's stock (which like the debt, continues to dive). The ongoing slide lower in the price of the bonds suggests investors are losing confidence in Tesla's ability to be a viable company long-term. That concern runs the risk of raising the cost of Tesla's next capital raise, a maneuver that Musk has stated emphatically the electric car maker won't need this year.
The report of Tesla asking suppliers for cash back will do little to engender investor confidence. "The company is plainly running out of cash," long-time Tesla critic Anton Wahlman said via email. 
"My gut instinct is that after the last conference call, Musk's increasingly erratic behavior has shaken the confidence of analysts at big firms like Fidelity that sort of make the recommendation to put more capital into Tesla," former hedge fund manager and Tesla expert Whitney Tilson told TheStreet. Tilson says Tesla will need to raise a lot of capital but may have problems doing so.
"It looks more like they will have to do a distressed financing that could really whack the stock and then you start getting into something that looks like Valeant, which is a lot of debt and shaken confidence in the market where the declining stock price becomes a self-fulfilling prophecy."
Tesla's Response
A Tesla spokesman offered up the following statement to TheStreet in response to the WSJ story. 
"Negotiation is a standard part of the procurement process, and now that we're in a stronger position with Model 3 production ramping, it is a good time to improve our competitive advantage in this area. We're focused on reaching a more sustainable long term cost basis, not just finding one-time reductions for this quarter, and that's good for Tesla, our shareholders, and our suppliers who will also benefit from our increasing production volume and future growth opportunities. We asked fewer than 10 suppliers for a reduction in total capex project spend for long-term projects that began in 2016 but are still not complete, and any changes with these suppliers would improve our future cash flows, but not impact our ability to achieve profitability in Q3. The remainder of our discussions with suppliers are entirely focused on future parts price and design or process changes that will help us lower fundamental costs rather than prior period adjustments of capex projects. This is the right thing to do."
 Read more on Tesla's future from TheStreet here.