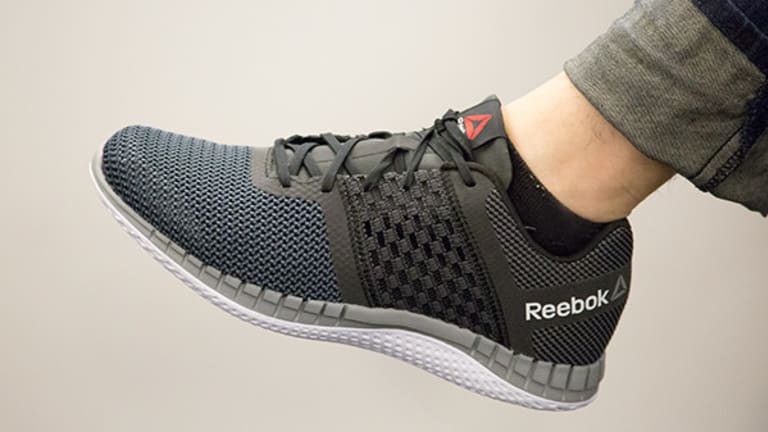 Watch Reebok Use 3-D Technology to Make a Sneaker Out of Liquid
Reebok enters the 3-D printing sneaker game, following recent efforts by Under Armour.
Editors' pick: Originally published Oct. 20.
Reebok has joined the growing race to use 3-D printing to cook up some unique, pricey sneaks.
The footwear maker unveiled via a YouTube video Thursday (below) its Liquid Factory process, which uses computer software and robotics to draw shoes in three dimensions. A proprietary liquid material, created for Reebok by chemical maker BASF, is used to concoct 3-D layers that then get plastered on a sneaker. The first shoe born from this manufacturing process is the Reebok Liquid Speed, which is being released in a 300-pair production run for a cool $189.50 a pair.
"Footwear manufacturing hasn't dramatically changed over the last 30 years," explained Bill McInnis, head of future at Reebok. "Every shoe, from every brand is created using molds -- an expensive, time-consuming process. With Liquid Factory, we wanted to fundamentally change the way that shoes are made, creating a new method to manufacture shoes without molds. This opens up brand new possibilities both for what we can create, and the speed with which we can create it," added McInnis. 
In early 2017, Reebok, which is owned by Germany's Adidas, plans to open its own Liquid Factory manufacturing lab in Lincoln, R.I. Reebok's new 3-D printing efforts and desire to bring manufacturing back to the U.S. in order to speed up production and delivery, mirrors that of rival Under Armour (UA) - Get Under Armour, Inc. Class C Report .
Under Armour's new manufacturing lab in Baltimore
In July, Under Armour cut the ribbon at its new 35,000-square-foot product-innovation center dubbed UA Lighthouse. Opened in the company's backyard of Baltimore, the facility is decked out with machines, such as 3-D printers and body-image scanners, that Under Armour said will help it manufacturer clothes and shoes more efficiently. Scientists on hand will be able to test new manufacturing processes in the facility and then bring the winning ideas to the company's partners in the supply chain.
"We are still making a T-shirt the same way as we did 100 years ago; it's insulting," exclaimed Under Armour Founder and CEO Kevin Plank during a speech at the unveiling of the facility attended by TheStreet.
Meanwhile, in March, Under Armour unveiled a limited-edition 3-D-printed training shoe called UA Architechs. They featured a 3-D-printed midsole as well as an upper design that enhances the fit and is lightweight. The training shoe came together after a two-year research and development process that involved the study of geometric shapes and structures leading to the midsole design, according to Under Armour.
Only 96 pairs of the UA Architechs were made. The price? A cool $300, but they were still met with fierce demand. In August, Under Armour then dropped a pair of 3-D printed sneakers exclusively for Olympic star Michael Phelps, who is a spokesman for the company.