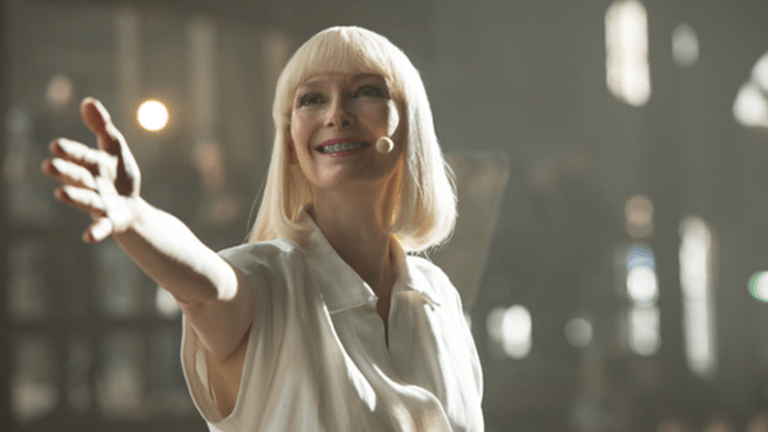 Watch Netflix's Quirky South Korean Hit Film 'Okja' to See Why the Company Is Crushing It
The unusual movie is a model for how the streaming giant is able to attract standout content.
Netflix's (NFLX) - Get Netflix, Inc. Report final release of the second quarter was also, potentially, its most important.
"Okja" has not only goosed subscriber numbers across the globe, but has also become an important mission statement for the streaming giant.
The film, from South Korean director Bong Joon-ho, is in equal parts a whimsical parable and a pitch-black satire on corporate America. It centers around the eponymous creature Okja, who is a "superpig" that has been genetically engineered by an agro-chemical corporation to taste good. A caring young girl who has raised Okja in the countryside of South Korea stands in the way of the corporation's carnivorous plans, though, resulting in an adventure film that spans Seoul to New York City.
What stands out about the film is not its outlandish characters (Tilda Swinton as a gonzo CEO, Jake Gyllenhaal as a loopy TV personality) or even the flawless CGI that brings Okja so believably to life. Rather, the most striking aspect of the film is the glaring fact that it could not be made in the Hollywood studio system.
The film defies its kid-friendly premise with several F-bombs, forced animal breeding and eruptions of intense violence. The young protagonist is played by a South Korean 13-year old, Ahn Seo-hyun, in her first leading role. And when was the last time a non-kids movie featured a big, friendly animal as its namesake (and an imaginary one, at that?)
The unconventionality of the film, however, is exactly what has made it stand out on Netflix's platform. While the streaming giant's other original films like Brad Pitt vehicle "War Machine" and sci-fi film "The Discovery" have failed to register as more than a blip on the mainstream radar, "Okja" has successfully made a lot of noise for the streaming company. Part of the buzz can be attributed to the unique wackiness of the movie, as well as the positive reviews it has garnered ("Okja" currently sits at 85% on Rotten Tomatoes). The film has also drawn attention for its hefty $50 million production budget that was bankrolled by Netflix.
However, the lion's share of publicity for "Okja" came from the Cannes Film Festival, where the film premiered in May. There, it was the subject of a considerable amount of controversy due to anti-streaming sentiment, prompted by a French exhibition rule which requires a three-year delay between a film's theatrical release and its appearance on a streaming service.
Netflix has notoriously insisted upon streaming its films at the same time as theatrical releases (known as day-and-date release). The controversy around "Okja" made it "the most talked-about film at the Cannes Film Festival," as Netflix's Chief Content Officer Ted Sarandos recently noted in Monday's second-quarter earnings webcast.
Following its blowout earnings report, Netflix shares rose almost 14% on Tuesday and were up an additional 0.3% to $184.14 on Wednesday afternoon. Year to date, shares are up almost 50%.
Exhibitor resistance to streaming also was a story in South Korea, where "Okja" was boycotted by the three major cinema chains. However, the film still enjoyed sold-out theaters in the handful of venues that did show it, even for early-morning screenings. The popularity of director Bong Joon-ho was probably a leading factor in the strong ticket sales in the territory. Joon-ho's 2006 film monster film "The Host" was until recently the highest-grossing film of all time in South Korea, and the director has been compared to "Spielberg in his prime."
"He is the most celebrated director in Korea and a huge star and attraction in and of himself," Sarandos said of Joon-ho in Monday's earnings webcast. "For most people, they learned about Netflix for the first time when 'Okja' was coming out in Korea."
Netflix first started streaming in South Korea in January 2016, and both Sarandos and Netflix CEO Reed Hastings admitted that the company still had a far way to go in boosting awareness throughout Asia. Their strategy is to match programming to local taste, as the streaming giant has increasingly diversified its slate over the past few years to appeal to a worldwide market.
Such Spanish-language programming as "Ingobernable" and "Las Chicas de Cable" have been big hits for Netflix in both Latin America and the U.S., and "Okja" has similarly succeeded in attracting viewers not only in South Korea, but across the globe.
"That's a fantastic story to make a great movie for Korea. It's even a bigger story that the movie is getting watched by millions around the world," said Sarandos. "[Joon-ho's] films tend to travel around the world pretty well."
Indeed, Joon-ho's last film, "Snowpiercer," was a global hit with a worldwide gross of $86.8 million. That total was achieved with minimal help from the U.S. -- the film grossed less than $5 million here despite featuring well-known names like Chris Evans and Octavia Spencer.
The film's release was marred with controversy after Harvey Weinstein, owner of the film's U.S. distributor The Weinstein Company, told Joon-ho to alter the final cut of the film to be more audience-friendly. When the director refused, the film was transferred to specialty distributor RADiUS-TWC, and only received a limited release in the United States. The film went on to make most of its money over video-on-demand (the film made $6.4 million in its first two months from VOD and only $4.6 million in theaters).
The controversy over "Snowpiercer" highlights a more general industry dynamic that Netflix may just exploit for its own success. Auteur-driven films are becoming more and more difficult to make in Hollywood -- as box office receipts have shrunk, so has studios' margin for error, leading to more meddling by executives and less creative freedom.
Netflix is taking advantage of this landscape by doing the exact opposite -- letting its filmmakers realize their vision with little to no interference. Not only has Joon-ho attested to the "total freedom" he had working with Netflix, but so have the creators of hit shows "Stranger Things" and "House of Cards." While there is certainly some risk that comes with taking a hands-off approach when it comes to content, it has paid off for Netflix so far, if its 91 Emmy nominations and stunning subscriber growth are any indication.
And as the streaming giant continues to develop a reputation for creative freedom, it will continue to siphon off talent from major Hollywood studios. Netflix has films from Martin Scorsese and Ava DuVernay in the pipeline, and A-list actors like Will Smith and Ben Stiller have joined the streaming revolution with Netflix movies slated for release later this year.
Although it remains to be seen how this revolution will affect the film industry more broadly, one thing is for sure: with its knack for attracting talent through creative empowerment, coupled with its strategy of funding local content for global audiences, Netflix appears to be an unstoppable force.