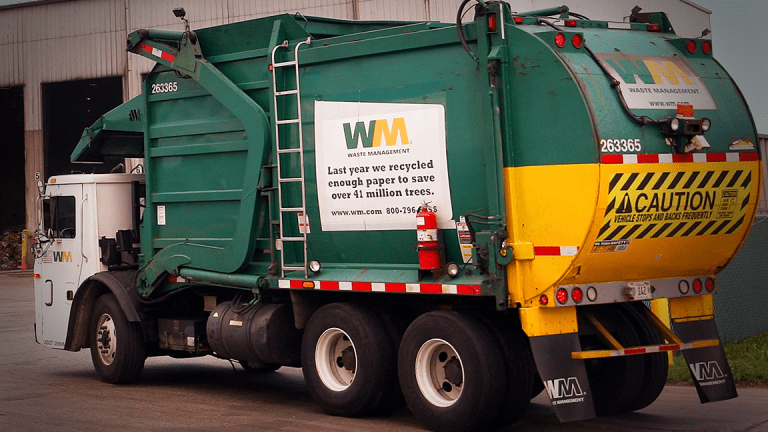 Waste Management CEO: Why Waste Is a Great Business to Be In
Waste Management shares have been on fire in recent years. In short, it pays to be in the trash business. TheStreet talks with Waste Management CEO Jim Fish about the company's outlook.
Being involved in the waste business definitely doesn't stink, if you are an investor in Waste Management (WM) .
Shares of Action Alerts Plus holding Waste Management have skyrocketed some 68% over the past two years, dusting the S&P 500's 50% gain. To put that feat into perspective, Apple's (AAPL) stock -- underpinned by constant hype around its latest tech gadgets -- have risen 78% during the same span.
Waste Management isn't exactly selling $1,000 iPhones, but the fact it's helping to dispose of them and other tech waste is in part why the stock has caught fire. And it's disposing of said tech waste, along with healthcare byproducts, quite profitably.
Third-quarter net sales and adjusted earnings rose 4.8% and 7%, respectively, from the prior year.
"Recycling and trash don't go away, it is a business that has such a great presence," Waste Management CEO Jim Fish told TheStreet. Fish, who took over as CEO in Nov. 2016 and has been with the company going on 17 years, added "It may not be the sexiest business in the world, it's not building jet airlines or an Apple or a Google (GOOGL) , but investors don't really care if it's sexy."
TheStreet talked with Fish about the year ahead and longer term outlook for the waste business. What follows is an edited and condensed version of the interview.  
TheStreet: How did you end up working in the waste business?
Fish: I can tell you the way I ended up working in the industry is not because I necessarily had any interest in the waste business itself, it's because the CEO at the time named Morry Myers was a guy I had worked for at two other companies. One was a small airline called America West. I didn't know him very well there, but he had written me a recommendation to get into the University of Chicago's graduate school.
When I got out, I was really surprised he called me to a company called Yellow Corp. where he was chairman and CEO. Then he proceeded to leave for Waste Management four months after I jumped to Yellow. I called him, and asked if he wanted me at Waste Management.
TheStreet: Retail executives often visit stores to see how their businesses are doing. How do you do channel checks, visiting landfills?
Fish: I do a good bit of channel checks, it's my background. After I got here, I ended up going out in the field for seven years, so it's something I am pretty comfortable with. I never had any blue collar background at all, other than maybe working on a ramp for an airline in college. The first thing my father-in-law told me was to get out there into the field so I really learn about the business. 
So, I did it every week. I am telling you, these were not 9:00 a.m. meetings, these were 2:00 a.m. meetings, some of them in 10 degrees below zero weather in Pittsburgh. They weren't easy, but they helped me to see how the operations were running. I have continued to do these, last year I did 12 of them. It doesn't seem like a lot, but once a month going out to an operation is a big thing. 
TheStreet: Why is waste so hot right now? What are investors betting on here?
Fish: Part of what jazzes me up over the next five to ten years is that we have a great business model. Recycling and trash don't go away, it is a business that has such a great presence. It may not be the sexiest business in the world, it's not building jet airlines or an Apple or a Google (GOOGL) , but investors don't really care if it's sexy. We are thinking about the next generation of landfills. We have 245 landfills and they all have a natural end of their lives.
Over the next five to ten years, we will have an intense focus on the customer and their needs, and how do we differentiate ourselves. Secondarily is technology. Everybody talks about technology, but this industry has been technology light. It's an opportunity for us. We are thinking about what the next generation of recycling plants look like. Does autonomy within the heavy truck industry, does that come to bare in our industry? And then what is the next generation of landfills look like, how do we replace them?
TheStreet: There are some big trends coming your way soon, such as millennials disposing all of their tech gear each year and babyboomers discarding more health related supplies. Is there a waste boom coming?
Fish: Hey look, times are good. The babyboomers are coming into a period of heavy medical spend. All of our parents are aging and spending more on medical spend. There is medical waste generated from that, we are in that business. The industrial economy is important to us. Whether it's through repatriation from the new tax law, or just through the fact the U.S. and Canada are great places to do business and the industrial economy is showing some signs of life, we are a big industrial player on the back-end of the cycle. 
TheStreet: What do you plan to do when all your landfills are full?
Fish: It's a good question, it's not something we have a complete answer to. When a landfill closes, you can't necessarily find an adjacent piece of property. You have go to either develop a new technology, which we are really looking worldwide for than just lining a landfill and putting waste in there and collecting gas. We are trying to find less land intensive solutions. 
TheStreet: Isn't this a big problem?
Fish: Look, we don't run into a shortage of landfills for another 50 years at Waste Management. I won't be around, but somebody is going to have to figure something out if all we have is landfill technology. That's why right now, we have spent in the last seven years $500 million looking for that next generation technology. We haven't found it yet, but we are scouring the globe to find it. 
TheStreet: You mentioned autonomous, how far away is a Waste Management from autonomous trucks?
Fish: It actually varies internally whether you are talking about a landfill or a truck running a route. We think in 2018 we will have an autonomous test vehicle at a recycling plant and potentially, on one of our landfills. It's a big, big jump between running a driverless dump truck on a landfill and running a driverless collection vehicle through a neighborhood. 
The big leap is not in the technology, it's in the government regulation and the public perception. You don't really worry about public perception in a landfill or recycling plant because everything is controlled. If we have a truck running around a neighborhood, everyday it's right next to homes, cars and kids on bikes. We have a couple big hurdles before we get that done. 
TheStreet: Count me as staying far away from the driverless garbage truck coming down the road.
Fish: I will tell you one thing about autonomous. The A380 airplane will taxi, take off, fly its route and taxi to the gate on its own. But when I get on it and look up to the left and the pilots aren't sitting there, then I'm off. That is a perception problem. 
TheStreet: Your industry is heavily regulated. Has it become easier to do business under the current administration, which has touted a rollback in all sorts of regulations?
Fish: I wouldn't say there has been any changes whatsoever. The biggest reason is that most of our regulation is at the state level. The way it works is that D.C. and the EPA set the overarching guidelines, which were set a long time ago, they don't change that much. The states have the ability to change regulations -- they can be more, not less, aggressive than the EPA. In a lot of cases they are more aggressive. 
TheStreet: Considering consolidation has always been the case in the waste industry, and with a profit boost from the new tax law, are you looking at doing bigger deals?
Fish: Well, we would like to do something bigger. Most of what we have done have been small deals. We haven't done anything bigger than $500 million not because we don't have the balance sheet, or desire, it's just that we need to find the right company. I think you will continue to see us do acquisitions ranging from $2 million to good size ones. We have to make sure we find the right company. 
TheStreet: What type of profit impact are looking at from the ongoing clean-up from the last hurricane season?
Fish: I believe we said on our third quarter earnings call it was a couple pennies, and then said something similar in the fourth quarter and there may be some carryover into 2018. That's really what we are seeing. What we said on the earnings call is that what we are seeing, notably in Houston, is that a lot of the residential waste moved to these temporary holding areas. So, we do think it has the potential to carry on for a little while. I don't know the status of those holding areas, but I can tell you there was a lot debris at these 100,000 homes impacted. 
Apple and Alphabet are holdings in Jim Cramer'sAction Alerts PLUS Charitable Trust Portfolio. Want to be alerted before Jim Cramer buys or sells these stocks? Learn more now.
Check out TheStreet's Other Influencer Interviews