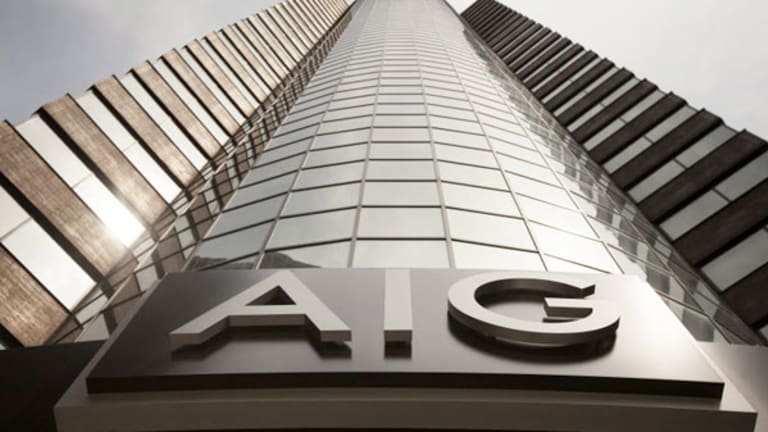 Warren Questions Legality of Vote on AIG's 'Too Big to Fail' Label
Easing oversight of AIG 'puts taxpayers and our economy at risk,' Sens. Elizabeth Warren and Sheldon Whitehouse said in letters to members of the Financial Stability Oversight Council.
U.S. Sen. Elizabeth Warren wants to know why members of an oversight panel determined that bailed-out insurer American International Group Inc.  (AIG) - Get Free Report  no longer poses a threat to the U.S. economy if it collapses -- and whether activist investor Carl Icahn had anything to do with the decision.
The Financial Stability Oversight Council's vote to lift AIG's designation as a systemically important financial institution, imposed in the wake of a $182 billion taxpayer bailout in 2008, "reduces supervision and oversight of the insurance giant and puts taxpayers and our economy at risk," Warren and Sen. Sheldon Whitehouse, both Democrats, said in letters dated Monday, Oct. 23, seeking answers from each of the group's 10 members.
The council, chaired by President Donald Trump's Treasury Secretary Steve Mnuchin, made the move during a Sept. 29 meeting with little advance public notice and didn't specify the reasons for its 6-3 vote afterward. The so-called SIFI label was developed as the government set up safeguards to prevent a repeat of the 2008 crisis, and companies subject to it face stricter regulatory oversight and higher capital-reserve requirements.
Warren and Whitehouse questioned the council's lack of justification for the move, why it didn't abide by the Dodd-Frank Act's requirement of a two-thirds vote of all 10 members and its failure to answer questions about the influence of Icahn, who served for part of the year as an adviser to Republican President Donald Trump and is the insurer's fourth-largest investor.
AIG today "presents many of the same risks to U.S. financial stability as the company did in 2013," when the designation was imposed, and when it was reaffirmed in 2014 and 2015, said Warren, of Massachusetts, and Whitehouse, of Rhode Island. 
Neither AIG nor Icahn's office immediately responded to e-mails seeking comment on Tuesday, Oct. 24. Icahn said in a statement when he resigned from his White House advisory role in August that he had never sought any special benefit for a company with which he was involved.
In the years since the financial crisis, which came to a head after the collapse of a bubble in the $15 trillion U.S. housing market led to the failure of investment bank Lehman Brothers Holdings Inc., AIG has paid back the government's investment, pared the assets on its balance sheet by 52% from $1.05 trillion the year before the crisis and sold a number of businesses amid pressure from Icahn.
The activist had urged the company's previous CEO, Peter Hancock, to break the firm into three parts in order to escape the SIFI label. Hancock resisted the proposal for months before stepping down in March amid what he called a lack of support from stockholders.
More of What's Trending on TheStreet:
His successor, Brian Duperreault, was appointed in May and told investors he planned to expand the company rather than break it up.
The oversight council's decision to lift the SIFI label "reflects the substantial and successful de-risking that AIG's employees have achieved since 2008," Duperreault in a statement the day the decision was announced. The company's shares have since climbed 5.8% to $64.95, more than twice the gains on the broader S&P 500.
The council's determination was supported by Mnuchin, Federal Reserve Chair Janet Yellen, Acting Comptroller of the Currency Keith Noreika, Commodity Futures Trading Commission Chairman Christopher Giancarlo, National Credit Union Administration Chairman Mark McWatters and independent member Roy Woodall.
"The council has worked diligently to thoroughly reevaluate whether AIG poses a risk to financial stability," Mnuchin said in a statement afterward. 
A former Goldman Sachs Group Inc. employee, Mnuchin has worked with the president to loosen post-crisis regulations that Trump argues have curbed economic growth because they were overly restrictive.
The removal of AIG's "systemically important" designation leaves only one non-bank company operating under the stricter post-crisis rules, Prudential Financial Inc. (PRU) - Get Free Report
General Electric is a holding in Jim Cramer's Action Alerts PLUS charitable trust portfolio. Want to be alerted before Cramer and the AAP team buy or sell the stock? Learn more now.
General Electric Co. (GE) - Get Free Report , which previously carried the SIFI label, convinced the council to remove it in 2016 after former CEO Jeffrey Immelt decided to sell most of the conglomerate's once-sprawling lending unit. In the process, GE Capital trimmed its issuance of commercial paper by 88%, from $43 billion to $5 billion, taking it from the top U.S. issuer of such short-term securities to less than a tenth of 1% of the market.
Updated from 5:46 p.m. ET on Tuesday, Oct. 24, 2017.
More of What's Trending on TheStreet: