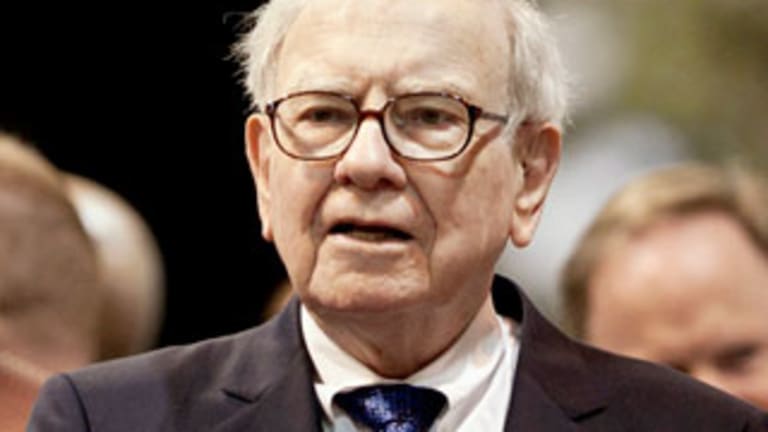 Warren Buffett's Sneaky Berkshire Buyback Math
Berkshire's share buyback indicates Warren Buffett may have quietly changed his investing rules.
Updated to reflect investor comments
NEW YORK (
) --
Berkshire Hathaway
has decided to repurchase over $1 billion of shares, indicating that the 'Oracle of Omaha' may have changed the math behind rules that govern share buybacks.
Berkshire Hathaway said in a statement Wednesday that it is buying 9,200 of its Class A shares from what it calls "estate of a long-time shareholder" because the firm's shares sit below 120% of the company's book value per share. According to a press release announcing the repurchase, Berkshire is buying shares back at $131,000.00, or roughly $1.2 billion.
But the 120% of book value figure appears to be an increase from levels previously stated in Berkshire's 2011 annual letter for a buyback bogey.
In February, Buffett
he will consider buying back Berkshire shares so long as the company's stock trades at less than 110% of its book value. Tuesday's repurchase indicate an increase in Berkshire's rules and might reflect the notion that valuation multiples the legendary value investor uses are on the rise.
Book value is the Buffett's preferred metric for valuing Berkshire Hathaway, and the 'Oracle of Omaha' stresses it over the company's stock performance relative to the
S&P 500
.
As of the third quarter, Berkshire Class A shares stood at a book value of $111.718.31 a share. Buybacks priced at $131,000 put repurchases at roughly 117% of Berkshire's book value. Berkshire shares last traded at less than 110% of book value in the third quarter of 2011, when an escalating European debt crisis and a downgrade of the U.S Treasury's debt rating hit financial sector stocks.
"Berkshire Hathaway has purchased 9,200 of its Class A shares at $131,000 per share from the estate of a long-time shareholder. The Board of Directors authorized this purchase coincident with raising the price limit for repurchases to 120% of book value," the press release states. "Berkshire may purchase additional shares in the market or through direct offerings at no more than 120% of book value."
"At our limit price of 110% of book value, repurchases clearly increase Berkshire's per-share intrinsic value. And the more and the cheaper we buy, the greater the gain for continuing shareholders. Therefore, if giventhe opportunity, we will likely repurchase stock aggressively at our price limit or lower," Buffett wrote in his
that was released on Berkshire's website in February.
Buffett limits repurchases a fixed ratio relative to book value because he sees buybacks at higher prices as destroying shareholder value. Previously, Buffett has criticized companies such as
JPMorgan
(JPM) - Get JPMorgan Chase & Co. (JPM) Report
for expensive stock repurchases.
"Continuing shareholders are
hurt
unless shares are purchased below intrinsic value. The first law of capital allocation -- whether the money is slated for acquisitions or share repurchases -- is that what is smart at one price is dumb at another," wrote Buffett in his February letter.
Berkshire Hathaway Class A shares rose over 2% to $134,000.00 in early Tuesday trading, valuing the company at exactly 120% of last quarter's book value.
"Buffett just put a floor on the stock of $134,000," wrote Whitney Tilson, the head of T2 Partners, in a note sent to clients reacting to the buyback. "Go figure. Needless to say, I'm even happier having this as my largest position - and added to it this morning the moment I saw the news," Tilson added. Filings with the
Securities and Exchange Commission
as of Sept. 30 show T2 Partners held over 90,000 Berkshire Hathaway Class B shares worth nearly $8 million.
At Berkshire's shareholder meeting in May, Buffett indicated he could buy back shares at "somewhat higher" than 110% of book value, but he didn't specify what those levels would be.
A voicemail left with Berkshire Hathaway chief financial officer Marc Hamburg seeking comment wasn't immediately returned.
For more on Buffett and his investing math, see why stock buyback policies explain his
in
Wells Fargo
(WFC) - Get Wells Fargo & Company Report
and
IBM
(IBM) - Get International Business Machines (IBM) Report
.
Follow @agara2004
-- Written by Antoine Gara in New York