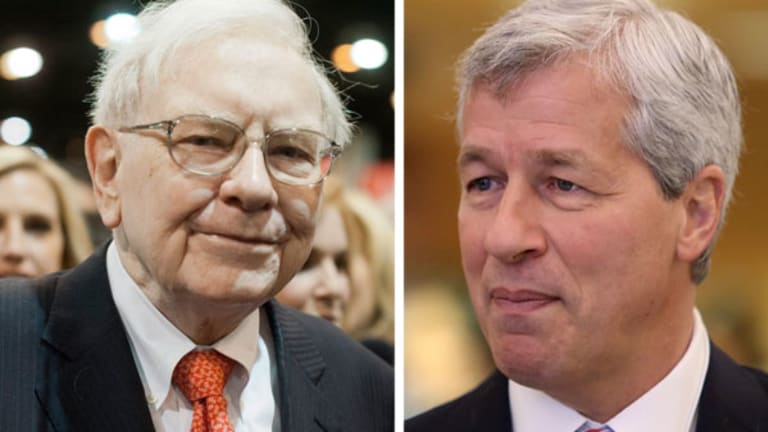 Warren Buffett's Faith in Jamie Dimon
The legendary investor says James Dimon should remain CEO and Chairman of JPMorgan, but that thinking does not apply to Berkshire Hathaway.
NEW YORK (
) -- Warren Buffett seems to have more faith in
JPMorgan Chase's
(JPM) - Get Report
Jamie Dimon than he does in his own successor.
The legendary investor believes Dimon should continue to hold the dual role of Chairman and CEO of the nation's biggest bank, despite shareholder pressure to separate those roles.
"I'm 100 percent for Jamie," Buffett told Bloomberg Television's last week ahead of
Berkshire Hathaway's
(BRK.B) - Get Report
annual meeting in Omaha, Nebraska. "I couldn't think of a better chairman."
He reiterated that opinion during an
on
CNBC
Monday, arguing that Dimon should keep both roles.
Buffett personally owns shares of JPMorgan. His support of Dimon comes at a time when ISS, an influential proxy advisory firm, is urging investors to vote in favor of a proposal to split the chairman and CEO roles at the bank and vote against the re-election of three of its board members.
Yet when it comes to Berkshire Hathaway, Buffett seems to believe his company's future will be in safer hands if the chairman and CEO roles are split.
When
Doug Kass, the anointed Berkshire Hathaway bear
, asked Buffett during the annual meeting why he chose his son Howard to become chairman once he is gone, despite his lack of experience in running the business, the Oracle said Howard was chosen to protect the future of the company in case a mistake is made in choosing his successor.
"Howard cares about the business and has a vested interest in protecting Berkshire and its culture,". Buffett said of his son. "He has no illusions at all about running the business. He won't get paid for running the business."
While he thought there was only a 1% chance that the wrong person would be chosen as his successor, he admitted that there are plenty of "mediocre" CEOs running companies and when they are in the chairman's role, it's difficult to change that situation. He doesn't want that to happen at Berkshire.
So what gives? Buffett told CNBC that in the final analysis he thought "either system is OK."
Acknowledging the inherent conflict when a CEO sits on the board, he said he believed directors should spend some time talking without the CEO present. He also said that each year when Berkshire's board meets, he gives them a chance to talk without him there.
Buffett seems to agree that companies are better off if the Chairman and CEO roles are split, though he seems to make exceptions for people he views as truly extraordinary. Like Jamie Dimon. And like himself.
Buffett's legendary record as an investor does not need repeating. As for Dimon's record, Rafferty Capital Markets analyst Dick Bove does a fine job breaking it down for us.
From his report Monday:
Jamie Dimon joined Bank One in 2000. The company lost $511 million that year. In its last quarter prior to its merger with JPMorgan Chase... (Q2 2004), Bank One's annualized earnings were $4.4 billion. On a pretax, pre-provision basis, per share, the company went from $1.75 per share in results to $3.87 per share - i.e., a 121% improvement.
Jamie Dimon joined the executive team of JPMorgan Chase in 2005. In that year, JPMorgan earned $8.5 billion. In 2012, the company earned $21.7 billion. The pretax, pre-provision results per share went from $4.41 to $8.62 or a gain of 95.5%.
In the past three years, the company has reported record earnings in each year. It has emerged as the biggest money making bank in the world following the 4 Chinese monoliths. Plus, it is the biggest bank in America and it makes more money than all but five companies in any industry in this country.
From the end of 2005 to last Friday, the stock price has risen by 19.9%. In this same period the Keefe Bruyette banking Index has fallen by 39.5%. JPMorgan has outperformed its peers by approximately 60% over this timeframe.
-- Written by Shanthi Bharatwaj New York.
>Contact by
.
Disclosure: TheStreet's editorial policy prohibits staff editors and reporters from holding positions in any individual stocks.