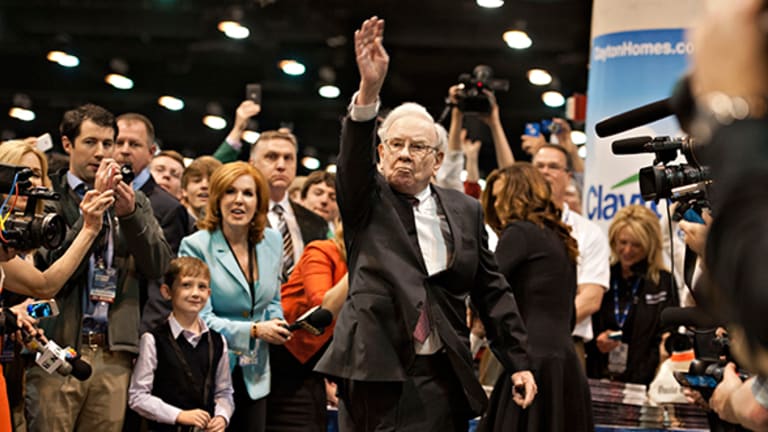 Warren Buffett's Berkshire Hathaway: The Party Isn't Over Yet
Warren Buffett knows a lot of things, including how to put on a good party for the thousands of Berkshire Hathaway shareholders who attended the company's annual meeting.
OMAHA, Neb. (The Street) --  Warren Buffett knows a lot of things, including how to put on a good party for the thousands of Berkshire Hathaway (BRK.A) - Get Berkshire Hathaway Inc. Class A Report (BRK.B) - Get Berkshire Hathaway Inc. Class B Report shareholders who descended on Omaha, Nebraska, this past weekend for the company's annual meeting.
The meeting marked the golden anniversary of Buffett taking control of Berkshire. Over those 50 years, Buffett became a billionaire, and some shareholders who bought and held Berkshire Hathaway stock have became millionaires.
No wonder there was so much celebrating going on. There were shareholder shopping sprees, cocktail parties, and for the fortunate, a chance to see Warren Buffett up close and personal as he walked the convention floor before the start of the annual meeting.
Lucky for them, the party isn't over yet.
Buffett, who's 84, has given absolutely no indication that he's planning to retire anytime soon.
"He loves doing it," said Carol Loomis, a veteran journalist who edits Buffett's annual letter to shareholders. "He says 'I'm having fun.' He wouldn't be doing it if he wasn't having fun."
Speaking of fun, the movie shown ahead of the annual meeting featured a spoof with Buffett in the boxing ring ready to spar with none other that Floyd Mayweather, who went on to win a boxing match against Manny Pacquaio later that night in Las Vegas. Buffett in gym shorts and boxing gloves! Shareholders loved it. Buffett may look like your grandfather, but he'd rather stay in the ring than sit in a rocking chair.
As is typical during these annual meetings, Buffett was thrown a few one-two punches during the question-and-answer period of the meeting and deftly swatted them away.
Buffett defended the lending practices at his Clayton Homes manufactured housing division, and the pilot pay at his NetJets, as several pilots picketed outside the meeting.
Buffett also brushed aside shareholder concerns about 3G Capital's approach to managing businesses acquired with Buffett, like Heinz and Kraft. Shareholders asked why Berkshire Hathaway, which prides itself on its relationships with family-owned businesses, would partner with a firm that has slashed jobs upon acquiring companies.
More Berkshire Hathaway Coverage

10 Strange Facts About Warren Buffett's Annual Meeting

Warren Buffett's Take on Coca-Cola Is out of Touch

Warren Buffett and Berkshire Hathaway: The Insider's Guide

In an interview with TheStreet.com, Buffett defended 3G, and also said he'd like to make an acquisition "sooner rather than later," in order to add to the more than 80 companies already owned by Berkshire Hathaway. Buffett isn't ready to slow down, much less stop.
Beyond the movie, the annual meeting had its lighthearted moments. Buffett and his vice chairman Charlie Munger (someone, who at 91, is also avoiding the rocking chair) entertained the crowd with their witty responses to some of the more hokey questions, like when a seventh-grader asked Buffett how to make friends, and another shareholder raised concerns about the dangers of sugar consumption.
Buffett's responses -- emulate the characteristics of the people at your school that you like, and drinking Coke is more enjoyable than eating broccoli. Munger didn't have much to say about sugar, but he generally eats See's peanut brittle throughout the meeting.
All of this -- the talk of acquisitions, the defense of business decisions made, and the humor -- are part of the Berkshire Hathaway shareholder meeting each year.
The serious moments of the gathering, such as talking about Buffett's succession plan, or how Berkshire's returns won't be as strong in the years ahead, were also addressed. But those questions have all been asked in years before, and investors seem comfortable with the answers -- a competent successor has been chosen, and Berkshire will still make money, but perhaps not as much. Buffett added the Berkshire culture will only get stronger "after Charlie and I are gone."
But all of that remains in the future, and shareholders aren't worrying about it now. Most just wanted to enjoy the moment and to bask in the presence of Buffett, a legendary investor and business leader. Buffett has his faults and his detractors. But he also achieved the kind of American-dream success that few ever will, and he repeatedly expresses his gratitude for that during the meeting.
That's why shareholders leaving Nebraska on Sunday were already booking their hotel rooms for next year's soiree, eager to hear more wisdom from the man known as the Oracle of Omaha.
Because as Loomis said, Buffett is still having fun.
So why would he give it up now? After all, he's only 84.