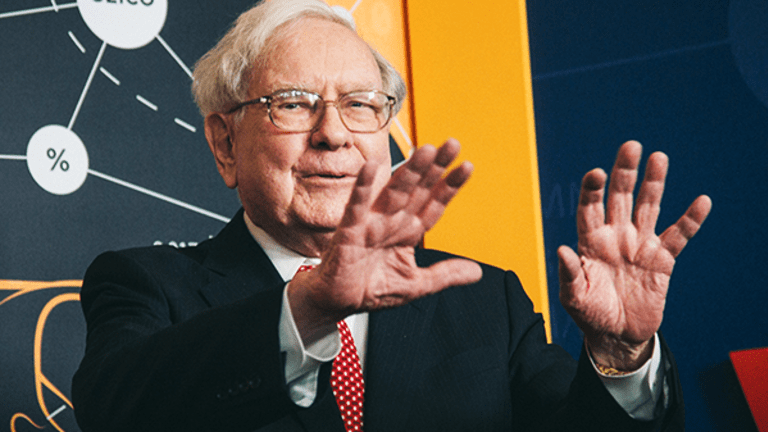 Billionaire Warren Buffett Thinks U.S. Haters Are 'Out of Their Minds'
Buffett also sees the Dow at 1 million within 100 years.
Billionaire investor Warren Buffett thinks the U.S. has strong prospects for growth for at least 100 years and anyone who thinks pessimistically about the country is "out of their minds."
The Dow Jones Industrial Average, which topped 22,000 this summer, could surge to 1 million points in the next century, Buffett said at a Forbes event Tuesday night. It's not unreasonable, the Berkshire Hathaway (BRK.A) (BRK.B) CEO said, given that the index was at a mere 81 points 100 years ago.
Buffett also offered commentary on his respected long-term investing strategy. Of the roughly 1,500 people who have been added to Forbes' list of richest Americans since Buffett was first included in 1982, "you don't see any short sellers," Buffett said. "Being short in America has been a loser's game. I predict to you it will continue to be a loser's game."
Buffett took over Berkshire in 1965 when it was a struggling textile company. Since then, he has transformed the company into a global conglomerate with a $451.8 billion market cap and ownership of over 90 businesses in a wide swath of industries.
The Oracle of Omaha is famous for his favorite holding period, which he says is "forever."
The Dow closed Tuesday at a record high of 22,370.80. Getting to 1 million points would mean a 4,370.1% increase over the next 100 years, or a gain of 43.7% every year between now and 3017. In the last 12 months, the blue chip index has increased about 24%.
More of What's Trending on TheStreet: