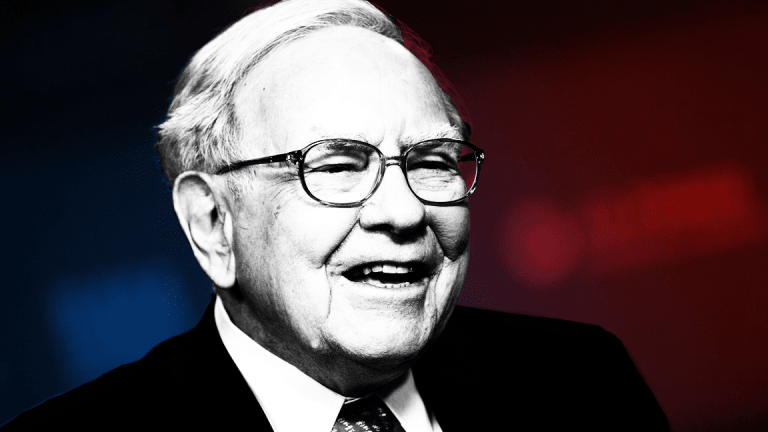 Warren Buffett Stocks Mixed: StoneCo Up 3.4%; Axalta Coating Systems Off 3.6%
Gainers trail losers in Warren Buffett Berkshire portfolio.
Stocks in Warren Buffett's Berkshire Hathaway portfolio were mixed Monday.
Among Buffett's holdings identified in Berkshire Hathaway's latest SEC filing, 18 rose while 29 fell.
StoneCo shares (STNE) - Get StoneCo Ltd. Report rose 88 cents, or 3.4%, to $26.75.
M&T Bank shares (MTB) - Get M&T Bank Corporation Report rose $1.76, or 1.07%, to $165.54.
Torchmark shares (TMK) rose 77 cents, or 0.88%, to $88.16.
Among Buffett stocks underperforming Monday, Axalta Coating Systems shares (AXTA) - Get Axalta Coating Systems Ltd. Report fell 93.5 cents, or 3.64%, to $24.74.
Apple shares (AAPL) - Get Apple Inc. Report fell $5.90, or 3.12%, to $183.10.
American Airlines Group shares (AAL) - Get American Airlines Group Inc. Report fell 78 cents, or 2.46%, to $30.96.
Berkshire Hathaway A shares (BRK.A) - Get Berkshire Hathaway Inc. Report fell $1,119.23, or 0.36534%, to $305,235.77.
Berkshire Hathaway B shares (BRK.B) - Get Berkshire Hathaway Inc. Report fell 70 cents, or 0.34%, to $202.57.
So far this month, 11 of Buffett's stocks have gone up, while 36 have lost ground.
Apple Inc is a component of the Action Alerts Plus portfolio. To find out more about how you can profit from Jim Cramer and the AAP team's investing ideas, please click here now.