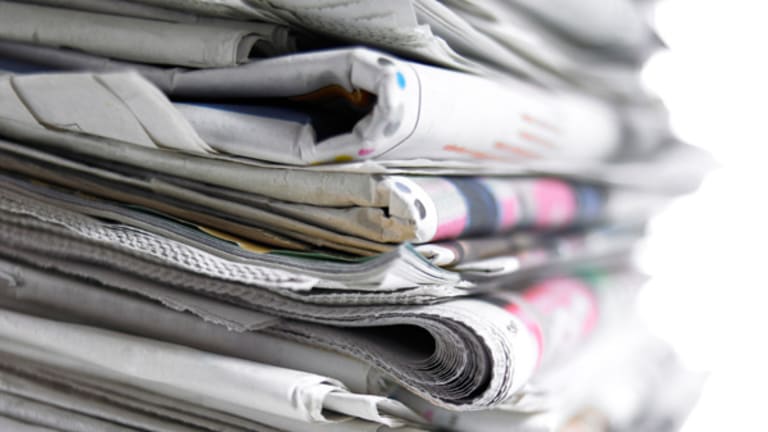 Publish date:
Warren Buffett Says He Has Prostate Cancer
The Oracle of Omaha discloses he has stage I prostate cancer, but says his doctors have told him his condition is "not remotely life threatening."
The Oracle of Omaha discloses he has stage I prostate cancer, but says his doctors have told him his condition is "not remotely life threatening."
Updated from 5:32 p.m. ET to include statistics about prostate cancer survival
.
NEW YORK (
) -- Warren Buffett has stage I prostate cancer.
The
Berkshire Hathaway
(BRK.B) - Get Report
chairman and CEO revealed the disease in a
letter
released after the close on Tuesday.
"The good news is that I've been told by my doctors that my condition is not remotely life threatening or even debilitating in any meaningful way," Buffett wrote in a letter disclosing the illness to Berkshire shareholders.
"I received my diagnosis last Wednesday. I then had a CAT scan and a bone scan on Thursday, followed by an MRI today. These tests showed no incidence of cancer elsewhere in my body. My doctors and I have decided on a two-month treatment of daily radiation to begin in mid-July. This regimen will restrict my travel during that period, but will not otherwise change my daily routine."
The revelation of the disease -- though one of the more treatable forms of cancer when caught early, and common among older men -- brings to the forefront all the questions and fears about succession planning at Berkshire Hathaway. The market has used any sign of succession instability at Berkshire as a reason to sell shares in the past, and shares dropped by close to 2% in after-hours trading after the letter was released on Tuesday.
Buffett has played his succession cards close to his vest, only writing in his annual letter to shareholders that the board of directors of the company knows who he recommends as his successor. Recently, Buffett hired two hedge fund managers to run portions of his investment portfolio. In fact, the hiring of hedge fund manager Todd Combs, which caught the market by surprise, also had the unintended effect of reminding investors that succession planning was an unresolved issue at Berkshire, and shares sold off on that headline.
A good reason for Buffett's lack of detail on his succession plan became apparent last year when the former head of Berkshire's MidAmerican Energy, David Sokol -- widely viewed as the front runner for Buffett's job -- had to resign after revelations that he had traded in shares of Lubrizol, a company he recommended to Buffett as an acquisition. The current short list bandied about in the press since Sokol's resignation includes Ajit Jain, the head of Buffett's reinsurance business; Tony Nicely, the head of Geico, and Matthew Rose, the head of Burlington Northern.
The broader issue for shareholders of the company is that Berkshire's vast empire spans financials, utilities, the housing market, consumer goods, and a huge railroad in Burlington Northern, though Buffett has well-regarded top lieutenants for most portfolio flagships, and the managers of wholly owned Berkshire subsidiaries have always had wide latitude in running their businesses.
But Buffett's outsize role in negotiating mergers and acquisitions for the company, and his reputation as the don of American capitalism, are viewed by most market watchers as harder, likely impossible to replace, through any one individual.
Buffett's financial crisis-era investments in
Goldman Sachs
(GS) - Get Report
and
GE
(GE) - Get Report
were deals that said as much about Buffett's reputation as it did about Berkshire's financial strength amid crisis. Last year, as
Bank of America
(BAC) - Get Report
battled rumors that it was facing potentially devastating losses, it turned to Buffett for financial backing.
"Your Board is equally enthusiastic about my successor as CEO," Buffett wrote in this year's annual letter. He said his selection was "an individual to whom they have had a great deal of exposure and whose managerial and human qualities they admire. (We have two superb back-up candidates as well.) When a transfer of responsibility is required, it will be seamless, and Berkshire's prospects will remain bright."
In the same section of the annual letter, Buffett gave a vote of confidence to the managers of Berkshire Hathaway businesses when discussing his personal fortune being 98% held in Berkshire shares. "I'm fine with this arrangement, knowing both the quality and diversity of the businesses we own and the caliber of the people who manage them. With these assets, my successor will enjoy a running start."
Buffett continued to speak in his Tuesday letter as a CEO who is nowhere near contemplating retirement, trying to sidestep the scare that the situation is likely to put into Berkshire shareholders with his usual mix of candor, humility, and optimism about the future, but with an outlook on mortality befitting a man whose empire's largest business is insurance and who knows his way around an actuarial table.
"I feel great - as if I were in my normal excellent health - and my energy level is 100 percent...I will let shareholders know immediately should my health situation change. Eventually, of course, it will; but I believe that day is a long way off."
According to recent data from the American Cancer Society and National Cancer Institute, when including all men with prostate cancer, the relative 5-year survival rate is nearly 100%; the relative 10-year survival rate is 98%; and the 15-year relative survival rate is 91%.
The National Cancer Institute data shows that men with prostate cancer of the "local" stage, which Buffett specifically described, have the "nearly 100%" 5-year survival rate.
-- Written by Eric Rosenbaum from New York.
>To contact the writer of this article, click here:
Eric Rosenbaum
.
>To follow the writer on Twitter, go to
.
Follow
TheStreet
on
and become a fan on