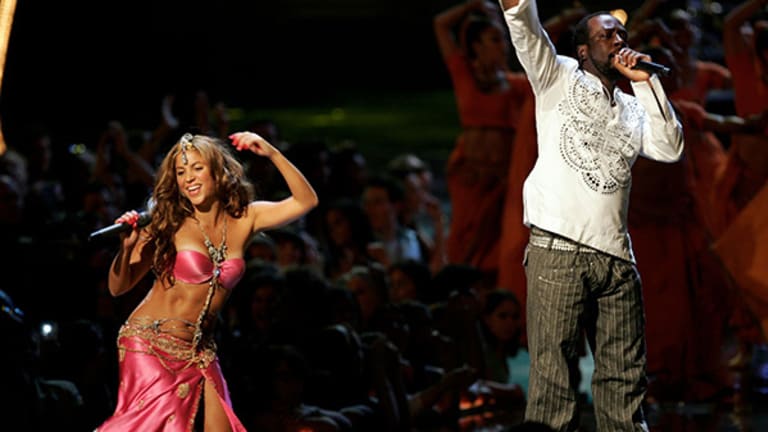 16 Celebrities With Private Islands Not Named Warren Buffett
Despite what Italian real estate agent Alessandro Proto says, Warren Buffett did not just buy an island. But plenty of other celebrities have.
NEW YORK (TheStreet) -- Despite the rumors, Warren Buffett isn't the proud owner of a new island. 
Reports emerged this week that the Oracle of Omaha teamed up with Italian real estate agent Alessandro Proto to buy the island of St. Thomas off of the coast of Athens for €15 million ($16.35 million). But, according to Buffett, such claims simply are not true. 
"Until the reports started coming out, I had never heard of the guy who is making the claims about the Greek Island," he said in an email to the Omaha World-Herald on Tuesday. "It is a total fabrication." 
The billionaire's daughter, Susie Buffett, also refuted the reports. "He won't even buy a new house," she said.
Buffett aside, there are plenty of other wealthy people who have already dipped their toes in the highly exclusive pool of owning an island. Music legend John Lennon bought the island of Dornish off the coast of Ireland in the 1960s and owned it until his death. Late actor Marlon Brando owned Tetiaroa in Tahiti.
Of course, not all real estate purchases are forever -- even among the rich and famous. Paul Allen, co-founder of Microsoft (MSFT) - Get Microsoft Corporation (MSFT) Report, bought and sold Allan Island off the coast of Washington. And both Julia Roberts and Celine Dion have put their island estates in Hawaii and Florida on the market.
Here are 16 celebrities who have bought islands:
1. Shakira
Colombian pop star Shakira joined up with Pink Floyd's Roger Waters and other high-profile investors to buy and develop the 700-acre Bonds Cay in the Bahamas. Spanish singer Alejandro Sanz is also reported to be involved in the $16 million deal.
The purchase has since become a point of contention between Shakira and her ex-boyfriend, Antonio de la Rúa. As part of an ongoing legal battle between the two, Shakira asked De La Rúa to return $500,000 he put toward a real estate project on the island.
2. Pamela Anderson
In 2007, rocker Tommy Lee reportedly bought Pamela Anderson an island in "The World," an artificial development of 300 private islands in the shape of continents off of the coast of Dubai. Lee is said to have purchased Greece for Anderson.
Unfortunately, the 2008 financial crisis brought much of development to a halt.
3. Louis Bacon
Billionaire financier and hedge fund manager Louis Bacon got quite a deal on Robins Island off the coast of New York in 1993. He paid $11 million for 445 acres, ending an ongoing dispute between public and private entities as to what to do with the undeveloped land.
The Moore Capital Management head has taken numerous measures to restore Robins Island and has set up the Robins Island Foundation, which is committed to protecting and restoring Long Island's coastlines, landscapes and waterways.
4. Richard Branson
Richard Branson, the British billionaire behind enormous brands like Virgin America (VA) and Virgin Media, bought Necker Island in the British Virgin Islands in 1978 for $180,000.
Branson maintains his residence on the island, which you can get a glimpse of in this YouTube video. Visitors can book stays on Necker Island starting at $65,000 per night for up to 30 guests.
5. Nicolas Cage
Nicolas Cage bought a 40-acre island, Leaf Cay, in the Bahamas in 2006 for a reported $3 million. But money woes may lead the actor to give it up.
Cage has faced serious financial issues in recent years, including a $6.3 million tax bill and enormous debts. According to Private Islands Magazine, Leaf Cay is on the market for $7 million.
6. David Copperfield
Magician David Copperfield spent $50 million on an island in Exuma Chain of the Bahamas called Musha Cay.
He has transformed the area into an incredibly exclusive resort, and Copperfield Bay stretches across 700 tropical acres and 11 private islands. Island rates start at $39,000 a day for up to 12 people with a four-night minimum. And Musha Cay comfortably accommodates only up to 24 guests.
7. Johnny Depp
Actor Johnny Depp paid $3.6 million for Little Halls Pond Cay in 2004. He renamed the 45-acre Bahamian island Lily Rose Beach, after his daughter.
In a 2009 Vanity Fairarticle, Douglas Brinkley described his experience on the island and Depp's take on it. "It's like a rare gem, a diamond," the actor said. "I look forward to my kids growing up on the island, spending months out of the year here; learning about sea life and how to protect sea life; their kids growing up here, and so on."
8. Leonardo DiCaprio
Leonardo DiCaprio has eco-friendly plans for his island. The actor bought Blackadore Caye, 104 acres of land, off of the coast of Belize years ago and has big plans for what to do with it. In an April interview with the New York Times, DiCaprio said he had teamed up with New York City-based developer to build "Blackadore Caye, a Restorative Island" by 2018.
"The main focus is to do something that will change the world," DiCaprio said. "I couldn't have gone to Belize and built on an island and done something like this, if it weren't for the idea that it could be groundbreaking in the environmental movement."
9. Larry Ellison
Oracle (ORCL) - Get Oracle Corporation Report founder Larry Ellison bought Hawaii's sixth largest island, Lanai, in 2012. The price was confidential, though Forbescited reports that it could have been from $500 to $600 million.
The transaction was so big that the state's governor, Neil Abercrombie, announced it. "It is my understanding that Mr. Ellison has had a long standing interest in Lanai," Abercrombie said. "His passion for nature, particularly the ocean is well known specifically in the realm of America's Cup sailing."
10. Mel Gibson
Actor Mel Gibson bought Mago Island in Fiji in 2005. Stretching across 5,400 acres, the island is one of the largest privately-owned islands in the South Pacific. Gibson has said he has no plans to do much with the island beyond building a modest personal residence.
11. Lenny Kravitz
Lenny Kravitz doesn't own an entire Bahamian island, but he has a part of one. In 1993, the rock star bought property on the island of Eleuthera.
He set up a trailer on the island and built a studio about 500 yards away to record music. "There was a real freedom," Kravitz said in a 2011 interview with Rolling Stone. "Being in nature was so conducive to feeling no pressure -- just feeling."
12. Ricky Martin
Ricky Martin reportedly bought his own island in Brazil. In 2008, reports emerged that the Latin pop star purchased an island in Angra dos Reis off the coast of Rio de Janeiro for $8 million.
13. Tim McGraw & Faith Hill
Country music power couple Tim McGraw and Faith Hill purchased 17-acre Goat Cay of the Exuma Cays in the Bahamas in 2006. They reportedly built a 14,000-square-foot house on the island as well as a handful of smaller homes for staff.
14. Eddie Murphy
Eddie Murphy purchased Rooster Cay in the Bahamas for a reported $15 million in 2007. According to Private Islands Magazine, it wasn't his first Bahamas buy, as he previously owned another cay called Pearl.
15. Tyler Perry
Tyler Perry got himself an island for his 40th birthday. The actor, producer and director told People Magazineabout his plans in 2009. "I'm a loner by nature, so when I'm out there on these islands, I just feel like the only person in the world," he said.
Perry bought White Bay Cay in the Exuma Cays of the Bahamas and constructed a 14,000-square-foot main house as well as a handful of smaller guest bungalows, a tennis court and a marina.

Editors' note: This is the island in the films Jurassic Park, not Spielberg's private island.
16. Steven Spielberg
Steven Spielberg, the award-winning director behind hit films like "ET," "Jaws" and "Schindler's List," is said to own an island in the Madeira Archipelago off the coast of Portugal.
This article is commentary by an independent contributor. At the time of publication, the author held a position in Microsoft.