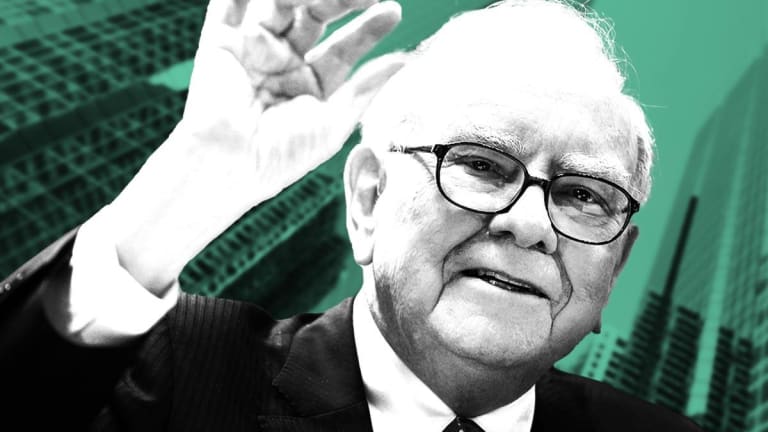 Warren Buffett Is Still Bullish on Apple
The Oracle of Omaha told CNBC that he is pleased with Apple's latest quarter.
Berkshire Hathaway (BRK.B) CEO Warren Buffett made a splash two years ago when he announced that his company was taking a stake in Apple (AAPL)  after years of eschewing tech investments. He made an equally big splash in February when announcing that he was trimming his stake by three million shares.
But Buffett still has a positive outlook on the stock, according to an interview with CNBC on Thursday ahead of Berkshire's annual shareholder meeting this weekend in Omaha. 
"We haven't changed our [Apple] holdings," Buffett said. "I was pleased with what they reported. What they talked about and reported is consistent with the reason we own $50 billion-plus of Apple."
Buffett said in February when Berkshire trimmed its stake that he was not the person who made that decision and reiterated that point to CNBC this week.
"Unless -- and I have no reason to think this is true -- but there's one fellow that owns a little over 1% of our holdings in the office and I don't see what he does every day. I have no reason to think he's bought or sold Apple," Buffett said.
At the end of 2018, Berkshire reported owning 249.5 million shares of Apple worth about $40 billion at the time. Shares of Apple have risen sharply this year. 
The Oracle of Omaha also told CNBC that Berkshire has been buying shares of Amazon (AMZN) , further distancing the company from its previous aversion to investing in tech stocks. 
On Friday morning, Apple shares were up 0.71% and Berkshire shares were up 0.94%.
Apple and Amazon are key holdings in Jim Cramer's Action Alerts PLUS charitable trust.