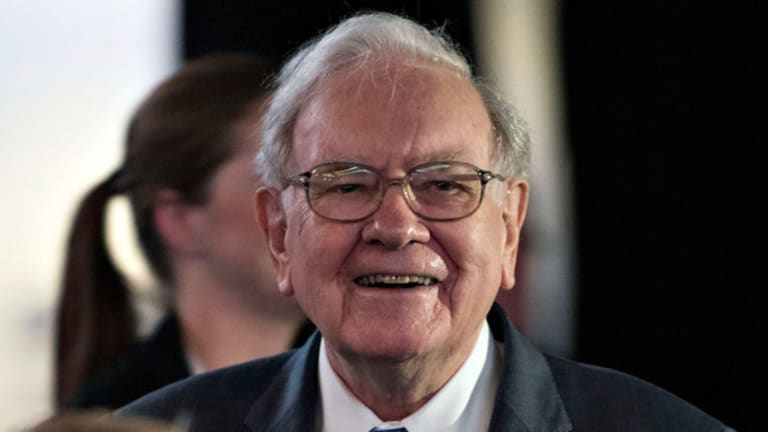 How to Get Rich Using Warren Buffett's Favorite Stock Market Indicators
On Buffett's 'moats' and where to find them. TheStreet gives you everything you need to know, for eternity.
Since he began investing in stocks at age 11, Warren Buffett has amassed an impressive $77 billion net worth. Now that he's 87 years old, Buffett has set forth some easy-to-follow standards for how best to play the stock market.
"I want a business with a moat around it with a very valuable castle in the middle," Buffett said. "And then I want a duke who's in charge of that castle to be honest and hard-working and able." In the stock market metaphor he has put forth time and again, Buffett means he prefers strong value indicators, a competitive company and a capable leader.
Buffett tells managers he wants to widen the moat every year, adding protection from competitors or market downturns to remain profitable no matter the kind of siege upon the castle. Here are a look at some of Buffett's most valuable indicators.
Pay Attention to Intrinsic Value as Much as Book Value.
Buffett reports his Berkshire Hathaway (BRK.A) - Get Free Report (BRK.B) - Get Free Report book value every year in the annual shareholder's report. It's a figure he has called "a crude but useful tracking device for the number that really counts: intrinsic business value."
Buffett's investing style revolves around value investing, or focusing on intrinsic aspects, not just financials. With that, Buffett said in 1983, "Book value tells you what has been put in; intrinsic business value estimates what can be taken out."
The investor said it's important to remember that intrinsic value is the best way to measure relative attractiveness of an acquisition. And lest we forget one of Buffett's most widely cited adages comparing two indicators, seemingly apropos here: price is what you pay, but value is what you get.
Product Quality Is the Best Competitive Advantage.
Buffett always says he doesn't invest in anything he doesn't understand. That reasoning is why he waited so long to invest in tech. But when talking about one of his most famous investments in Coca-Cola Co. (KO) - Get Free Report , Buffett said he believes in it because he understands it. He can pick up a can of cherry coke -- he does several times per day -- and understand why someone wants it. If you can't comprehend why a product or service is needed, it's probably not a smart investment.
Similarly, Buffett says investing in a company that operates in a crowded market is only a good idea if that firm can differentiate. When it comes to oil, the product isn't entirely unique. But if the company can access a unique or more desirable grade, it could be worth the investment.
Buffett has applied his views to several big-name companies. 
One of Buffett's top picks is Apple Inc. (AAPL) - Get Free Report . The investor has never sold an Apple share, and said last month that he sees Apple becoming the first trillion-dollar company. Other big Buffett holdings include Coca-Cola (KO) - Get Free Report , Wells Fargo (WFC) - Get Free Report , American Airlines (AAL) - Get Free Report , American Express (AXP) - Get Free Report , Bank of America (BAC) - Get Free Report , Costco (COST) - Get Free Report , Kraft Heinz (KHC) - Get Free Report , Southweat Airlines (LUV) - Get Free Report , Moody's (MCO) - Get Free Report and Restaurant Brands (QSR) - Get Free Report .
Cost Is Important.
Buffett's Berkshire owns Geico Insurance. For an insurance business, Buffett said, low cost is among his chief concerns in acquisition. Buffett's reasoning: everyone has to have auto insurance. You can't try to sell someone 20 policies, but you can sell them one.
The best way to attract a customer to your policy instead of a competitor's is with low costs. "To the extent my costs get further lower than the other guy, I've thrown a couple of sharks into the moat," Buffett said, according to Nasdaq.
And as for the Financials...
It's not rocket science: Good profit margins make for a stronger investment. Buffett has recommended examining profit margins over several years to avoid getting stuck on short-term trends. He's known for his buy-and-hold techniques, so short-term isn't his style.
As for debt, stay away from companies with high ratios of debt to equity. Even if that company is growing its profits, be sure the profit growth isn't a byproduct of growing debt, too.
Share price is also important. Buffett's investing strategy revolves around intrinsic value quite a bit, but the best acquisition is an investment that's got all the intrinsic boxes checked but still trades below where it ought to.