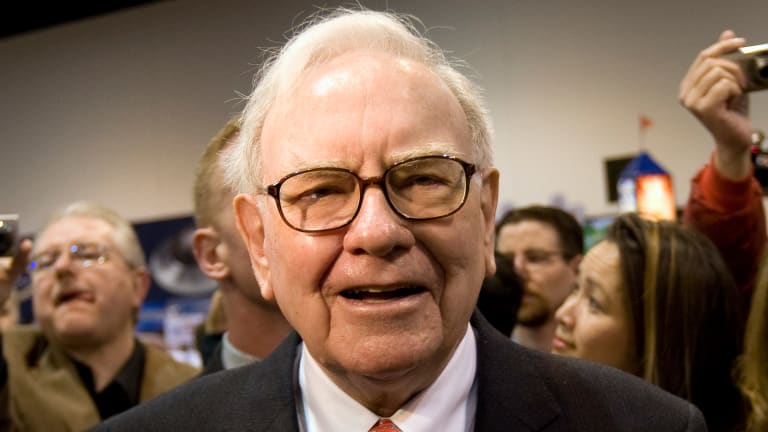 Warren Buffett, Cisco's John Chambers and 9 Other Longest Tenured CEOs
Only one CEO has run a large company longer than Warren Buffett. Can you guess who it is?
This story has been updated from May 3, with news of Cisco CEO John Chambers stepping down.
NEW YORK (TheStreet) -- Warren Buffett, the CEO of Berkshire Hathaway (BRK.A) - Get Berkshire Hathaway Inc. Class A Report , is celebrating his 50th year running the giant conglomerate. This "fact" is being feted at the annual shareholder meeting this weekend. But did you know it is actually his 45th year as its chairman and chief executive?
Still, with the average tenure of a chief executive less than 10 years, that's nothing to sneeze at. Buffett, now 84, isn't the only CEO with a long tenure. These leaders are truly outliers. And there's even one that's been in position for longer than Buffett.
Find out which CEO has lasted even longer than the Oracle of Omaha. And when you're done, check out which CEOs are the most overpaid.
A note: On Monday, Cisco (CSCO) - Get Cisco Systems, Inc. Report announced that its longtime Chairman and CEO John Chambers would step down from his daily management duties. Cisco named Chuck Robbins, its senior vice president of worldwide operations, effective July 26. Chambers is on our list of longest tenured CEOs.

11. Charlie Ergen
DISH Network (DISH) - Get DISH Network Corporation Class A Report
CEO Tenure: 15 years
Age: 62
Charlie Ergen co-founded the predecessor to satellite and telecommunications company EchoStar Communications in 1980. Dish Network, created in 1996, was spun off in 2008. Ergen retired from daily management of Dish Network in 2011, but remained its chairman, where he was focused on long-term business development, including the creation of Sling TV, Dish Network's answer to streaming media service giant Netflix.
Charlie Ergen resumed the CEO position two months ago and currently serves as Dish's chairman, president and CEO as well as chairman of EchoStar.
10. Reed Hastings
Netflix (NFLX) - Get Netflix, Inc. Report
CEO Tenure: 17 years
Age: 50
Reed Hastings co-founded Netflix in 1997 and officially became the monthly subscription streaming media service's CEO in 1998. Netflix currently has approximately 40 million customers in the U.S. and another 20 million internationally with members streaming more than 10 billion hours in content in the first quarter. The "House of Cards" creator is now available in more than 50 countries across the world.
9. Jeff Bezos
Amazon (AMZN) - Get Amazon.com, Inc. Report
CEO Tenure: 19 years
Age: 51
Jeff Bezos is chairman, president and CEO of Amazon.com, the online retail giant that he founded in 1994. He is famous for keeping Wall Street investors relatively happy despite the company's lack of profits.
As if conquering the retail world wasn't enough, Bezos, in 2013, decided to purchase the Washington Post for $250 million. He is also the founder of aerospace company Blue Origin. That business is "working to lower the cost and increase the safety of spaceflight so that humans can better continue exploring the solar system," according to his bio on Amazon's corporate website.
8. John B. Hess
Hess Corp. (HES) - Get Hess Corporation Report
CEO Tenure: 20 years
Age: 61
John Hess' father, Leon Hess, founded Hess Oil and Chemical, in 1933. Hess later became Amerada Hess, after a merger in 1969. John Hess joined the company in 1977 and was elected as a director of Amerada Hess in 1978. He became chairman and CEO in 1995 after his father retired from the position, according to the Hess website. Hess was renamed in 2006 (it's Hess Corp., no longer Amerada Hess). The younger Hess dropped his chairman title in 2013.
John Hess transformed the company from an integrated oil company to a pure-play explorer and producer of crude oil and natural gas. In October, the company completed its sale of gas stations and convenience stores to Speedway, a subsidiary of Marathon Petroleum Co. (MPC) - Get Marathon Petroleum Corporation Report .

7. John Chambers
Cisco (CSCO) - Get Cisco Systems, Inc. Report
CEO Tenure: 20 years
Age: 65
Four years after John Chambers joined Cisco in 1991, he assumed the role of president and CEO; he became chairman in 2006. The company's revenue has gone from $70 million, when he started in 1991, to more than $47 billion at the end of its fiscal 2014.
In an announcement on Monday, Cisco said Chambers will step down from his daily management duties, but remain executive chairman. Cisco's SVP of worldwide operations Chuck Robbins will replace him as chief executive. The change is effective July 26.
6. Howard Schultz
Starbucks (SBUX) - Get Starbucks Corporation Report
CEO Tenure: 20 years
Age: 61
Part of the reason investors love Starbucks so much is its charismatic leader, Howard Schultz, whose ability to manage investor expectations seems unmatched. Though Schultz didn't initially create the concept, he loved his first experience at a Starbucks in Seattle's Pike's Place Market so much that he moved from New York to Seattle to join the company as its director of operations in 1982. He then left for a short time to start his own chain of coffeehouses but returned to become Starbucks' CEO in 1987 after purchasing the company with a group of investors. Schultz filled the CEO role for 13 years until he stepped down from daily management of the growing coffee chain in 2000, but retained the chairman title. In 2008, he stepped back into the CEO role and has remained its chairman and chief executive ever since. He is aiming for the chain to become a $100 billion market cap company.
5. Richard Fairbank
Capital One Financial (COF) - Get Capital One Financial Corporation Report
CEO Tenure: 21 years
Age: 64
Richard Fairbank co-founded banking institution and credit card company Capital One Financial in 1988. He became CEO in 1994 and executive chairman in 1995. Under Fairbank's leadership, Capital One has expanded into one of the country's largest banks by assets.

4. Dan Amos
Aflac Inc. (AFL) - Get Aflac Incorporated Report
CEO Tenure: 25 years
Age: 63
Dan Amos has been CEO of insurance giant Aflac since 1990. He was named chairman in 2001, and originally joined in 1973. Amos is the son of Aflac co-founder Paul Amos. Under his tenure, revenue at Aflac rose from $2.7 billion to $22.7 billion at the end of 2014.
3. Edward Rust Jr.
State Farm Mutual
CEO Tenure: 30 years
Age: 64
Edward Rust Jr. is chairman and CEO of State Farm Mutual. Rust joined State Farm in 1975. He became president and CEO in 1985 and was elected chairman two years later. When Rust became CEO, his father, Edward Rust Sr., was leaving his post as chairman. Rust's grandfather was also a CEO of State Farm.

2. Berkshire Hathaway (BRK.A) - Get Berkshire Hathaway Inc. Class A Report
Warren Buffett
CEO Tenure: 45 years
Age: 84
Despite Berkshire Hathaway's Warren Buffett celebrating his Golden Anniversary running the company, the Oracle of Omaha didn't actually become CEO of the once textile company-turned-takeover conglomerate until 1970.
Way back in 1962, the now 84-year-old guru's investing company purchased its first shares of Berkshire Hathaway. Three years later, Buffett, along with his partner Charlie Munger, ended up taking control of Berkshire Hathaway and began to diversify the struggling firm through acquisitions. Today, the company fully owns 46 subsidiaries -- including insurance giant GEICO, Burlington Northern Santa Fe railway and International Dairy Queen, among others.
There has been much speculation about who would succeed Buffett, and while Buffett himself wrote in his latest shareholder letter that he and the board have picked "the right person to succeed me as CEO," no name was given.
1. Penske Corp.
Roger Penske
CEO Tenure: 46 years
Age: 78
"Team Penske" auto-racing team owner Roger Penske is also the longest running chief executive in the U.S. (that we could find). He's been chairman and CEO of Penske Corp. since 1969 as well as chairman and CEO of Penske Automotive Group (PAG) - Get Penske Automotive Group, Inc. Report since 1999.