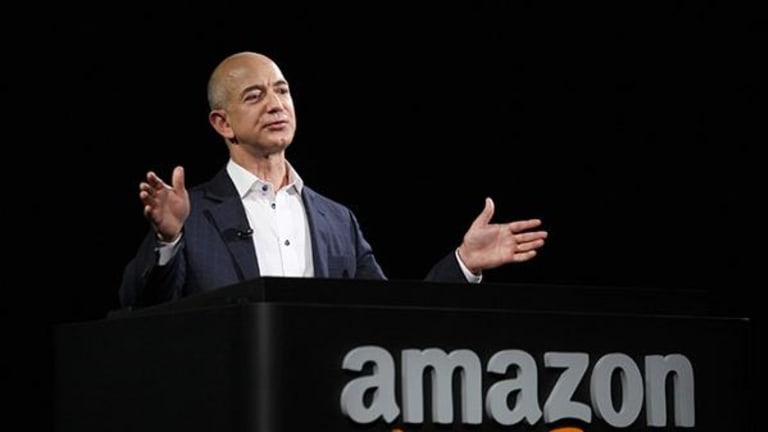 Even Warren Buffett Underestimated the Brilliance of Amazon and Jeff Bezos
This much is for sure.
Warren Buffett is still kicking himself for not getting into Amazon (AMZN) - Get Report in a big way.
"We underestimated the brilliance of Amazon [and Jeff Bezos]," Buffett told shareholders at Berkshire Hathaway's (BRK.A) - Get Report annual meeting on Saturday.
Talk about an understatement. 
Amazon has notched profits in eight straight quarters, crushing those naysayers who are always looking for the tech giant to badly miss earnings as it invests in fullfillment. The company has 18 planes in service and up to 40 leases, as it tries to control its delivery network. Doing so over time will bring down costs.
More Amazon bookstores and pop-up shops in malls are on the way. Meanwhile, department stores such as J.C. Penney (JCP) - Get Report , Sears Holdings (SHLD) and Macy's (M) - Get Report continue to close stores en masse due to the rising influence of Amazon. And, according to Consumer Intelligence Research Partners, there are some 80 million Amazon Prime members who are willingly spending for convenience, instead of visiting a retail store.
In short, Amazon is on a course to being worth a trillion dollars in our lifetime.
"Amazon is likely to be one of the first trillion-dollar market cap companies; it's just a question of when, not if, in our view," Barclays analyst Ross Sandler wrote in a note recently. "The retail business has a considerable moat, and the Prime flywheel and logistics and automation are just getting going," said Sandler, who also struck a bullish tone on the prospects for Amazon's cloud computing business.
Shares of Amazon have surged 38 percent over the past year, dusting the Nasdaq Composite's 28 percent gain. The rise in Amazon's stock has pushed Bezos beyond Buffett on the world's richest person's list, where he now holds second place behind Bill Gates.