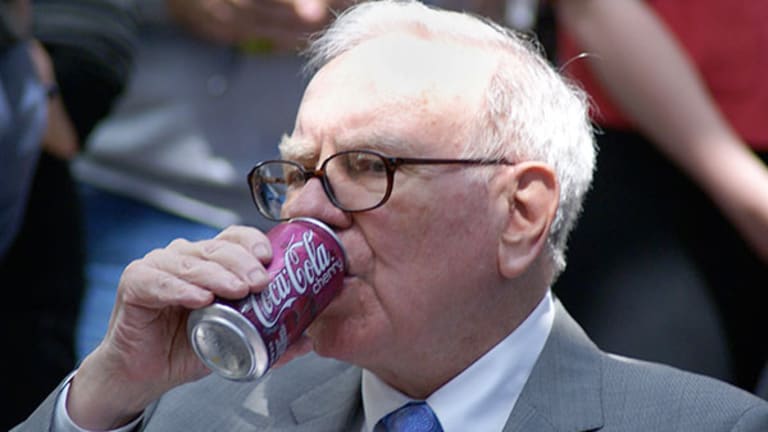 What Warren Buffett's Two Successors Could Still Learn From the Billionaire
Ever wonder about the lifestyle of billionaire Warren Buffett? While his worth is in the billions, his pleasures in life are simple. TheStreet takes a look at his homes, his cars and his tastes (including a Cherry Coke a day to keep the bears away!)
Warren Buffett may have externally revealed his successors on Wednesday in Ajit Jain and Greg Abel, but each could still learn a thing or two from the Oracle.
Billionaire Warren Buffett is known for his smart investments, timely commentary and offbeat lifestyle not at all expected of an 87-year-old mega-rich investor and CEO.
Buffett is much more Midwest than he is Midtown Manhattan, living well below his means in the nation's heartland. Here's a look at what makes the Buffett wheels turn, with everything from diet choice to real estate, and how you can live just like the Oracle of Omaha.
Eat Whatever You Want.
Buffett's diet is a far cry from farm-raised salmon and microgreens that populate the plates of many of the world's wealthiest. The Berkshire Hathaway (BRK.A) - Get Free Report (BRK.B) - Get Free Report CEO stands at about 5'10" and has said he consumes 2,500 calories per day to maintain his weight.
Buffett has told CNBC that those 2,500 calories come from just about anywhere - he doesn't pay much mind to what he eats. The investor has told reporters that his favorite meal is a cheeseburger and a Coca-Cola Co. (KO) - Get Free Report Cherry Coke.
Most mornings, Buffett stops by McDonald's (MCD) - Get Free Report on his five-minute drive to work. He never spends more than $3.17 on his breakfast, which is usually two sausage patties; an egg and cheese sandwich; or a bacon, egg and cheese sandwich.
Buffett has told Fortune that he "checked out the actuarial tables, and the lowest death rate is among six-year-olds. So I decided to eat like a six-year-old. It's the safest course I can take."
Pinch Your Pennies.
The Omaha, Nebraska-native practices almost austere personal frugality, but maintains that he stills buys everything that he wants in life. Buffett owns one home, for which he paid $31,500 in 1958. The five-bedroom, 6,570 square foot brick home would sell for about $652,619 today. Buffett said the home was the third-best investment he ever made, behind two wedding rings for his late wife Susan and his current wife Astrid.
Buffett did own a vacation home in Laguna Beach, California, but sold the four-bedroom, four-bath house on a private cul-de-sac for $5.45 million in 2005.
Buffett doesn't splurge on cars, either. In 2014, he traded in a General Motors Co. (GM) - Get Free Report 2006 Cadillac DTS to buy a 2014 Cadillac XTS. The basic model retails for about $61,000.
in a 2013 interview with CNN's Piers Morgan, Buffett explained that he's had the same wallet for more than 20 years. In it he keeps a family photo, a few hundred-dollar bills and an American Express Co. (AXP) - Get Free Report credit card from 1964.
Remember There's More to Life Than Work.
Buffett is well-known as a family man and close friends with fellow billionaire and Microsoft (MSFT) - Get Free Report founder Bill Gates. Buffett reportedly picks up Gates from the airport himself when he's in Omaha and sends Gates and his wife Melinda newspaper clippings he thinks they'll like.
Warren Buffett Isn't Your Run-of-the-Mill Mega-Rich Investor
Buffett also knows the importance of hobbies. His is bridge, which he has said he'll play for up to 12 hours each week. Buffett told CBS last year that while he's playing bridge "if a naked woman walks by, I don't even see her." He also plays the ukulele.
Despite having hobbies, Buffett still likes to assess some of his most well-known stock holdings. 
One of Buffett's top picks is Apple Inc. (AAPL) - Get Free Report . The investor has never sold an Apple share, and said last month that he sees Apple becoming the first trillion-dollar company. Other big Buffett holdings include Coca-Cola (KO) - Get Free Report , Wells Fargo (WFC) - Get Free Report , American Airlines (AAL) - Get Free Report , American Express (AXP) - Get Free Report , Bank of America (BAC) - Get Free Report , Costco (COST) - Get Free Report , Kraft Heinz (KHC) - Get Free Report , Southweat Airlines (LUV) - Get Free Report , Moody's (MCO) - Get Free Report and Restaurant Brands (QSR) - Get Free Report .
Find a Cause and Give It Your All.
Buffett has donated about $25 billion to charity in his life, with a great deal going to his friend Bill Gates' Foundation.
Buffett plans to donate 99% of his wealth before his death - and he's started a pledge to get other mega-rich business titans to join him. The Giving Pledge has earned signatures from 137 ultra-wealthy names, including Groupon (GRPN) - Get Free Report founder Brad Keywell, Epic (EPOR) founder Judy Faulkner, Spanx founder Sara Blakely and legendary activist investor Bill Ackman.
More: Berkshire Hathaway: How Buffett Made His Billions
More on Warren Buffett From TheStreet.com: