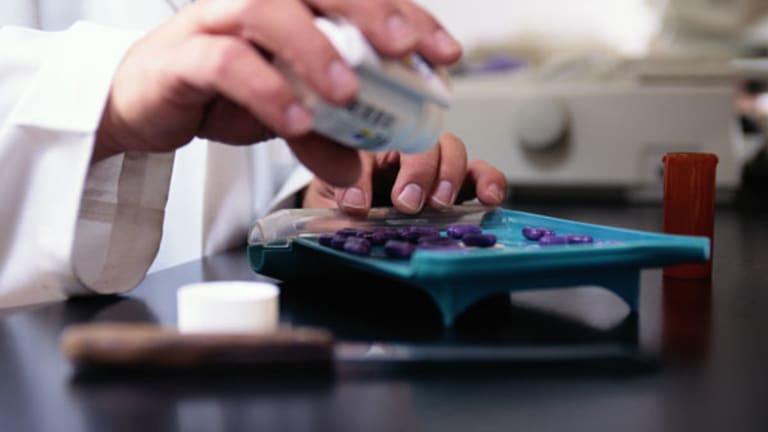 Warner Chilcott to Buy P&G Unit (Update)
The drugmaker announced a deal to buy Procter & Gamble's prescription drug business for $3.1 billion.
The drugmaker announced a deal to buy Procter & Gamble's prescription drug business for $3.1 billion.
(Updated to include details from Warner Chilcott's formal announcement of a deal)
NEW YORK (
) -- Drugmaker
Warner Chilcott
(WCRX)
will buy
Procter & Gamble's
(PG) - Get Report
prescription drug business for $3.1 billion in cash, the companies announced Monday.
The purchase will more than triple Warner Chilcott's revenue and add a slew of prescription drugs to its portfolio, including its top seller, Actonel, the osteoperosis drug for women.
P&G's Selling - Should You Be Buying?
Shares of Warner Chilcott surged on the news, changing hands in midday trading at $20.20, up $4.14, or nearly 26%, on volume of 3.2 million shares. Average daily turnover is 1.1 million.
Procter & Gamble shares, meanwhile, had slipped 4 cents to $53.55.
Warner Chilcott, based in Ireland, said in a press release that "the majority" of the former P&G unit's 2,300 employees will transfer with the acquisition, which is expected to close by the end of the year.
The sale will add $1.4 billion after taxes to Procter & Gamble's profits, or 44 cents a share. The company also revised its per-share earnings target for its fiscal year 2010, saying it now expects to post EPS of 10 cents to 12 cents, reflecting the loss of the drug unit's business (which clocks in at about 16 cents to 18 cents a share per year) as well as "stranded overhead costs."
The companies said that the P&G pharma business pulled in revenue of about $2.3 billion, and net income of $540 million, for the year ended June 30. Those numbers are unaudited, however.
The deal is significant on two fronts: It would be one of the larger acquisitions this summer, and because it's a leveraged-loan transaction, it's is a sign that the market for loans on highly levered acquisitions may be warming.
Six banks --
JP Morgan Chase
(JPM) - Get Report
,
Bank of America
(BAC) - Get Report
,
Credit Suisse
(CDTSF.PK)
,
Citigroup
(C) - Get Report
, Barclays and
Morgan Stanley
(MS) - Get Report
-- are expected to provide up to $4 billion to finance the deal, with about $3 billion going toward the purchase and about $1 billion going to refinance existing Warner Chilcott debt, the
Wall Street Journal
reported on Sunday, breaking the news.
Leveraged loans refer to loans made to borrowers whose credit ratings are below investment grade or who already carry a large amount of debt, the report also noted.
--
Reported by Ross Snel and Joseph Woelfel in New York. Scott Eden provided an update.
Copyright 2009 TheStreet.com Inc. All rights reserved. This material may not be published, broadcast, rewritten, or redistributed.