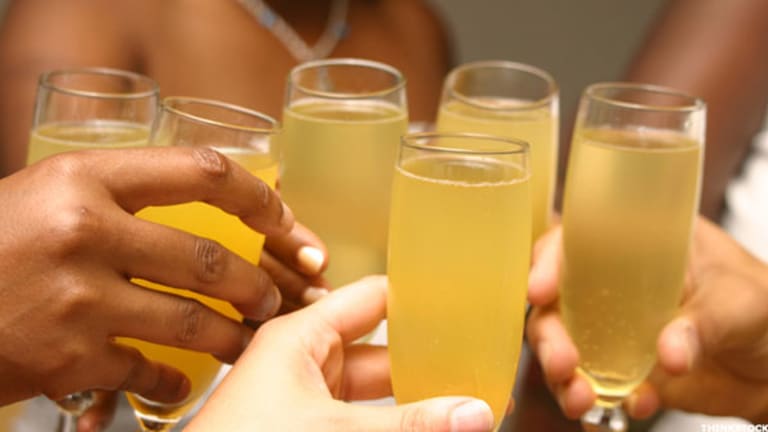 Publish date:
Want to Spot a Bubble? Here Is National Beverage Stock
When a stock goes up by 40% in a month, it's time to sit up and take note.
When a stock goes up by 40% in a month, it's time to sit up and take note.
National Beverage (FIZZ) - Get Report is rising at an alarming rate. The company, which has a distinctive portfolio of sparkling waters, juices, energy drinks and carbonated soft drinks, has seen its shares spike after reporting solid Q3 earnings.
The arguments for buying National Beverage shares range from it being a big beneficiary of the sugar tax, sudden interest in the clean water business, and an uncanny 15-session-long winning streak that is fueled by hope that there is still some steam left.
The stock is up 65% already this year. It has a valuation premium over PepsiCo (PEP) - Get Report , Coca-Cola (KO) - Get Report , Dr Pepper Snapple (DPS) and Monster Beverages (MNST) - Get Report . This is why National Beverage may be a risky bet today.
National Beverage's revenues grew by a mere 2.7% annually over the past 10 years to $705 million in 2016. Its gross margins have stayed above 30% throughout the decade, as net income more than doubled over the same period.
Bulls are excited about National Beverage's fiscal Q3 revenue rising by 20%, to $195 million. Earnings per share (EPS) stood at 52 cents versus 24 cents in the same quarter last year. The company credited its stellar stock performance partly to the push by retailers toward healthier products.
However, there is nothing impressive about the company's current operating income levels. FIZZ generated $37 million as income before taxes in Q3, just as it had done in Q2. That figure was higher at $44 million in Q1.
Soda tax could play a major role in pushing National Beverage's stock higher. Some investors believe that the big kahunas of soft drinks, i.e., PepsiCo and Coca-Cola, will be hurt by Philadelphia's new soda tax. Volumes have dropped there for the giants, but unless National Beverage gets that share, there is no reason to rejoice.
Too much is being written on National Beverage as the potential king of flavored waters, and that is risky. While National Beverage's LaCroix can be a strong, healthy sparkling beverages brand, the company is too small to make an impact.
Investors who are buying the company's stock are paying tomorrow's price today for the company. At a trailing price-to-earnings ratio of 41 times, the less than $4 billion National Beverage is trading at a huge premium to 25 times for $160 billion PepsiCo, 28 times for $180 billion Coca-Cola, 21 times for $18 billion Dr Pepper Snapple, and 38 times for $26 billion Monster Beverages.
To buy National Beverage now, you would need a great reason. The single analyst covering this obscure name projects over 35% earnings growth annually for the company. This means that National Beverage is supposed to be the Amazon (AMZN) - Get Report or Netflix (NFLX) - Get Report of the sugarless soft drink industry.
With none of the giants growing at more than 10% annually (Monster Beverage, however, is projected to grow by almost 20%), clearly, Natural Beverage is what growth-loving beverage investors are buying.
Avoid the stock for now, and wait for a correction, which seems likely. With no dividend to protect at least some part of your capital, National Beverage shares offer little value today.
---
As we've just explained, investors should avoid shares of National Beverage. If you're looking for better growth opportunities, we've found a genius trader who turned $50,000 into $5 million by using his proprietary trading method. For a limited time, he's guaranteeing you $67,548 per year in profitable trades if you follow his simple step-by-step process.Click here now for details.
The author is an independent contributor who at the time of publication owned none of the stocks mentioned.
Action Alerts PLUS, which Cramer manages as a charitable trust, is long PEP.