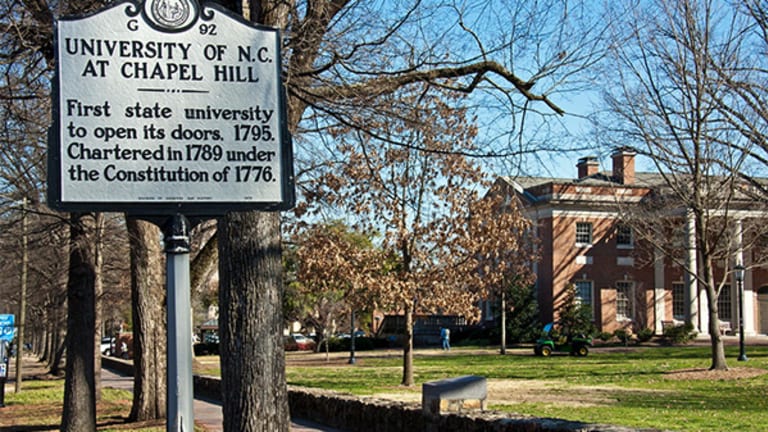 Wanna-Be Stock Pickers Fight Through a Weekend in the Shark Tank
MBA students from the best schools around the country vied to distinguish themselves before a panel of judges comprised of professional stock pickers from top firms.
CHAPEL HILL, N.C. (TheStreet) -- Billionaire hedge fund manager Richard Chilton couldn't wait for the question and answer period to rip into Carnegie Mellon's Visteon Corp. (VC) pitch.
"Your bear case, you got margins decreasing on lower revenue growth and you think there's 10% [downside], so what multiple did you put on it?" Chilton asked.
The speaking MBA student, adjusting to the judge's interjection amid the team's presentation, responded without a change in facial expression: "What multiple?"
"How did you get to the 10%?" Chilton said.
The student, stumbling through how his team came to the 10%, explained that they conducted sensitivity analysis within a DCF model, and "ran EBIDT margins declined to that value and revenue only increases a certain amount within those segments."
Chilton, peering through the top of his reading glasses and sitting forward in his chair, softly responded: "Yea, but that's not the way you do it. You got to put a multiple on there; you got to say, 'OK, this is what your earnings are going to be, this is what your multiple's going to be' -- you didn't do it that way?"
"We did not do it that way," the student said.
Silence.
Behind me, a team of students who failed to make the final round of the nation's preeminent stock picker competition among the leading MBA programs whispered to one another. The room squirmed from the aggressive questions.
Even I began to shrink in my seat.
As the team resumed its presentation, Chilton again cut in.
"Hold on -- can we ask questions now, or do we ask later?" he said.
One event organizer made an uncomfortable chuckle and said he should wait for the question and answer period afforded judges at the end of the presentation.
It was a brutal thirty minutes for the Carnegie Mellon team, which managed a fourth place finish behind Yale, University of Virginia and champions University of Chicago.
But as I learned throughout the weekend, this was simply one obstacle aspiring stock pickers face as they attempt to enter the "buy-side" world.
***
While graduates and undergraduates this month grab their diplomas and embark on their new careers, the students I met during a whirlwind two days at the premier stock picker competition in November were all first-years.
>>Read More: Veterans Know Shinseki Departure Is No Cure for VA Mess
The Alpha Challenge, as it's called, hosts contests at college campuses across the nation, but the top MBA programs regard the one at the University of North Carolina, Chapel Hill as the creme de la creme.
University of Chicago's Booth School of Business, Yale University, University of Pennsylvania's Wharton School, Northwestern University's Kellogg School of Management and Columbia University were among 15 schools that competed (Harvard unexpectedly dropped on the eve of the competition, eliciting some predictable jabs from rival schools).
There to judge the event were investment managers at major buy-side firms, including Fidelity Investments, T. Rowe Price, Carlson Capital and William Blair, among others.
From the moment I arrived, many attendees told me investment management is difficult. It's part science and part art, they told me. Not everyone can make it in the industry, they said. Batting 60% in this business makes an investment manager a legend, "they say."
"It's tough to get a foot in the door, but then it's also tough in a standard interview setting to evaluate whether somebody is going to be a good investor or not," said Jim Jones, an investment analyst at William Blair, who created the universe of 90 stocks that teams chose for their pitches. "You can ask them questions about their resume and ask them questions about what stocks they like and why, but it's still very difficult to be able to have conviction on whether this person is a money-maker or not."
The 45 competitors flashed sterling resumes: CFAs, CPAs, Finance BSs, investment banking positions, private equity gigs, Ivy League degrees. The pedigree of these guys (three of them were women) matched most of the cliches portrayed in Wall Street fiction.
But all the flashy titles don't matter if you can't pick winning stocks, because making cash is the key.
***
Festivities began with face-to-face interviews between students and buy-side firms, which see the event as a strong recruiting tool for them.
"Buy side" is financial jargon meant to refer to the entire space of hedge funds, mutual funds, pension funds and other financial services that purchase stocks, bonds and other assets to make profits.
William Blair, Fidelity, T. Rowe Price and Morningstar were among a few firms that pre-selected students competing at UNC for short interviews.
Chip Snively, the coordinator of the investment management concentration at UNC's Kenan-Flagler Business School, told me that Alpha Challenge offers students a rare chance to get in front of these big name institutions.
While big Wall Street firms like Bank of America, JPMorgan Chase and Citigroup hire large numbers of college graduates, the buy-side world is pickier, and internships are scarcer.
In fact, following the 2008 financial crisis, buy-side companies effectively eliminated paid internships, forcing students to comb for unpaid summer work, Snively told me.
>>Read More: 10 States Where Small Banks Thrive, or a Walmart Conspiracy?
The interview waiting room slowly started to fill up with dark suits, penny-loafers, backpacks, rep ties, neatly parted hair, laptops and small talk.
"How's it going?" one student asked.
"Oh, you know, same old, same old. I might go back to the hotel and get my accounting work done," the other responded.
A man with plastic-rimmed glasses and parted red hair seated next to me said he started in banking in 2009 straight out of college, then went into private equity and then left to go get his MBA.
Why go back to school, I asked.
Employers ask why you're going from private equity to public equity, the man told me.
"They want to know the deal," he said.
The red-haired man's response made more sense by the end of the weekend after I spoke to numerous investment managers who all seemed to repeat a curious obsession: Good stock pickers must eat, breathe and live stock picking.
"We want people who see the job like that, because what you end up with are people who think about their stocks when they drive home," said David Rowlett, an investment analyst at T. Rowe Price. "I dream about this stuff, it's crazy. I love it. I walk around my yard with headphones on listening to stuff; and I think that's probably more important than being a genius."
In other words, if you interview with devout investment managers who mow their lawns while listening to taped earnings calls, taking the effort to get an MBA suggests you really are committed to the career change -- that it's not simply a quick fix to frustration in your current job.
The quality of the networking, though, is a huge -- if not the main -- purpose of the MBA, the red-haired man in glasses told me. (One professional at the event told me studying investment management for an MBA isn't really about the education, "it's about the connections to get the jobs.")
The man in glasses stopped chatting with me when I asked about quoting him for this story. Most of the students I met at the competition were suspicious about talking to a journalist. Their thinking seemed to be that it's tough enough to land a job in investment management, and the last thing they need is a future employer reading something unintelligent they said to a reporter.
>>Read More: Why a Carbon Tax Could Profit U.S. Business, Consumers
As one MBA candidate said, half-jokingly: "I don't want to say something that makes me sound like a douche."
***
The night before Alpha Challenge commenced, the judges and organizers gathered at a nearby historic hotel, The Carolina Inn, for dinner. Students may get crucial interview time and a chance to experience high-pressure stock picking, but the judges -- or investment pros -- have turned the weekend into their own occasion to exchange stock ideas.
"It's an informal way of talking stocks with investors that you traditionally would have no reason to cross paths with," William Blair's Jones told me. "It's a universe of judges that everybody respects."
One of the judges I sat next to at dinner talked with me about his buy-side career and the cities he has lived in through the years. For the most part, it was sterile chit-chat. He didn't discuss what stocks he liked most or whether he expected the S&P 500 (which in 2013 was on its way to a 30% gain) to decelerate in 2014, but he did ask me a question that completely jolted me: Have you noticed something about this event?
I paused. There were a few observations about the event that stuck out to me: the privilege, the obsession. But really I was struck by its old stuffy club atmosphere.
"What I'm going to say probably isn't what you're thinking, but what's stuck out to me is how few women are competing," I answered.
The judge looked at me and nodded.
Three of the 45 competitors were female.
This isn't to say that the stock picker competition deliberately left out female students; instead, it offered a portrait of the buy-side landscape: heavily dominated by males in a business that has slow turnover.
Re:Gender, formerly known as the National Council for Research on Women, reported that women in the United States represented about 10% of traditional mutual fund managers. In fact, a University of Denver study found that women in hedge funds manage around 3% of the $1.9 trillion in hedge funds.
Aine Duggan, president of Re:Gender, told me in a phone interview that this shouldn't be a surprise, and that, in any particular sector, an "unconscious bias" creates a predisposition to hire others who look and sound the same.
Generally, most sectors and companies remain woefully behind in improving diversity, and Duggan admitted that there isn't a magic button that will instantly shift the space.
"There isn't sort of a golden nugget here, there's no one answer, but it all boils down to having the commitment and creating the conditions and seeing it as an action rather than a theory," Duggan said.
The judge at my dinner table told me diversifying the investment management concentration is something all top business schools can work on.
Making matters worse, slow turnover is creating a higher barrier to entry.
"It's a competitive field, because there's fewer spots, and you just have to be comfortable with that," Mahesh Jagadish, president of UNC's MBA Investment Club, said.
But why?
The student resumes revealed plenty of qualified candidates, and many of their stock pitches showed an exceptional comprehension of buying and shorting real companies.
While Wall Street firms hire relatively large numbers of young employees eager to show off their finance chops and help earn lucrative profits, many buy-side institutions aren't even offering paid internships.
"Not a dirty little secret by any stretch, but ... some of the old guard is hanging on too long and not giving the next generation of 40- or 50-year-olds a chance to buy their way in or move up," one buy-side analyst at a well-known firm told me on the phone after the event. "They're clinging too long, and I don't know if they're greedy or they've got the client relationships or they just want to be in the game and don't want to hand over the reins, but I have seen that more often than not. We've got 65- or 70-year-olds that are still engaged and controlling and steering the firm and content to just manage it as an annuity and clip a coupon, instead of letting somebody younger and more ambitious come in [to] train them on how to do it, and then willingly hand over the reins."
What does it say for an industry that may be rewarding too many of its aging stock pickers instead of reloading with young ambitious individuals who could boost the bottom line?
***
The competition, which is why I flew to beautiful Chapel Hill, was mechanical. It was like a less entertaining version of the show Shark Tank. I found this to be a welcome approach.
The 15 teams split up into four pools, from which the team ranked number one from each pool went to the final round. Simply, four teams emerged from the morning round to compete for the championship.
Teams had 15 minutes to pitch one stock they wanted to go long and one stock they wished to short -- complicated ways of essentially saying which company the team should buy shares of and which company they should sell shares of. Following the pitches, judges then had 15 minutes to question the presentations.
I sat through a few rounds, and found the University of Chicago to deliver an especially compelling pitch.
The team decided to buy earth imagery provider DigitalGlobe (DGI) and short aerospace and defense manufacturer Gencorp (GY) .
Chicago Booth argued that DigitalGlobe delivered the highest resolution satellite imagery (comparing it to the highly popular Google (GOOG) Maps) and saying the company has a U.S. defense monopoly. On the commercial side of business, a team member said the company informed him that every major oil company uses their maps. To confirm, Chicago said they called a few oil companies, one of which admitted it didn't know about all the high quality images DigitalGlobe offered. Chicago Booth was even bold enough to claim that Wall Street is unaware that the company has a library of images dating back 15 years. For presentation purposes, Chicago compared satellite imagery by saying DigitalGlobe is like the Bloomberg terminal, while Google Maps is like Google Finance for market information.
Chicago spent a little less of their 15 minutes explaining why they wanted to short Gencorp. A large part of their reasoning was that the now-defunct space shuttle program had been the biggest growth driver. They argued that the company's acquisition of rocket producer Pratt & Whitney Rocketdyne could prove faulty as the acquired company had a history of failed development projects.
When the Q&A session began, the judges peppered Chicago with challenges, but ultimately they ended the period with some time on the clock.
"That was good," one judge whispered as the team exited the room.
The pitch, backed up by calling the companies and their customers and crunching the financials, was exactly what the judges wanted. Chicago easily cruised to the final round.
In retrospect, a buy-side firm that in mid-November bought DigitalGlobe lost nearly 18% (the company in February made an acquisition). The same firm would have lost even more money shorting Gencorp, which gained more than 5.5% since Nov. 15.
Chicago went on to win the championship round, which goes to show the difficulty of stock picking. While a firm buying and holding DigitalGlobe may see massive returns across a longer period of time, it suggests that the best pitch may not always equate to the most profitable call.
And the professionals are fully aware of this. That's why each year, Alpha Challenge recognizes the team from the prior year that earned the largest percentage returns based on their mock short and long pitches.
After receiving their trophy for the victory, I asked one of the Chicago Booth members what he would do to celebrate.
"I think there's a Tar Heels game in town," he responded.
***
As I sat in the Raleigh-Durham airport later that night for my flight, the Columbia Business School team set down next to me and said hello.
They recognized me as "that reporter."
I asked the three men what they thought about the event, and one of them remarked that they were glad their schedules would be turning back to normal.
If they were frustrated not making it to the final round of the biggest stock picker competition in the country, I couldn't tell.
The last thing they told me before disappearing on the commercial jetliner was that they were content to head back to New York, where they would continue to network every weeknight and weekend in order to find a job, without having to worry about prepping for a mock stock picking scenario.
>>Read More:
Jim Cramer's 'Mad Money' Recap: Next Week's Game Plan
5 Stocks With Low Price-to-Earnings Ratios: Chevron, Unum, Aflac, More
-- Written by Joe Deaux in Chapel Hill, N.C.
>Contact by Email.