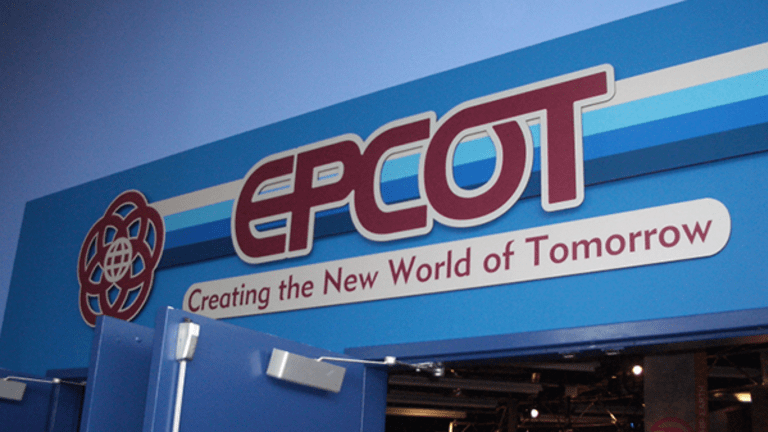 Disney's Epcot Looks Old and Tired
They're trying to make it an even happier place on Earth.
The Walt Disney Co. (DIS) - Get Walt Disney Company Report revealed on Saturday more details on its much-needed Epcot renovations.
In honor of the park's 35th anniversary at Walt Disney World in Orlando, Florida, the media and entertainment conglomerate announced several film-inspired attractions coming to update the park, whose original purpose was to celebrate human achievements, though some fear it has become outdated for younger audiences.
"Epcot will continue to evolve to make it more timeless, more relevant, more family and more Disney, while staying true to its original vision beginning with several newly revealed offerings," according to the announcement.
Those reveals and updates to other domestic parks came during the D23 Expo in Anaheim, California, a convention for Disney fans. The company said it plans to complete most of the projects by 2021, when the Disney World will celebrate its 50th anniversary.
Large investments into Disney parks show their importance in the company's future, as growth in its media networks, the largest part of its business, has slowed as advertising sales lag and consumers cut cable. Disney reported its second quarter revenue, which ended in April, grew from 2016 by 3% from media networks and 9% from parks and resorts. Total revenue increased 3%.
During that time, parks and resorts brought in $4.3 billion of $13.3 billion in total revenue. Operating income, however, increased 20% to $750 million due to increased attendance and more spending on food and beverages, according to a news release. The increase was offset by increased expenses, including investments into more offerings.
In 2016, Disney parks made $17 billion in revenue, a 5% increase from 2015, and $3.3 billion in operating income, a 9 percent increase.
Epcot opened in 1982 and is two times the size of Disney World's main park, Magic Kingdom, but it attracted 8.7 million fewer guests in 2016, according to industry tracker Themed Entertainment Association. Disney, however, has started bringing more characters into the park. A Frozen-affiliated boat ride that opened last year had fans flocking to meet Anna and Elsa from the hit movie.
Social media posts, however, show just how unpopulated the park is.
As a result, the park is closing Ellen's Energy Adventure, a 1996 ride that discusses the history of energy guided by talk show host Ellen DeGeneres and television presenter Bill Nye the Science Guy, inside the Universe of Energy in August. Its removal will make room for a new e-ticket attraction based on the world of "Guardians of the Galaxy," a Marvel Worldwide Inc. franchise of superheroes in outer space. Also in Future World, the Mission: SPACE ride is getting an upgrade and a new green mission ride to tour planet Earth. Adjacent to that ride, a sit-down restaurant will invite guests to travel high above the Earth as they dine.
Additionally, Disney is bringing a ride based on "Ratatouille," a 2007 Pixar film featuring a rat that cooks, to the France pavilion in Epcot's World Showcase. The addition based off the No. 1 attraction in Disneyland Paris will take guests on a chase across a kitchen with the sights, sounds and smells of a Parisian restaurant featured in the movie. In the China pavilion, Disney also is creating a brand new film to feature in a new seamless Circle-Vision show.
Walt Disney originally imagined Epcot to be a futuristic city, but after he died, the company made it an amusement park, combining a representation of cutting edge technology with a showcase of international cultures. As technology changed rapidly, however, the park has been unable to keep up, and despite considerations of adding new pavilions based on more countries, Disney has not done so.
In addition to outdated attractions, other concerns surround the park's infrastructure. Visitors have taken photos of floor tiles taped together in the imagination pavilion's ImageWorks.
Additionally, participants in a race through the park have spotted parts to a former ride sitting around in site.
Just last month, a monorail train was closed after a piece fell off the tracks.
On social media, guests have posted photos of duct tape being used for temporary fixes and of chunks of ceiling falling down in one of the buildings in the park.
Others expressed frustration over the frequency of rides being closed.
A Disney representative was unable to immediately say whether or not the plans for Epcot included additional upkeep for existing infrastructure. Disney shares rose 0.8% to $105.62 on Tuesday in post-market trading.
The question remains whether or not these new attractions will be able to turn around the park.
WATCH HERE: TheStreet's new series #AlphaRising:
Meet The Women Redefining Business in TheStreet's New Series, Alpha Rising
Meet Ford's 23-Year-Old Prodigy Who Holds 15 Patents