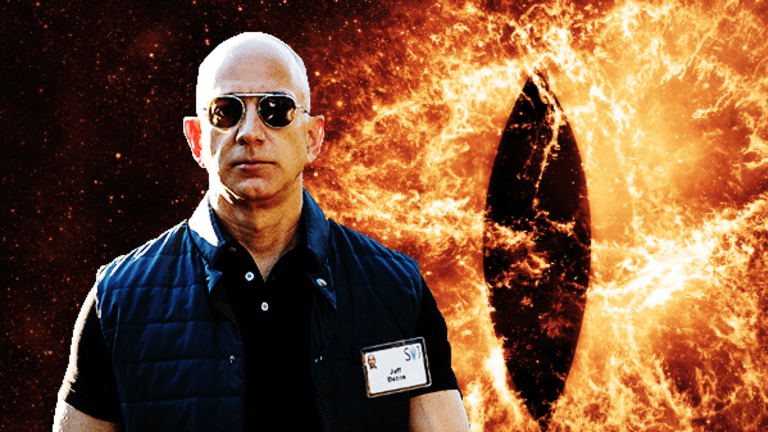 This Photo of a Heinz Ketchup Bottle at Walmart Shows Why Amazon Is a Killer
The shocking price of a Heinz ketchup bottle has prompted one Wall Street firm to question whether Walmart can maintain its low prices.
If one wanted to check in on how the war between Amazon.com (AMZN) - Get Free Report and Walmart (WMT) - Get Free Report was transpiring, they might not need to look any further than the ketchup aisle.
Analysts at Wolfe Research recently returned from a Houston-area Walmart and discovered that a bottle of Kraft Heinz's (HNZ) famous ketchup was priced at $3.48, immediately prompting the analysts to ask an employee if there was a mistake.
"Walmart sports the highest price (and by a wide margin) on this item out of the companies we survey in Houston," Wolfe noted. The observation follows a similar note from the firm saying that a recent dispute between Walmart and Campbell's (CPB) - Get Free Report resulted in higher prices for its Chunky Soup when compared to its competitors.
"Walmart appears to have extracted significant benefits from its suppliers over the last 12-18 months, enabling the company to lower pricing without much gross margin impact while also seeing significant working capital gains," Wolfe found.
But, recent increased prices, the firm explained, could be indicative of food brands beginning to retreat from Walmart and sell their products on rival shelves including Kroger (KR) - Get Free Report , effectively testing Walmart's pledge to keep prices low.
"With the deep discounters also challenging Walmart on price, and with Amazon (among others) relentlessly attacking the consumables marketplace, we believe that Walmart's commitment to its strategy is being tested," the analysts wrote.
Watch: After Buying Whole Foods, Here Are Two Other Big Brands Amazon Could Buy Next
More of What's Trending on TheStreet: