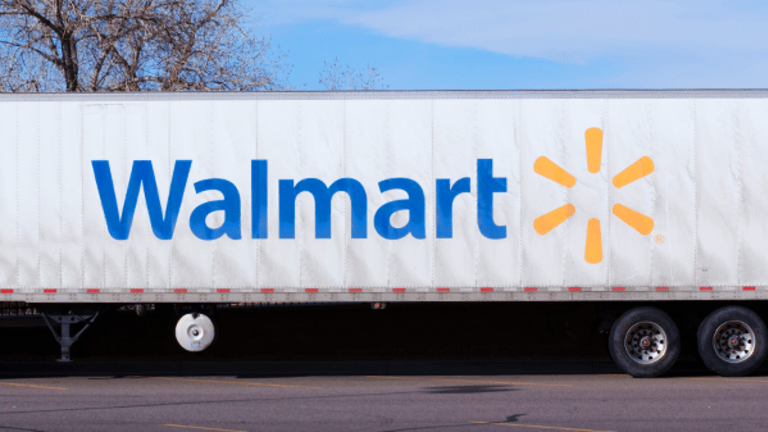 Walmart to Tech Industry: Get Off Amazon's Cloud, Or Suffer the Consequences
Walmart uses Amazon competitor Microsoft for its own cloud services needs.
Walmart Stores Inc. (WMT) - Get Report is giving some tech companies an ultimatum: If they want Walmart's business they will abstain from using rival Amazon.com, Inc.'s  (AMZN) - Get Report cloud services platform, The Wall Street Journal reported Wednesday. 
Amazon Web Services is the market leader in cloud service rentals and has numerous clients, like Netflix Inc.  (NFLX) - Get Report , which are actually direct competitors with Amazon's other business ventures. 
Walmart is stepping up the pressure on Amazon as the battle between the two retailers heats up following Amazon's move to buy Whole Foods Market Inc. (WFM) . 
What's Hot On TheStreet
Alibaba's Jack Ma woos Detroit: TheStreet has spent the past two days in Detroit covering Alibaba's (BABA) - Get Reportbig hiring event in Detroit. We have had the opportunity to talk with Alibaba and take in how the Chinese tech company plans to grow jobs in America. But the real showstoppers have been the presentations with Alibaba's executive chairman Jack Ma, who as always hasn't been short on bold proclamations.
Said Ma in a keynote address Tuesday evening, "If you don't sell products in China, you will miss the future." Ma and other Alibaba executives have also sought to downplay the comparison to Amazon (AMZN) - Get Report. After spending a few days in Alibaba land, you understand where they are coming from. But, you are also reminded of how dominant Amazon is in the United States in so many categories (one soon to be organic food via Whole Foods (WFM) ).
Tesla mania continues: Tesla's (TSLA) - Get Reportmarket cap is $60 billion and growing. At this point, Wall Street's obsession with all things Tesla has gotten out of control. Thestreet's Annie Palmer drills down into news Tesla could be opening a car-making plant in China. The last thing President Trump needs is a fight with Elon Musk on this one, Palmer reports.
Uber's embattled founder resigns: Uber Technologies Inc. founder and CEO Travis Kalanick has resigned from the ride-sharing company, TheStreet reports. The move comes just days after he was asked to take a leave of absence in the wake of a report into allegations of discrimination and bullying at the world's startup.
"I love Uber more than anything in the world and at this difficult moment in my personal life I have accepted the investors request to step aside so that Uber can go back to building rather than be distracted with another fight," Kalanick said in a statement given to the New York Times, which originally reported his departure.
Here is what Uber co-founder Garret Camp had to say this week about Uber's culture.
Check out TheStreet's new series: TheStreet has officially launched a new video series called Alpha Rising, where we will showcase all of the amazing women in business. TheStreet's Tracy Byrnes sits down with some of the top women kicking butt in business such as Birchbox' CEO Katia Beauchamp, who revolutionized the beauty business.
Visit here for the latest business headlines.
Read More Trending Articles:
Intel Just Got Smoked By AMD In the Race to Unleash a Super Chip
Honeywell and NASA May Have Just Stumbled Upon a Way to Change the Aviation Industry Forever
'Walmart Rx' Takes Center Stage as Walgreens Rite Aid Saga Nears Homestretch
Costco Sees an Extremely Damaging Flush In Aftermath of Amazon's Big Whole Foods Deal