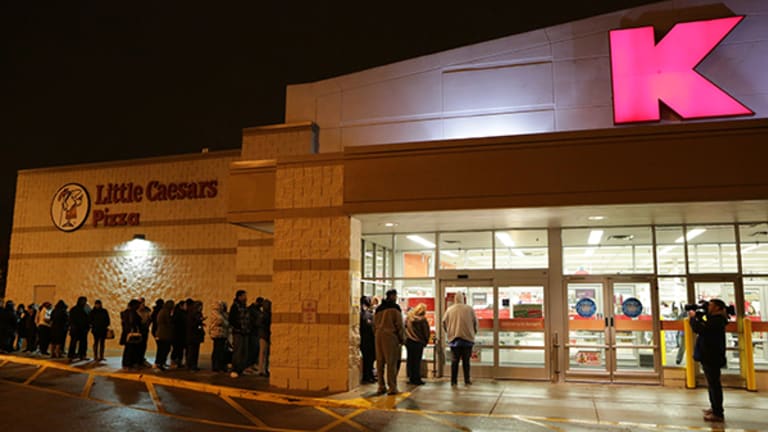 Publish date:
Walmart, Target Likely to Obliterate Dying Kmart in Toys This Holiday Season
Walmart and Target have upped their game in toys this holiday season, while the opposite is playing out at struggling Sears.
Walmart and Target have upped their game in toys this holiday season, while the opposite is playing out at struggling Sears.
As Sears Holdings (SHLD) worries about how it will get must-have toys on its shelves at its dying Kmart chain this holiday season, rivals Walmart (WMT) - Get Report and Target (TGT) - Get Report appear poised to profit from the retailer's newfound toy troubles.
Target will have have 1,800 new and exclusive toys this holiday season alone, Target executives said at an event on Tuesday. They range from an exclusive Oregon Trail board game to multiple figurines tied to the blockbuster Star Wars movie franchise.
"Toys are a real big part of the show. We have to win in this category. So we will have a record-setting number of toy exclusives this holiday season," said Target Chairman and CEO Brian Cornell.
Will Target increase its marketing spending or discounting on toys in stores near a Kmart? Cornell said, "We are looking to continue to build our position in toys, and we will look at it market by market for opportunities."
Meanwhile, Walmart said Thursday that it will have 400 new and exclusive toys available this holiday shopping season, about in line with last year. The list of toy exclusives will be headlined by a pricey $398 Disney (DIS) - Get Report battery-powered car for children to ride around in. 
The toy business looks anything but healthy right now at Kmart weeks before Black Friday.
Some of Walmart's holiday season toy exclusives.
Jakks Pacific (JAKK) - Get Report CEO Stephen Berman said on a conference call last week the toy maker has opted to halt shipments to a "major U.S. customer that is experiencing challenges" to reduce risks to Jakks. The major U.S. customer is reportedly the financially strapped Kmart discount chain.
"We can tell you that we have had longstanding relationships with our tens of thousands of suppliers and vendors. We want our customers and members to know that we plan to offer a wide variety of the hottest toys, games, and exclusive deals in our stores and online that will excite kids of all ages this holiday season," Sears spokesman Howard Riefs said via email to TheStreet in response.
As TheStreetrecently reported, toy makers fearful of not getting paid by cash-deprived Sears may be rethinking how much they ship to the beleaguered retailer for the holiday season amid reports of a possible post-holiday bankruptcy filing.
"The mood in the toy industry is upbeat after two strong years of growth and a good start to 2016. The only concerns in the toy industry are minor ones: whether to ship to a troubled Sears/Kmart organization and if Hanjin shipping containers will be unloaded on time," wrote BMO Capital Markets analyst Gerrick Johnson in a note earlier this month.
Johnson's analysis came after a visit to the Dallas Fall Toy Preview, where he met with management teams from private toy companies. He then traveled to Los Angeles to meet with larger toy makers Jakks Pacific and Mattel (MAT) - Get Report . Johnson notes that Sears likely represents about 2% of the U.S. toy industry retail business.
Spokespeople at Hasbro (HAS) - Get Report and Mattel haven't returned repeated requests for comment on whether they have reduced holiday shipments to Sears. For its part, Sears still believes it's well-prepared to meet demand for toys during the holidays.
It would be hard to blame toy makers for approaching Sears with caution right now.
Target will have a ton of toy exclusives, notably in Star Wars toys.
Fitch Ratings Managing Director Monica Aggarwal estimated Sears will burn through a shocking $1.6 billion to $1.8 billion in cash this year, fueled in large part by as much as $1 billion in losses in earnings before interest, taxes, depreciation and amortization. A year ago, Sears lost $837 million on an EBITDA basis, according to Fitch Ratings.
Fitch Ratings defines Sears' cash burn as cash flow from operations after taking into consideration capital expenditures and pension contributions. The result would make it eight straight years of cash burn for Sears, according to Bloomberg data.
Sears' cash and equivalents declined to a dangerously low $276 million in the second quarter from $1.8 billion a year ago. The company was forced to accept $300 million in financing from CEO Edward Lampert's investment vehicle ESL Investments in August in an effort to make it through the holidays. Sears' cash flow outlook remain bleak, too, for several reasons.
First, given the prospect for continued steep losses next year, Sears will likely have another operating cash outflow. Meanwhile, Fitch estimates Sears' interest expense, capital expenditures and pension outlays will tally $800 million, and it will need need $500 million to $650 million to fund seasonal working capital. Hence, it doesn't take a mathematician to figure out that Sears needs to raise cash -- and do so fast if it wants to survive another year.
The concerning cash flow outlook has caused Fitch Ratings to sound the alarm bell on the once-iconic retailer. Sears has "significant default risk" within the next 12 to 24 months, triggered by years of weak store traffic and high levels of debt, Fitch Ratings said in a recent report.
"Default risk means most likely a bankruptcy or a Chapter 11 filing," said one of the report's authors, Sharon Bonelli, in a phone interview. The company may either have to liquidate to pay back its creditors, or reorganize in bankruptcy court and hope to stay alive by emerging as a smaller entity. At issue for Sears, which is battling declining cash flow amid a prolonged stretch of losses, is repaying some $2.8 billion in high yield bonds and institutional loans coming due in the next few years.
Sears' "restructuring risk is high over the next 12 months, as our 'CC' rating would suggest," said Aggarwal.
Fitch joined Moody's Investors Service in voicing serious concerns about Sears. Moody's recently slashed its speculative-grade liquidity rating on Sears one notch to SGL-3 from SGL-2. The new rating reflects the likelihood that Sears will continue to need outside financing to stay in business, and that it may require covenant relief to maintain orderly access to funding lines.
"We recognize the risks associated with relying on these sources and continued shareholder support to finance its negative operating cash flow which is estimated by Moody's to be approximately $1.5 billion this year," said Christina Boni, a Moody's vice president.